Categories:
Fashion
Last month, Gigi Hadid and Zayn Malik made their budding romanceVogue official with a Mario Testino-lensed editorial shot in Italy, but they waited until Monday night to make their red carpet debut as a couple at the 2016 Met Gala in New York City. (Somehow, we think Anna Wintour had something to do with orchestrating this.) The supermodel and her newly minted solo artist beau, who starred together in his super-sexy video for "Pillow Talk," stepped out in Tommy Hilfiger and Versace respectively — and both outfits were complete with robot-like metallic panels, in one of the more admirable efforts to adhere to the "Manus x Machina" theme we've seen thus far.
While we await the inevitable meme-ification of Malik's ensemble (Robocop, Winter Soldier, Terminator, etc.), let's take a moment to bask in the couple's collective beauty. Ah, young love.
comnum(0) tbcount(0) tbcount(237)
Categories:
Fashion
Barbara di Creddo stars in Amuse Society's summer 2016 lookbook
Amuse Society ushers in the warm weather season with the release of its summer 2016 lookbook called, 'Out to Sea'. Starring model Barbara di Creddo, the images serve up vacation vibes with locations that go from the beach to boat. Byrdie Mack captures the blonde in a casual mix of bikinis, knit shirts, playful separates and airy dresses from Amuse Society's latest collection.
Sporting a sailor cap, Barbara gets nautical in a striped knit top
Photographed on the beach, the model wears Amuse Society's Aztec woven top with a matching skirt
Barbara di Creddo strikes a pose in Amuse Society's tie-dye print Tula dress
Lounging on a boat, Barbara wears a graphic t-shirt from Amuse Society
Wearing white on white, Barbara poses in a blouse and pants from Amuse Society's summer 2016 collection
Photographed on the beach, Barbara models a bikini look from Amuse Society's summer 2016 collection
Barbara soaks up the sun in an Amuse Society bandeau swim top and matching bottoms
Shop Amuse Society's New Arrivals:
Amuse Society Smooth Sailin' T-Shirt
Amuse Society Brandie Manzanillo Bandeau Bikini Top
Amuse Society Aztec Woven Top
Amuse Society Tula Tie-Dye Dress
comnum(0) tbcount(0) tbcount(252)
Categories:
Fashion
Carolyn Murphy on Town & Country May 2016 Cover
Carolyn Murphy gets her closeup for the May 2016 cover of Town & Country Magazine, out on newsstands April 12th. Photographed by Terry Richardson, the top model graces the 'Youth & Beauty' issue wearing a Prada dress with appliqué and earrings also from the brand. For the accompanying spread, Caroline hits the gym and models black lingerie on location in New York's Peninsula Hotel.
In her interview, Carolyn talks about what it means to be an American woman, her iconic work and more. "So often the American woman has been typified by a standard of outward beauty: blond hair, blue eyes, healthy build," the model reveals. "I see the evolution of the real American woman as being more about her spirit. She can roll up her sleeves and get dirty. She can do it all—she is classy and she is casual. Neither holds more importance than the other, and the beauty is in her effortlessness."
CAROLYN MURPHY – TOWN & COUNTRY MAY 2016
Carolyn Murphy poses in an Etro bra and briefs in black
Carolyn Murphy shows some glam workout attire in a Chanel swimsuit with ChristianLouboutin heels
CAROLYN MURPHY – RECENT CAMPAIGNS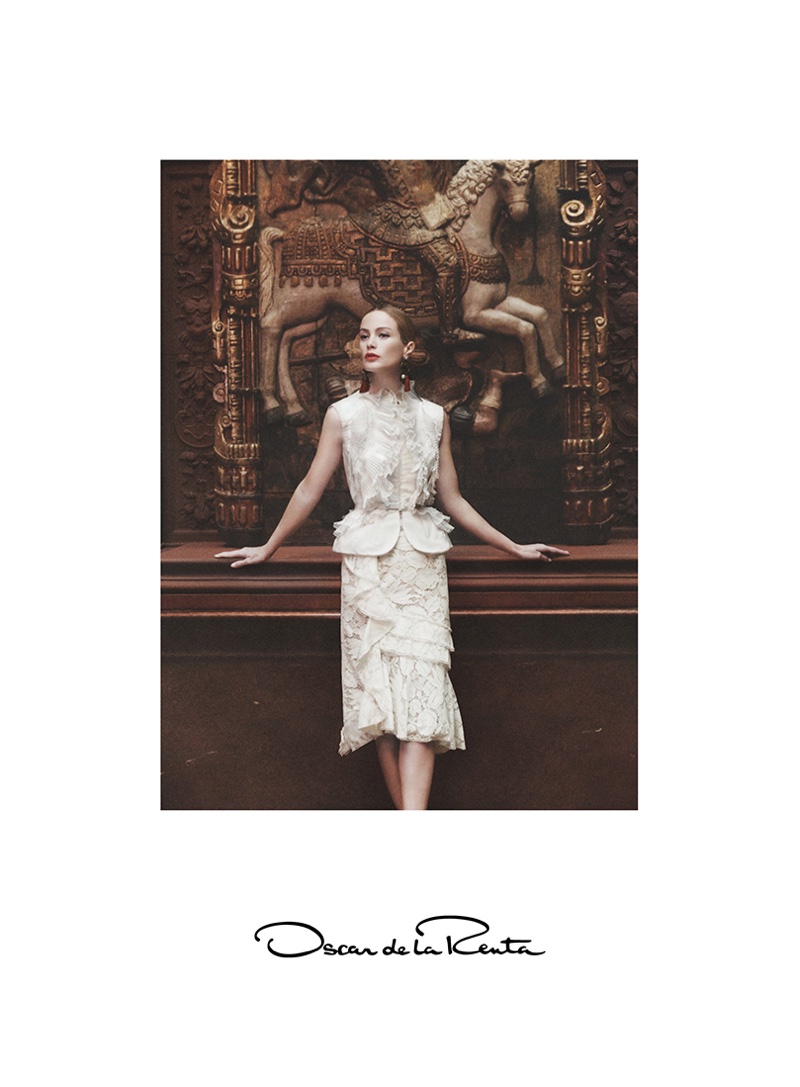 Carolyn Murphy stars in Oscar de la Renta's spring 2016 campaign
Carolyn Murphy has been modeling since 1990, and even over twenty years into her career she shows no signs of slowing down. Check out her recently released campaigns for Oscar de la Renta, Estee Lauder and Stefanel below.
Carolyn Murphy stars in Estee Lauder Infuse Youth 2016 advertising campaign
Carolyn Murphy stars in Stefanel's spring-summer 2016 campaign
comnum(0) tbcount(0) tbcount(240)
Categories:
Fashion
Kate Grigorieva, Jac Jagaciak, Irina Shayk, Cindy Bruna and Romee Strijd open and close the Atelier Pronovias spring 2017 runway show.
After New York City's bridal week — during which we observed a David Bowie tribute and lots of skin — came to a close last month, the sartorial wedding madness continued on other side of the world. Each April, the cosmopolitan Spanish capital of Barcelona becomes the — albeit self-described — world's bridal capital, with a trade show featuring 260 brands (58 percent of which are international), approximately 400 international buyers in attendance and 21 runway shows. Each year, Barcelona Bridal Fashion Week also invites at least one U.S.-based designer to showcase. This year, Kate Middleton favorite Naeem Khan brought his multiculturally inspired spring 2017 collection overseas. The week culminates in a spectacular catwalk held by homegrown heritage label, Pronovias.
A third-generation family business founded in Barcelona over 50 years ago, Pronovias is both the oldest bridal brand and the first to introduce bridal ready-to-wear — or "pret-a-porter," as they say — in Europe, according to communication and public relations manager Mariona Sans. In Europe, Asia and South America, basically everywhere that isn't the U.S., Pronovias is a household name in bridalwear. The company's big goal for near future is to expand its Stateside presence, including opening stores in Los Angeles and Miami to complement the lone Stateside flagship on 52nd street in New York.
But that doesn't mean designing specifically for the American market. "We always say that at Pronovias, we are not doing collections for the different markets," Sans told Fashionista at the runway show. "We are doing global collections, but including the different trends that can fit in the different markets." Fortunately, Europeans also have an affinity for open backs, plunging necklines and illusion dresses — all trends that dominated the bridal runways in New York.
In an effort to compete with the brand awareness of Vera Wang and Oscar de la Renta among the American bridal audience, Pronovias is speaking to us in the language we understand best: influencer marketing. That includes collaborations with the social media stars we Americans know and (maybe) love: Rumi Neely, the now-Los Angeles-based Chiara Ferragni of the Blonde Salad (#notstopping), Hollywood/Kennedy scion Katherine Schwartzenegger and "The City" star Whitney Port, who all attended the Atelier Pronovias spring 2017 runway show last Friday. While Pronovias showed at New York bridal week for the first time last October, the brand really pulled out the big guns at home with an extravagant show at the Italian Pavilion next to the famous Magic Fountain of Montjuïc in the Plaça Espagna. (Think Las Vegas's Bellagio fountain, but way, way better.)
Attended by an unheard of 2,000 guests, including international press, wholesale clients, VIPs and company staff, the show featured 46 looks full of intricate hand-embroidery, loads of Swarovski crystals and colored gemstones, beautiful Spanish lace, majestic trains and a fair amount of illusion elements, all made in-house at the Pronovias atelier. The American guests in attendance may have noticed creative director Hervé Moreau's selection of minimalist silk crepe gowns inspired by the late Carolyn Bessette-Kennedy. "She had this wonderful, but most pure and the simplest gown possible," the French designer told us before the show (via a translator). The trends were pretty much on par with what we saw in New York, but Spanish audiences have a penchant for enthusiastically clapping when they see a dress they like, while New York show-goers sit in stoic silence (or tap away on their phones).
Creative director Hervé Moreau with Irina Shayk.
The applause could have also been a delighted reaction to the impressive model lineup. Proving that Victoria's Secret Angels and Sports Illustratedmodels are pretty much a universal way to resonate with an audience, Irina Shayk opened and closed the show, while current Angel Romee Strijd, VS runway alum Jac Jagaciak, Cindy Bruna and Kate Grigorieva all walked as well.
"I like very much the idea of sensuality in my work," Moreau said. "So I don't want to have girls who walk with serious and closed faces. It's just the opposite and that's a similarity with the Victoria's Secret shows, also. The girls are always smiling. They seem like they are happy to be there and that's what I want it to be during my show."
Plus, let's be honest, there isn't that much of a difference between modeling bedazzled bra sets and wedding gowns given the proliferation of sexy, skin-baring bridal wear nowadays.
Click through the slideshow below for shots of Shayk and the Victoria's Secret Angels in Atelier Pronovias bridal gowns.
comnum(0) tbcount(0) tbcount(153)
Categories:
Fashion
comnum(0) tbcount(0) tbcount(170)
Categories:
Fashion
Kendall Jenner in Vivienne Westwood; Emma Watson in Osman; Kerry Washington in Victoria Beckham. Photos: Larry Busacca/Getty Images
Saturday evening's annual White House Correspondents' Dinner, affectionately referred to by many as "Nerd Prom," culled together a diverse range of guests in Washington, D.C.-adjacent circles and beyond. It's not often that an event hosts the likes of Dame Helen Mirren, Kendall Jenner andJoe Biden in the same room as Kerry Washington, Adriana Lima and "Broad City"'s Ilana Glazer and Abbi Jacobson. If anyone can make it happen, though, it's the guest of honor Barack Obama, who closed out the last WHCD speech of his presidency with "Obama out" and a mic drop.
While Mirren accessorized her orchid purple Dolce & Gabbana dress with a temporary tattoo in tribute to Prince, Jenner, a guest of USA Today, kept it classic in Vivienne Westwood and a prom-tastic up-do. (The model also kept her cool when Obama poked fun at her during his speech, saying, "I'm notexactly sure what [Jenner] does, but I'm told my Twitter mentions are about to go through the roof.") And while Coachella concluded last weekend, a surprising number of chokers — including one on Rachel McAdams, who wore a strapless Giorgio Armani column gown — made appearances at the Washington Hilton.
Click ahead to see the 20 best red carpet looks from the 2016 WHCD.
Categories

New Posts

Hot Posts

Tag Cloud