Categories:
Fashion
Sandra Greiss at the Lyst office.
In our long-running series, "How I'm Making It," we talk to people making a living in the fashion industry about how they broke in and found success.
When you visit Lyst and accidentally misspell a designer name or the word "mules," the website will pull up a page autocorrecting the error, or if you start typing "high waisted jeans" in the search bar, Lyst.com will predictably fill out the rest of your query before you do, like a fashion-conscious Google. All of those minute, convenient details are thanks in part to data scientist Sandra Greiss, who's been with the company's engineering department since 2014.
With Greiss's education — a bachelor's degree in physics from Paris, and a master's and Ph.D. in astronomy and astrophysics from the UK — a path towards academia or a job in finance seemed like the safest bet career-wise. "I never thought I would end up in the fashion industry," says Greiss. "Most physicists don't and to be honest, it's very frustrating. It's great that we're trying to make a point that there's so much you can do with your skills."
We spoke with Greiss about her role at Lyst, why data science is important for fashion and how you, too, can get a job in the industry doing a not-so-traditional fashion gig.
What exactly do you do as a data scientist at Lyst?
Basically we use data — lots of it — to build algorithms and models to train a computer to do a lot of basic things that you can get as a human. In the case of this, with millions of products on Lyst, you need that. We can classify or predict something, depending on your problem. Say, in our case, we've got images of products and we basically build a model and train a computer to be able to detect things about products. Recently, we managed to figure out styles, whether it's a bag or shoes. The latest thing I've been trying to work on is to get a model to detect material from an image, whether it's a leather jacket or pair of denim jeans.
What does Lyst learn from data science?
Lyst is an e-commerce platform, so it's aggregating millions of products from high-end to high-street brands. We mostly use data science to make sure we recommend the most relevant products to our users, depending on what they click on and where they come from on the web. Since there's a vast amount of products in our database, we want to tailor our user's experience according to every single one of their needs, which could be through personalizing the website for each user.
What was the interview process like to get the job that you have now?
You do a coding test to show your coding skills and if you understand the basic stuff. But the type of test depends on the level you apply for, so the more senior you are, the more complicated the questions will be. The coding test will have you write a piece of code and explain what you tend to do after that, which allows recruiters to see how you approach problems and typical issues as a data scientist. My own interview was a bit informal, so the test was done on a white board — now, it's on a computer. I actually didn't manage to figure it out but they liked the way I was approaching the problem. They could still see what kind of person I was.
The Lyst office in London.
What projects are you most proud of?
For me personally, the more exciting projects I worked on was autocomplete and autosuggest. We call a search for something on the website and it's trying to guess what our users are after. That's a project that I was given last summer to do on my own from beginning to end, which is exciting. I thought it was a good challenge in a sense that I get to learn a lot of things and then see it go live.
If you made a spelling mistake in your search, we wouldn't be able to return results unless we had the right search query correctly spelled. So we created a service called 'Did you mean this?' to correct spelling mistakes. That's something else that I also built.
How long do these projects usually take?
They take about two to three months from beginning to end to complete because gathering the data takes time, and then you're cleaning it up and building the model and finding different ways in approaching the problem as well. Speed makes a huge difference; finding something that will perform better and quicker.
What advice would you give to someone who's interested in a similar career path?
The thing is, it's not impossible. We have engineers that basically went from 12-week courses to jobs straight away from that. If you're interested in it, you have meetups and online courses. It's great that there are so many open courses now to teach you code and understand the concepts behind it.
Sandra Greiss at the Lyst office.
Why is data science important for the fashion industry at large?
A lot of big fashion brands have e-commerce platforms, which generate a lot of data for data scientists to exploit. We use data science to understand the customer's needs and study their behavior. This is crucial for the fashion industry because brands are able to increase sales with better services that predict needs and help their customers find what they are looking for. Data science is also used to forecast the lifetime of a product on the website and advise customers how likely the goods are to sell out soon. This helps the retailer with forecasting — estimating how many dresses to produce and dispatch to a given market, which is crucial for any business.
What are other examples of data science being applied in the fashion industry?
Big fashion companies will have data on their sales not only online but in stores, too, and this data can be used to predict the demand of products, estimate stock needs and pricing. It can predict a customer's clothing sizes between many popular brands as well: By gathering data on people's measurements and what sizes they wear in each brand, a model can be built to predict what size you should be for a certain one, which is very useful since most products are returned because of fit.
Another great example of using data science for fashion is through a program called Deepomatic, which uses images of fashion bloggers and links the items to where they can be bought.
What do you think is a common misconception when it comes to your job?
A lot of people are finding it surprising that women do this job — not exactly at Lyst because we have a good balance — but in general and outside of fashion. It's something that I push for a lot; getting more woman in the tech world itself would be great. It should start with encouraging girls in school to study computer science or any science. It's okay to do that and okay to be a data scientist. It's actually more than okay, it's really cool at the moment. I read inHarvard Business Review that it's the sexiest job of the century and the best job to have in 2016.
Data science is the field of machine learning, or artificial intelligence, so it's an extremely exciting time to be part of it because it can be exploited in many ways, especially in the fashion industry. It doesn't stop there and it probably won't slow down anytime soon. It's changing the world of fashion.
comnum(0) tbcount(0) tbcount(310)
Categories:
Fashion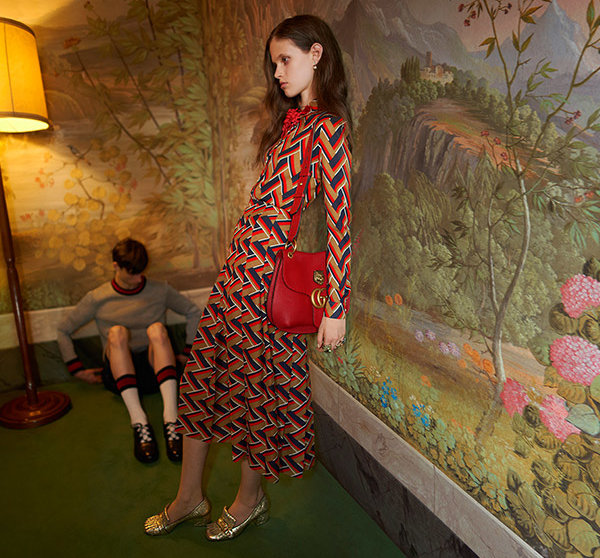 This image from Gucci's cruise 2016 campaign was banned by the UK's Advertising Standards Authority
Gucci's Alessandro Michele has been winning over the fashion world with his takeover of the brand since early 2015. But it appears that one group is not a fan of the Italian label's new direction–more specifically, the brand's cruise 2016 campaign. According to the New York Times, the UK's Advertising Standards Authority ruled that two images were not appropriate for public consumption. One image featured a model posed against a wall with an "elongated torso" and thin waist. In addition, another image of a model in a yellow jacket and skirt showing slim legs was also called into question.
Another image from Gucci's cruise 2016 campaign that was banned by the UK's Advertising Standards Authority
The stills appeared at the end of the cruise campaign film directed and photographed by Glen Luchford. The ASA ultimately ruled that the images were "irresponsible" with the models looking "unhealthily thin". For Gucci's part, the label responded by communicating that the models were covered and there were no visible bones on display. Gucci also indicated that determining whether the models were unhealthy or not is a subjective matter.
Despite this, the ASA ruled against the campaign. The decision means that Gucci can not use the images in any advertisements in Britain. This is not the first time that the ASA has ruled against a major fashion house. In the past a Saint Laurent campaign photographed by Hedi Slimane, and a Tom Ford ad featuring a naked Cara Delevingne were deemed inappropriate.
comnum(0) tbcount(0) tbcount(240)
Categories:
Fashion
Emilia Clarke on Glamour Magazine May 2016 Cover
'Game of Thrones' actress Emilia Clarke graces the May 2016 cover of Glamour Magazine, wearing a multi-colored Gucci dress. Photographed by Steven Pan, the British star looks as romantic as ever in floral print dresses from the likes of Marc Jacobs, Rochas and Red Valentino.
In her interview, Emilia talks about 'Game of Thrones' being for more than just men. "I love that so many women watch the show. If you look at Game of Thrones on face value — blood, tits, dragons, swearwords — you're like, 'Oh, this must be for guys.' But if you take that away, the story lines are fascinating depictions of the struggle for power. And women are in on that conversation."
EMILIA CLARKE – GLAMOUR MAGAZINE
Photographed in a Marc Jacobs dress with floral embellishments, Emilia Clarke looks super elegant
Sitting on a table, Emilia Clarke poses in a long-sleeve Red Valentino dress with floral patterns
EMILIA CLARKE – 'ME BEFORE YOU'
Emilia Clarke and Sam Claflin in 'Me Before You' movie poster
Besides starring on the upcoming sixth season of 'Game of Thrones', Emilia Clarke will also appear in the romantic film 'Me Before You'. Acting alongside Sam Claflin, the actress takes on the role of Lou who takes care of a recently paralyzed man (Claflin) who she eventually falls in love with. The movie also stars Jenna Coleman, Matthew Lewis, Charles Dance and Brendan Coyle. Check out images from the movie and a trailer below.
Emilia Clarke and Sam Claflin share a romantic moment in 'Me Before You'
Emilia Clarke in 'Me Before You' movie still
Sam Claflin and Emilia Clarke in a movie still for 'Me Before You'
comnum(0) tbcount(0) tbcount(367)
Categories:
Fashion
A little over three years since Alessandra Facchinetti replaced Derek Lam as the creative director of Tod's, the Italian brand announced Thursday that the designer is stepping down from her role. She presented the brand's first ever runway show in September 2013.
"I have given much consideration to this decision; we came to this conclusion after a thoughtful conversation and I wish Alessandra all the best for her future endeavors," said Tod's Group CEO Diego Della Valle in a statement. He thanked her for her contributions and for "presenting a show not to be missed in Milan." Facchinetti added: "I will now focus on other projects that I have put aside in order to be able to achieve Tod's strategies."
In November, the Tod's Group purchased Roger Vivier's trademark for €415 million, roughly $441 million, after being linked through a licensing agreement for years and joining its stable of other brands: Fay, Hogan and the namesake label known for its footwear and leather goods. The Tod's brand saw sales increase 5.5 percent in 2015 to €599 million, about $683 million.Apparel sales only accounted for 6.5 percent of the Group's overall business.
Facchinetti has worked for almost every major Italian luxury brand. She succeeded Tom Ford at Gucci before becoming the creative director at Valentino and has also worked for Miu Miu and Moncler. Della Valle hired her to "take the women's line in a new direction, [including] accessories, advertising," as she told Fashionista in 2013. Joining Tod's required Facchinetti to end her partnership with Pinko, with with she launched acontemporary collection called Uniqueness in 2011 that was early on the "see now, buy now" strategy: every piece was available to purchase online directly after the runway show.
Tod's spring 2016 collection.
comnum(0) tbcount(0) tbcount(212)
Categories:
Fashion
Kendall Jenner at the launch of Estée Edit.
A good sunscreen is not going to make a 22-year-old's Instagram or Snapchat selfie look any better, and for that reason (and a few others), Estée Lauder's makeup sales have continued to outpace those of skin care products during the three months ending on March 31, 2016. Excluding currency fluctuations, makeup sales grew 11 percent while skin care sales were flat. Total revenue for the company, which owns Clinique, MAC, Smashbox and Bobbi Brown among other brands, increased by 6 percent.
And all of those brands saw growth in makeup, specifically. It's not a new phenomenon or one that's unique to Estée Lauder brands — L'Oreal saw a similar trend in its first quarter report this year — but in a phone interview on Tuesday, Estée CEO Fabrizio Freda went deeper into the social media trends that have have caused it, and how the company can tap into them.
For one, it's thanks to social media and online video that consumers are growing more and more educated about the increasingly wide breadth of products available to them and about how to use those products. Second is "selfie culture," as Freda described it. "If you take a photo 10 times today... the result is people are using more makeup and more instant skin care," meaning products that will improve the appearance of your skin immediately, not over time.
So if the millennials Estée Lauder so desperately wants to reach are finding out about products through social media, how does Estée Lauder tap into that as a beauty company? In addition to the obvious — ramping up its brand websites and social media efforts — it's also seen success with MAC's global artists posting their own educational videos, since they are "creative people," not just brands posting promotional stuff.
Another thing that helps: having Kendall Jenner as a brand ambassador and using her own social channels to promote things like Estée Edit, the now-one-month-old, millennial-focused cosmetics line that she helped create, and, say, thanking Estée Lauder for her Met Gala beauty look. While it's too early to see the full impact of Estée Edit on sales, Freda said he's seen "very encouraging results," thanks largely to "Kendall and her enormous following."
Another upcoming collaborator with a sizable following is Victoria Beckham: Estée Lauder has partnered with her on a makeup line due out this fall. For a designer whose look is generally clean and simple, we had trouble picturing what a makeup collection with her would look like, or why one would make sense at all. "There is obviously the positive effect of [her relevance in the fashion industry]; there is the element of the social media input, the in-store activations and in store excitement [when the products launch]," explained Freda of the collaboration. "It's one of the ways to activate interest for the brand." He used MAC as an example, which has a proven track record when it comes to collaborations. "MAC does more than one [collaboration] per week with people. It's a very well validated methodology."
It sounds like we can expect a lot of newness from the company in the near future. Freda announced a new multiyear initiative called "Leading Beauty Forward" that is meant to allow the company to be more nimble and responsive, and to anticipate beauty trends. This was likely stressful news for some investors and employees, as it means the elimination of 900 to 1,200 positions globally (about 2.5 percent of the company's workforce) and costs of up to $700 million. But for us consumers, Freda says it will mean "better innovation, more communication in social media, better creative assets, more retail stores, services and experiences."
comnum(0) tbcount(0) tbcount(261)
Categories:
Fashion
Kylie Jenner on Paper Magazine April 2016 Cover
18-year-old reality television star Kylie Jenner gets her closeup for the April 2016 cover of Paper Magazine. Photographed by Erick Madigan Heck, Kylie appears in the publication's Youth issue with an Instagram theme. With over 57 million Instagram followers, Kylie is one of the world's most highly talked about teens. In the photoshoot, Kylie wears different colored wigs and equally vibrant fashions including fur coats, lingerie styling and more.
In her interview, Kylie talks about using her social media platform for more than just herself. She reveals the inspiration behind posting anti-bulling messages. "Growing up and being a young teen socialite comes with a lot of negativity and a lot of mean comments and online bullying and I turn to these people who have real issues and have overcome bullying and done something amazing with it and they really inspire me."
She continues, "They make me feel like, 'Oh wow, they're going through something much bigger than I could ever imagine.' It's just amazing how they stay positive and I wanted to share that with my fans and followers."
KYLIE JENNER – PAPER MAGAZINE
Kylie gets colorful in a printed DSquared2 bodysuit
Kylie Jenner wears a blue fur coat
Wearing a blue wig, Kylie Jenner models a pink blouse and red lipstick color
Kylie Jenner poses in a red wig, and pink Fleur du Mal bodysuit
KYLIE JENNER LIP KIT VIDEO
Kylie Jenner in promotional still for new Lip Gloss kit
Kylie Jenner also recently released a video for her insanely popular lip kit line. The star showed off the line of glosses with a film that looked part music video and part commercial with girls playing robbers in some shady deal. The three new shades are called Like, Literally and So Cute. Check out the film below.
Categories

New Posts

Hot Posts

Tag Cloud