Categories:
Fashion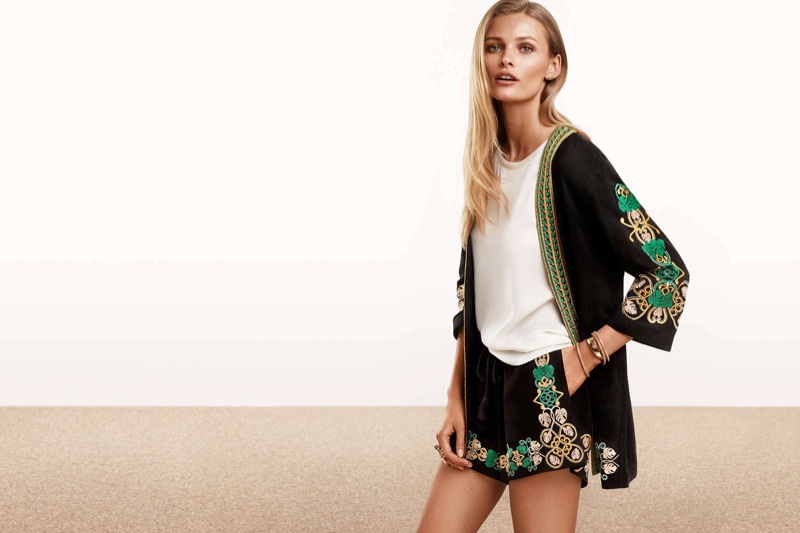 H&M Embroidered Kimono Jacket
,
Short-Sleeve Blouse
and
Embroidered Shorts
H&M has us excited for summer with the release of its latest trend guide. Called 'New Ease', the fashion update features casual outfits that do not skimp on the style department. Models Edita Vilkeviciute and Julia Hafstrom wear a mix of wide-legged jumpsuits, embellished blouses and distressed denimshorts. Accessorized with gold-plated jewelry and platform sandals, these girls are taking on the new season in style.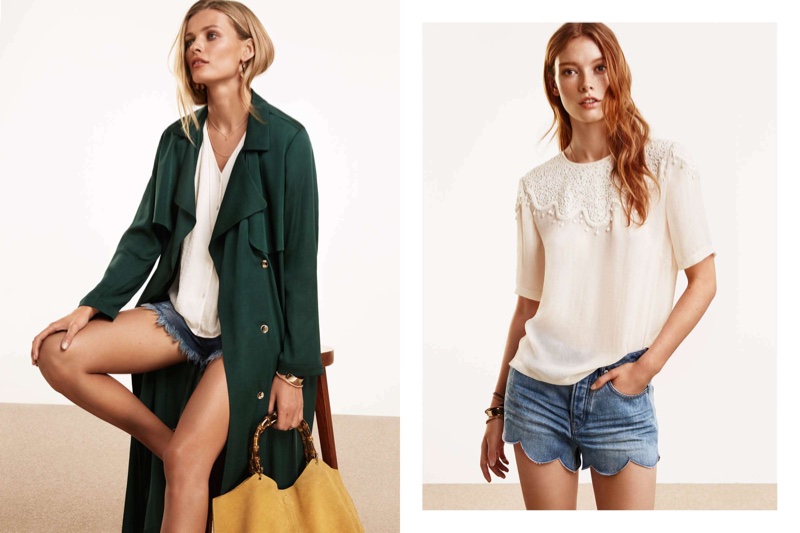 (Left)
H&M Satin Trench Coat
,
Short-Sleeved Blouse
and
Distressed Denim Shorts
(Right)
H&M Embroidered Blouse
and
Scalloped Denim Shorts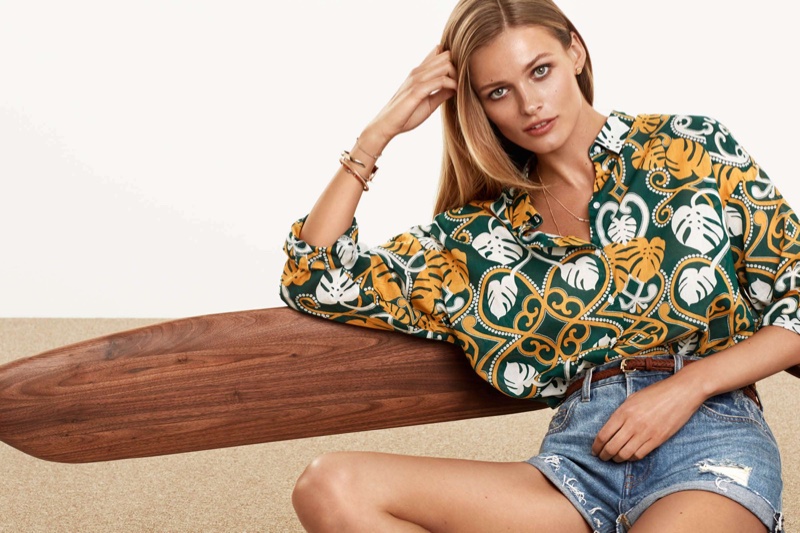 H&M Patterned Cotton Shirt
,
Trashed Denim Shorts
and
Braided Belt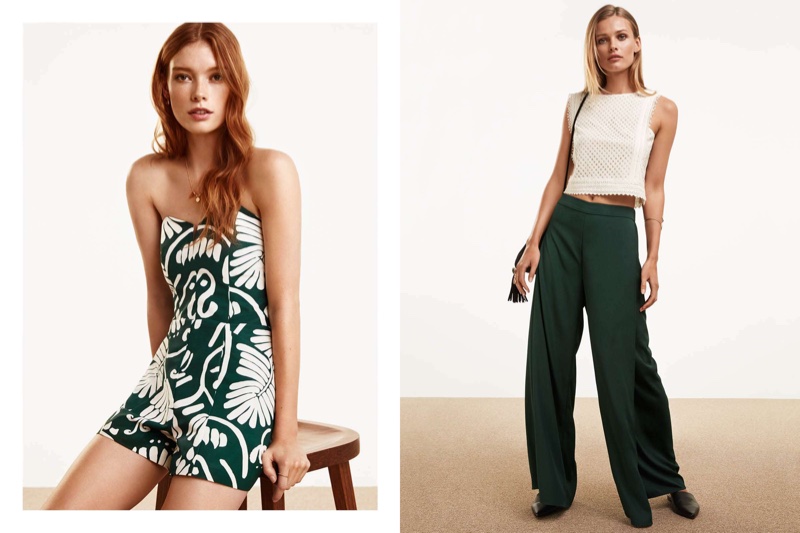 (Left)
H&M Hawaiian Print Romper
and
Necklace with Pendant
(Right)
H&M Cropped Lace Top
and
Wide-Leg Pants with Slits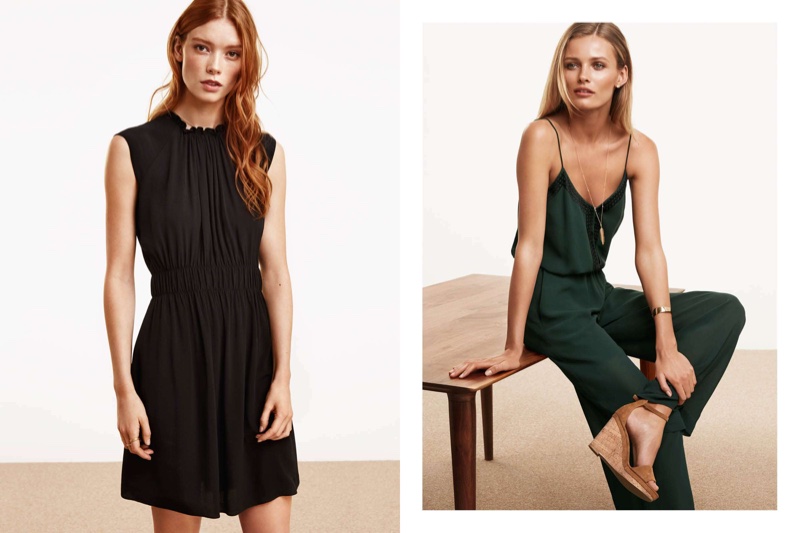 (Left)
H&M Black Crinkled Dress
(Right)
H&M Embroidered Jumpsuit
,
Wedge-Heel Sandals
and
Rigid Cuff Bracelet
comnum(0) tbcount(0) tbcount(404)
Categories:
Fashion
Bella Hadid on the June cover of 'Elle.'
After landing on the front of three fashion magazines for May — with a total of nine so far for the year — Bella Hadid is continuing her streak with the June 2016 issue of Elle. The "super model!" cover, styled by Samira Nasr and photographed by Terry Tsiolis, comes with a promotional-friendly hashtag aptly titled #ELLExBella. Throughout the shoot, the youngest Hadid sister opts for either no pants or no shirt, showing off her svelte figure in an Azzedine Alaïa bodysuit, swimsuits by OYE Swimwear and Jo De Mer, as well as a Givenchy blazer-and-trousers set.
This is Hadid's fourth cover for an American fashion title (she's modeled forSeventeen and Allure, as well as the indie publication Unconditional). She's also appeared in a number of Elle editorials previously — including one in last month's issue. In her interview with Lauren Waterman, Hadid reveals what it takes to get the perfect photograph: "My mom always taught me to think about something happy when I'm working, because it kind of shows through your face," she says. "I used to think about my horses, but now I think about other things."
comnum(0) tbcount(0) tbcount(177)
Categories:
Fashion
After Party Vintage Floral Print Mini Dress
If you are looking for a way to brighten up your wardrobe than a floral print dress is the way to go. We know what you are thinking, "florals for spring? how groundbreaking." But these florals are not your mom's. From painterly prints to splashy tropical patterns and mini scales, there is plenty of options. So check out nine pretty florals below.
ASOS Shift Dress with Floral Poppy Print
ASOS Skater Floral Print Dress with Ruffle Detail
Christy Dawn Rosewood Floral Print Dress
Free People Midnight Blooms Dress with Floral Print
Free People Ruffle Me Up Floral Print Mini Dress
Minkpink Floral Print Maxi Dress
Minkpink Tangerine Dream Floral Print Dress
ASOS Cold Shoulder Floral Print Mini Dress
comnum(0) tbcount(0) tbcount(267)
Categories:
Fashion
On Monday, the Tory Burch Foundation announced the 10 female fellows who will participate in its first-ever yearlong Fellowship program, which was announced last year when the Foundation began accepting applications. Through March and April, it held a public online vote listing 30 female-run businesses that were chosen from more than 500 candidates. After nearly 40,000 votes, these remaining female entrepreneurs will receive a $10,000 grant, as well as access to opportunities to network and receive mentorships and business education.
Said Burch in a statement: "Our goal is to give women the tools and platform they need to grow their businesses. We are thrilled to celebrate and welcome these 10 extraordinary women to our Fellows program as they serve as ambassadors to women entrepreneurs across the country."
comnum(0) tbcount(0) tbcount(233)
Categories:
Fashion
Jessica Alba stars in DL1961's spring-summer 2016 campaign
Denim label DL1961 has a new face for its spring 2016 campaign with actress Jessica Alba. The Hollywood star and Honest Company co-founder poses in distressed jean styles for images captured by Boo George. From the white 'Riley' jean to the cropped 'Lara' style, Jessica looks beyond cool in the new advertisements. In addition to fronting the spring collection, Jessica will also design a few styles for DL1961's upcoming fall 2016 collection.
JESSICA ALBA – DL1961 SPRING 2016 CAMPAIGN
Jessica Alba poses in grunge-inspired denim from DL1961's spring 2016 collection
Jessica Alba poses in distressed denim from DL1961's spring 2016 collection
Jessica Alba wears a wavy hairstyle in DL1961 campaign
Jessica Alba lounges in white denim from DL1961
Shop Looks from DL1961's New Campaign:
DL1961 Farrow Jean in Ringwald
DL1961 Florence Jean in Seymour
DL1961 Lara Cropped Jean in Sunset
DL1961 Riley Jean in Breath
JESSICA ALBA – SAINT LAURENT 2016 PALLADIUM STYLE
FEBRUARY 2016: Jessica Alba attends the 2016 Saint Laurent at the Palladium Show wearing a gold slip dress and black leather jacket from the label. Photo: Joe Seer /Shutterstock.com
Back in February, Jessica Alba stepped out to attend the Saint Laurent show at the Palladium in Los Angeles, California. The actress channeled her inner rock and roll star in a gold slip dress and black leather jacket. Jessica paired the look with a purposefully mussed hairstyle and berry red lip color.
FEBRUARY 2016: Jessica Alba attends the 2016 Saint Laurent at the Palladium Show wearing a messy shoulder-length hairstyle.
comnum(0) tbcount(0) tbcount(285)
Categories:
Fashion
Gugu Mbatha-Raw, Zendaya, 'Marie Claire' Editor-in-Chief Anne Fulenwider, Hailey Baldwin and Kylie Jenner at the 'Fresh Faces' party celebrating the magazine's May issue in Los Angeles. Photo: Matt Winkelmeyer/Pret-a-Reporter/Getty Images
In our long-running series, "How I'm Making It," we talk to people making a living in the fashion industry about how they broke in and found success.
Ever since she was the editor of her high school newspaper, Marie ClaireEditor-in-Chief Anne Fulenwider knew her calling. "This is really the only thing I know how to do," she told Fashionista as we sat in her sunlit office on the 34th floor of the Hearst Tower, which is decorated so beautifully that it would not look out of place in the pages of fellow Hearst publication Elle Décor.
While she naturally has an instinct for finding that really good story, Fulenwider studied English Literature — not journalism — at Harvard University. "I tried out for the newspaper," she said. "It was really not my scene, so I ended up at the literary magazine there. But I have always loved storytelling and interpreting culture through words and pictures, so I think English Literature was also the only thing I wanted to do." After graduating, she started with an internship at David Lauren's startup Swing magazine, geared towards the 20-somethings of that time, which fast-tracked her journalism career.
Next, at the The Paris Review, Fulenwider served as both senior editor and research assistant to the famed George Plimpton when he wrote his 1998 book about Truman Capote. Then she spent 10 years at Vanity Fair as senior articles editor. "Every job was more interesting than the next," she said. Today, Fulenwider is at Marie Claire for the second time: She initially worked under now-Cosmopolitan Editor-in-Chief Joanna Coles for two years as executive editor, and then left for Brides to serve as editor-in-chief. Fulenwider returned to Marie Claire less than a year later step into the top role, and that's where she's been ever since.
"I've always been interested in not just storytelling, but in learning about women's stories, so it seems completely inevitable that I would end up here," Fulenwider said about running the fashion, beauty and all-around female empowerment-focused magazine. She definitely has some interesting experiences to share, including what it was like to send the Selena Gomez-covered June issue to print. Read on for highlights from our conversation.
'Marie Claire' Editor-in-Chief Anne Fulenwider.
You've worked under two pretty well-known editors: Vanity Fair's Graydon Carter and Cosmopolitan's Joanna Coles. What did you learn from working for such exact and, I'm assuming, demanding bosses?
Actually, neither of them was really that demanding. [laughs] They were really great at what they did. Before that, I worked for George Plimpton, who was also a big New York character. One of the things I learned from each of them is the importance of remaining curious about the world. I've said that before, but I really can't stress it enough — and I love that about New York. I've been in New York for 20 years. It's just the idea that there's another adventure around [the corner]; remain open to them and to any kind of story. George Plimpton was a great storyteller and a great collector of people. Graydon was hilarious and funny and demanded excellence in a way that didn't feel overburdened. I learned so much about getting the best out of people and not stopping until you have a really excellent story or photograph or layout. And Joanna was so different in her leadership style in that she was very approachable and very inclusive. As executive editor [at Marie Claire], I got to see, really, everything.
How would you say your management style is?
If Graydon is over here [gestures to her far right] as authoritarian — or that's not the right word — very top-down, and Joanna was over here [gestures to her left] in terms of democratic and accessible, I'm about in the middle.
In between your executive editor role and your now editor-in-chief position at Marie Claire, you were EIC of Brides. What was it like going from fashion and lifestyle to very focused on bridal?
Having been the number-two editor at Marie Claire, I saw very closely what it was like to be number one, and I was really interested in that. I had sort of grown up at Condé Nast, so when they called me, I was thrilled. My feeling about it: This is a topic that I understand and it would be a great way to learn how to be an editor-in-chief. So I felt very good about the fact that it was such a narrow focus and that I felt comfortable in it. I certainly didn't know the industry at all, and I spent the nine months that I was there learning that and getting to know the people and the players. But in terms of how to make a good magazine, it was a great first testing ground.
Partially because of the focus?
Basically, you're doing the same topic every single month, so it's really great grounds to innovate, design, work with photographers and learn how to change it up. How to change that topic and make it interesting every month was something that was a really, really good experience for me. I learned so much. I also was there to combine the digital and print teams. They had never operated together. When I got there, Brides.com was under a completely different editor-in-chief. They had lived in a different building; they'd never met each other. They didn't coordinate content, so one of the reasons I wanted to go there was because it was such a digital [experience].
How did you find the difference in working at Condé Nast versus Hearst, especially in the digital age?
Working at Vanity Fair for 10 years, I didn't really learn about the Condé Nast culture because Vanity Fair was its own planet and universe, as some of the other brands there are, too. And this was years ago. I was a senior editor, but I didn't interact with corporate, so by the time I got back there at Brides, it was a really interesting time for Condé Nast. They were undergoing a huge merging of digital and print. While I was there, the digital leadership at Condé underwent some changes. It was certainly a time when lots of companies were struggling with how that would work. Hearst was doing it as well. I love it [at Hearst]. It feels very open and transparent. There are plenty of people to collaborate with and to ask questions to; you can feel you can bring any idea to leadership and they're really into it and they want more from you.
Condé Nast has historically been the more glamorous company and really more about intimidation. [laughs] And Hearst, [with] Harper's Bazaar, Elleand Marie Claire now, they really focused on their fashion brands — and even the changes to Town & Country lately — the different fashion voices here are very diverse and it feels like a company that loves to innovate. It's been a great place to be an editor-in-chief. It's really fun. It's been an adventure. I feel very supported.
Is it fun to be an editor-in-chief?
It is really, really fun to be the editor-in-chief of Marie Claire. As my husband will tell you, I love bossing people around. Brides was a hugely important step in my career and so I learned so much. I'm really glad I did it first... then I got to Marie Claire and the idea of being an editor-in-chief wasn't so new to me. Being the editor of Marie Claire is the best job in the world. There's something about it that's really zeitgeist-y now, although [Marie Claire] always had this women's empowerment and cause-related spine to it. But I feel like the "change the world" attitude is universal, so there's something really fun about being at a brand that's so on-message for its time.
Selena Gomez covers the June issue of 'Marie Claire.'
What was it like for you to put the Selena Gomez June issue together and push it out the door?
I feel like on any given day, I'm working on about seven issues at once. The long lead, then there's press for the past one. And it's always a bit chaotic, but in a really fun way. I'm a big fan of bringing everyone in the room and just saying, 'OK, how are we going to do this? What's the concept for Selena Gomez, or what photographer can we get?' We're thrilled to work with Kai Z. Feng [for the June cover]. But it's a group effort. It's not like you ever sit down and say, 'the entire June issue will be this, this and this.' It's a synthesis of departments.
What is it like for you in terms of securing the cover star? How was it getting Selena?
We have a phenomenal entertainment director, Tracy Schaffer. She lives in L.A., so she speaks Hollywood-ese, the language, and she has amazing relationships. Selena Gomez's publicist, Brit [Reece] and Tracy used to work together at PMK, so it was very friendly conversation. Doing covers is a full-time job. We had some issues today with the timing of our September cover shoot, and we thought we had someone for November that we just found out we don't have because the movie's shifted. So, I guess the job is really managing chaos.
A big wish list [item] of mine was to improve our presence in L.A., so hiring Tracy was a strategic move on my part and she's been fantastic at getting people that we've never had before for a cover. We did something called the Image Makers for the first time this year in January — that was a big fun event at the Chateau Marmont. And we were just there for our Fresh Faces party for the May issue, with five different cover girls. Some of the conversations about [covers] takes place at those parties. We've been co-sponsoring a party with the Weinsteins after the Golden Globes. We've done a couple of cover deals on the fly at a party over a glass of tequila.
And then there are all these things I do that are not related to the magazine. I love working on the issue and getting it out and talking to our website director about stories we can do in tandem. But almost every day I have some sort of meeting or lunch or pleasant interaction that has nothing to do with the content of the magazine, but has everything to do with extended family of the magazine.
What are the most interesting not-related-to-an-issue meeting or conversations that you've had lately?
Just meeting [education activist] Malala [Yousafzai] at a luncheon was a great experience. I went to Washington and spent the day with some female senators and congresswomen. It was really interesting walking on the Senate floor and working with the White House has been great. [I met] Alyssa Mastromonaco, who used to work for Obama as deputy chief of staff. We did a profile on her. She loved her experience with us, she became a friend of the magazine and now she's a contributing editor.
Getting to know Janet Mock has been really interesting. I've just become an advisory board member on Girl Up, which is a United Nations Foundation [organization] about girls' empowerment around the world. It's just been a really horizon opening and perspective broadening job to go see what's going on in the world in all sorts of categories. I like that what we cover is so diverse. I love fashion — a whole interesting part of my career is getting to know the fashion world and I love going to Paris twice a year and Milan. It's a big treat. It's also a lot of work, but it's really fun. And then there's this women's empowerment world, which is getting bigger and bigger and bigger. Thank god.
Designer Bags, Wallet, Purse, Belt & Accessories Official Site, Best Price & Quality, Free Worldwide Shipping, Free Returns. Every Bag Is A Work Of Art - Handmade - Cowhide Art - Can Custom-Made

Categories

New Posts

Hot Posts

Tag Cloud