Categories:
Fashion

Hatty Swimsuit in Black, $355
This '90s inspired high necked one piece is anything but demure. The rouleaux lacing, laid over a fishnet style lining gives a sexy glimpse of skin in the front while the back is no less risqué with cutaway straps and two gold tone metal clasps at the wings and waist. The swimsuit features underwire and adjustable straps for improved support.

Zoey Swimsuit in White, $355
Another one piece swimsuit with high cut legs, this maillot is one shouldered with contrasting zippers above and below the bust and across the hips. The swimsuit may take it's style cues from sporty '90s clothing, but the zips are not for show, if you're feeling extra sexy, just leave them open to show just a sliver of skin (but don't blame us when you have bizarre tan lines).
READ: A $6,000 Swarovski-studded swimsuit to debut in Singapore

Marlene Swimsuit in Black, $355
Inspired by the surfer girl of the '80s the Marlene swimsuit is crafted from black wet look fabric and side panels made of sheer but rigid and supportive tulle. The illusion style swimsuit also features a high neck and high cut legs with the final touch being a center front zip that unzips from top to bottom.

Hatty Bikini (top: $175, bottom: $135)
If you can't ditch your bikinis, AP has also included the Hatty style in a two piece version. The rouleaux style lacing gives this set a sexy bondage inspired feel while the matte fabric is a classic. Wear the bra top as a cropped top or under a sheer blouse if you're feeling bold.
comnum(0) tbcount(0) tbcount(257)
Categories:
Fashion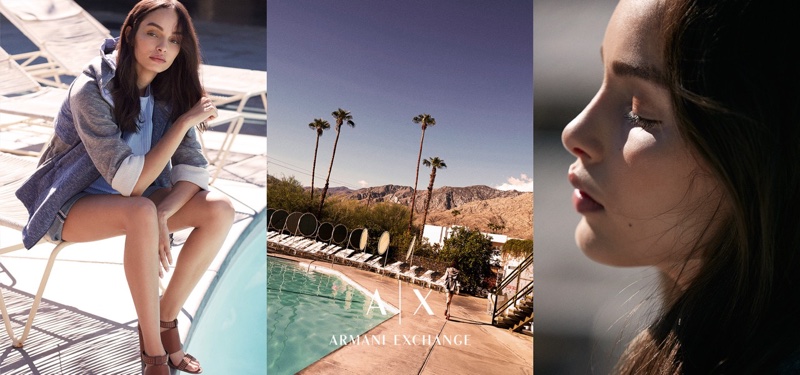 Luma Grothe stars in Armani Exchange's spring-summer 2016 campaign
Armani Exchange heads to sunny Malibu, California, for its spring-summer 2016 campaign. Photographed by Riccardo Vimercati, models Luma Grothe, Zuzanna Bijoch, RJ King and Luke Worrall appear in the advertisements. From the poolside to the beach and rocky cliffs, the models pose in easy and casual ensembles. For the girls and guys alike, there is a focus on denim, casual t-shirts and outerwear. / Hair David von Cannon, Makeup by Sil Bruinsma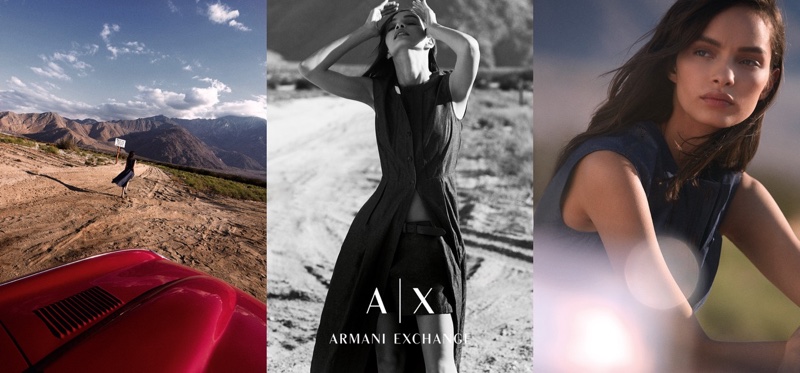 Photographed by Riccardo Vimercati, Armani Exchange's spring 2016 campaign was captured in Malibu, California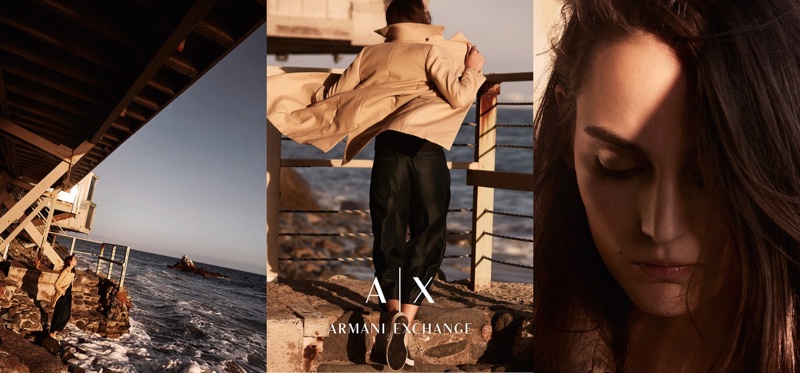 Zuzanna Bijoch stars in Armani Exchange's spring 2016 campaign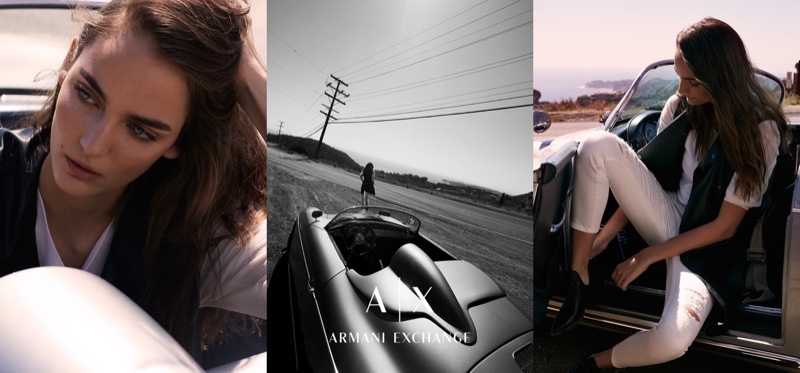 Armani Exchange's spring 2016 collection features distressed denim styles
Shop Armani Exchange's New Arrivals at Macy's: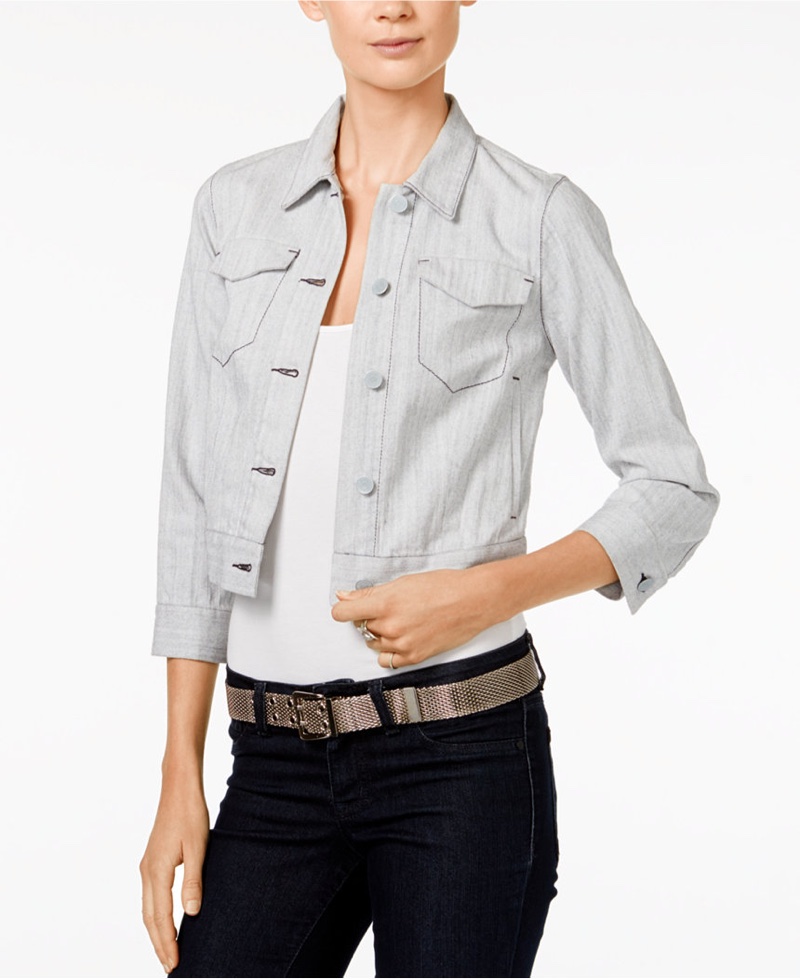 Armani Exchange Cropped Denim Jacket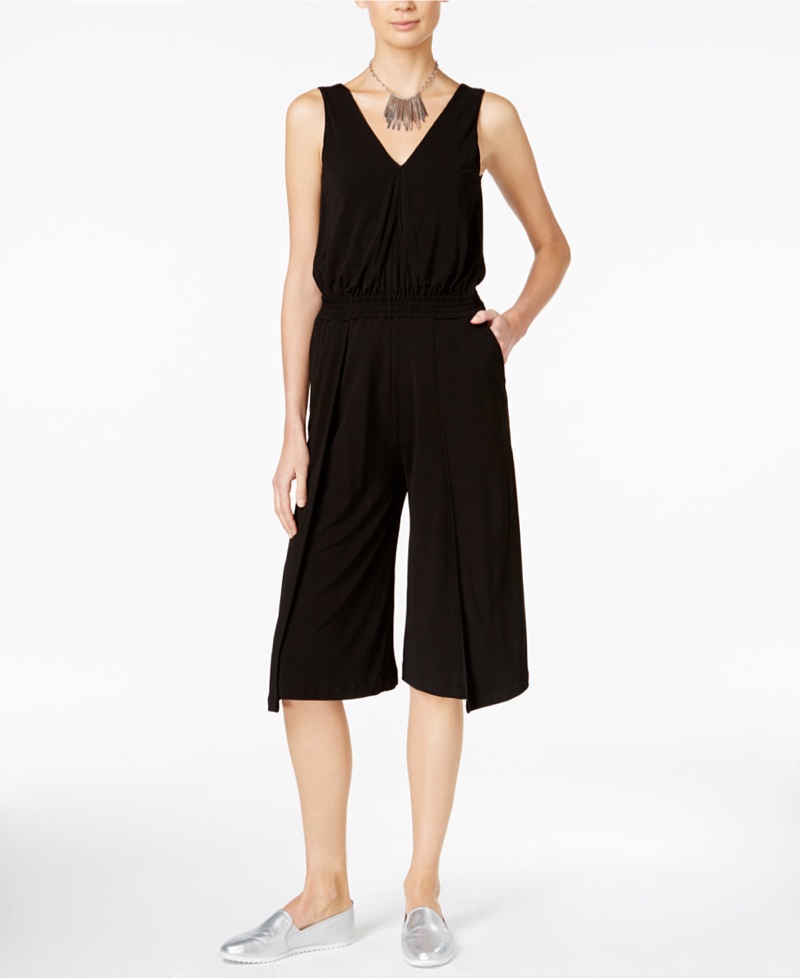 Armani Exchange Culotte Jersey Jumpsuit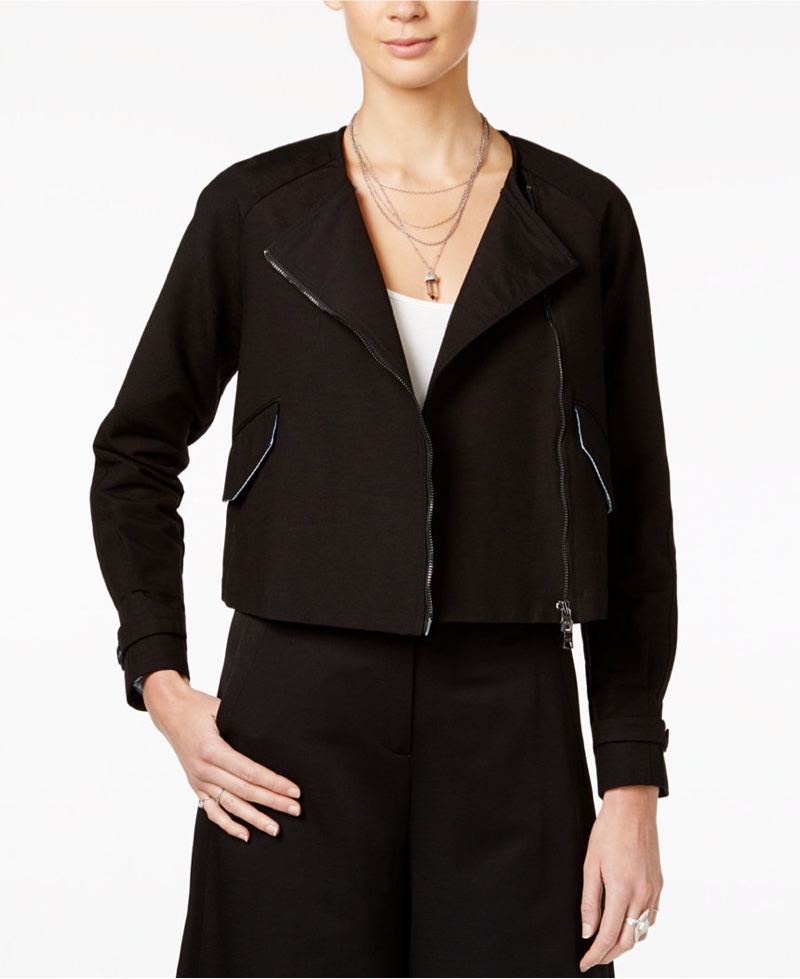 Armani Exchange Moto Blazer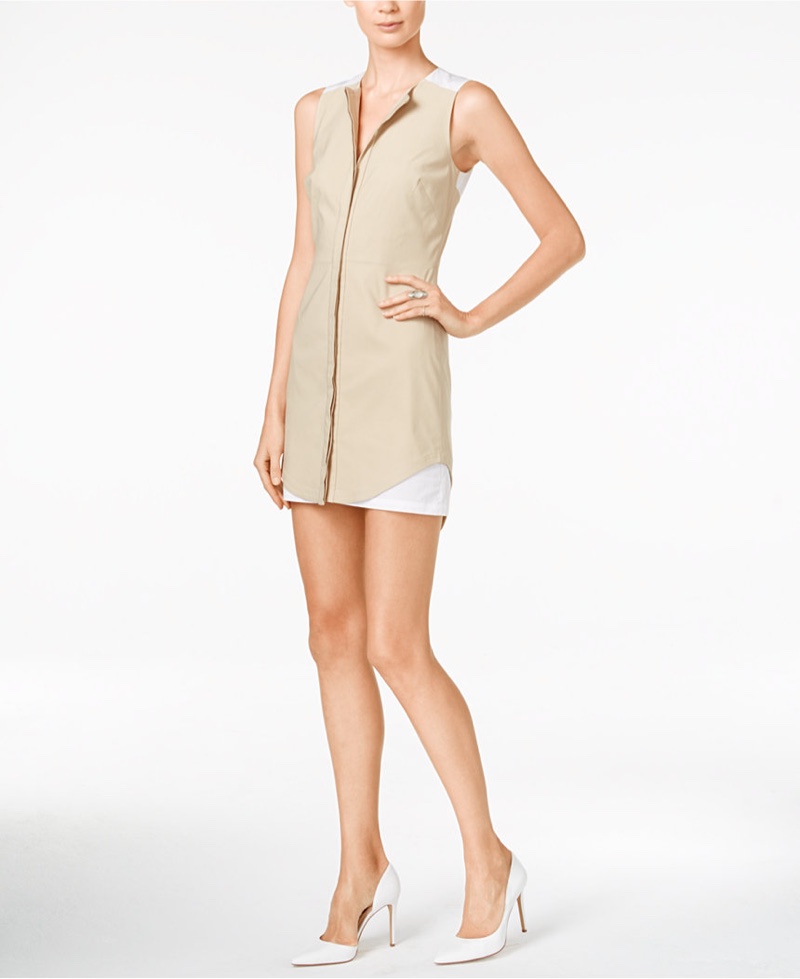 Armani Exchange Sleeveless Colorblocked Shirtdress
comnum(0) tbcount(0) tbcount(280)
Categories:
Fashion
Olivia Kim with "Manus x Machina" catalogues. Photo: The Met Store
The Costume Institute's summer exhibit at the Metropolitan Museum of Artis a flagship event for the cultural institution, what with the celebrity-filled opening gala, a new documentary about the intense preparations and, of course, major foot traffic — last year's "China: Through the Looking Glass" is among the Met's top five most-visited exhibitions of all time. Head curatorAndrew Bolton has spoken at length about the pressure to stay ambitious with his exhibits, and the Met Store is following suit. This year, the museum shop has partnered with Nordstrom's Olivia Kim to offer an extra special array of pieces launching Wednesday to complement the "Manus x Machina: Fashion in the Age of Technology" exhibit and allow visitors of all budgets the opportunity to take something unique home with them.
"It was an introduction through Anna [Wintour]," says Kim about how she got involved. "I love the idea of museum shops, they are really my favorite things about going to a museum... In partnership with them, we helped to coordinate and curate some exclusive pieces and introduce them to some of my favorite designers." Those include Marques Almeida, Hussein Chalayan, Paskal and Simone Rocha, who all contributed pieces inspired by or complementary to the hand and machine techniques highlighted in the exhibit.
Simone Rocha handbags. Photo: The Met Store
"I thought about some of my favorite designers that I felt were doing really great examples of those works, and then we introduced them to the Met Store to see if we could do some exclusive stuff," says Kim. "From Marques Almeida we have a top that's sheer with all these bright feathers on it, which I think that they do so well in a very nontraditional way," she says. The top from the fall 2014 collection will arrive to the shop in June, while a feather and leather wallet with detachable strap will be available starting Wednesday. "And with Simone Rocha, she does such a good job of incorporating beading into these very feminine designs, but they don't have to be so precious," explains Kim. The designer is contributing a silk sailor cord belt, five handbag styles and two brooches — all available Wednesday as well.
Kim also spearheaded a collection of exclusive nail polishes designed byCirque Colors's Annie Pham, marking the first time the Met Store has offered beauty products. The six shades play off the "Manus" and "Machina" sides of the exhibit, with names like "Pret-a-Pearl" and "Laser Jet."
Cirque's "Machina" nail color set, $42, available at The Met Store.
In addition to the new labels introduced to the Met by Kim, the museum's team also collaborated with designers that it has worked with in the past, often on exclusive and limited-edition pieces. Susan Noonan, the Met Store's general manager of buying, cited Alexander McQueen, Issey Miyake, Comme des Garcons and Maison Margiela as examples. "It's a conversation with the designers," she says, especially if they are part of the exhibit. "The curator has selected specific pieces from their work... and so with Alexander McQueen this year, the focus was more on Sarah Burton's recent work and lacework rather than further back into their archive. The conversation was there: 'Okay, we should create something new, but that [also] reflects that content.'" McQueen contributed an exclusive chiffon scarf based off one of the lacework pieces it contributed to the show.
The "Manus x Machina" collection includes a wide range of products: the exhibit catalogue (at $50, it's always the best seller), postcards, jewelry, fashion, accessories, home goods, the nail polish sets. It's a total of over 150 pieces ranging from $2 for a set of three postcards to $3,950 for a limited edition leather and brass clutch designed by Flowen. "I think it's important for us, because it's a fashion show, to have really strong fashion accessory and jewelry pieces," says Noonan, adding that some visitors are "definitely looking for an aspirational purchase." Last year, fine jewelry in the $700 range sold very well, as did accessories priced from $75 to $250.
Alexander McQueen Lacy Skulls Scarf, $385.00, available at The Met Store.
The biggest challenge for the Met Shop is the expedited schedule for pulling the collection together. "Some of these designers, they are not at a place where they hold inventory or they just had some of this stuff lying around," says Kim, adding that she had her first conversations with the Met Store before the holidays, but the product curation took place in the few weeks leading up to the exhibit's opening. "They were really working to see if we could gets something done in time... they were just ecstatic about partnering with the Met Store and the museum and Vogue." Noonan agreed, saying that she first reached out to designers during fashion month in February.
As "The First Monday in May" reveals, much of the exhibit itself comes together in the final weeks. "We wanted to see how the show was going to come together and be able to react based on that," says Kim. "That's the fun thing about creating retail experiences. If you can react in real time and give a visitor or a customer something that feels really special, but in limited quantity, [it] makes them feel really excited about that experience." Plus, it can make them feel excited about coming back: It is common for visitors to see the Costume Institute exhibits several times, so the Met Store will be releasing new pieces throughout the summer. As with everything in fashion, even museum exhibits, newness is key.
comnum(0) tbcount(0) tbcount(235)
Categories:
Fashion
Gisele Bundchen stars in Vivara Jewelry's winter 2016 campaign
Supermodel Gisele Bundchen has returned for a new season as the face of Brazilian jewelry label, Vivara. The blonde gets clad in all black ensembles for the winter 2016 campaign photographed by Luigi & Iango. The images were made with art direction by Giovanni Bianco and styled by Patti Wilson.
Alongside glittering hoop earrings, stacked bracelets and rings, Gisele flaunts her famous figure in form-fitting bodysuits, shorts and semi-sheer pantyhose. Her tousled blonde waves and bronzed cheeks are thanks to hairstylist Luigi Murenu and makeup artist Georgi Sandev. See more of Gisele below!
Related: Gisele Bundchen Heats Up Colcci's Fall Campaign
GISELE BUNDCHEN – VIVARA JEWELRY WINTER 2016 CAMPAIGN
Gisele Bundchen models rings and earrings from Vivara Jewelry
Photographed for Vivara Jewelry's winter 2016 campaign, Gisele Bundchen models vest and shorts
Gisele Bundchen flaunts her famous legs in Vivara Jewelry campaign
FLASHBACK – GISELE BUNDCHEN FOR VIVARA JEWELRY
Gisele Bundchen stars in Vivara's 2014 jewelry campaign
This is far from Gisele Bundchen's first time appearing in a campaign for Vivara Jewelry. In the past, Gisele has modeled for the Brazilian brand's Christmas and Mother's Day campaigns. Take a walk down memory lane and see her past work with Vivara below.
Gisele Bundchen stars in Vivara Jewelry 2015 campaign
Gisele Bundchen stars in Vivara Jewelry Christmas 2015 campaign
comnum(0) tbcount(0) tbcount(447)
Categories:
Fashion
Kate Bock stars in the April issue of Woman Spain
Top model Kate Bock makes an appearance in the April 2016 issue of Woman Spain. Posing in a featured titled 'The Mexican Dream', the blonde beauty wears lounge-worthy looks with lingerie pieces in the Richard Ramos lensed images.
Captured in a Mexican mansion, Kate looks super dreamy in the designs of Miu Miu, Gucci, Michael Kors Collection and more styled by Marta Lasierra. For beauty, hair and makeup artist Cristina Guedella creates her undone waves and smokey eyed makeup look.
KATE BOCK – WOMAN SPAIN APRIL 2016
Photographed by Richard Ramos, Kate Bock models relaxed styles
Kate Bock models embellished Calvin Klein Collection dress with Prada flats
Posing on the floor, Kate models embroidered bomber jacket and dress from Etro
The model wears sheer Louis Vuitton top with headpiece
Photographed in black and white, Kate Bock models a sheer Gucci dress
The model poses in Miu Miu dress with flat shoes
Kate Bock poses in a striped Prada jacket and Michael Kors Collection top
KATE BOCK – RECENT INSTAGRAM PHOTOS
Hannah Davis and Kate Bock take a selfie at Sports Illustrated Swimsuit event.
Kate Bock rocks a green swimsuit in this Instagram photo.
Kate Bock takes a photo at the gym wearing an all black workout ensemble.
Kate Bock wore a glammed out hairstyle.
comnum(0) tbcount(0) tbcount(502)
Categories:
Fashion
Adoption of Snapchat has been relatively slow among fashion brands, particularly on the luxury end of the spectrum. Photo: Burberry
Of the many social networks that have come to the fore in the past decade, none is enjoying quite the same level of buzz at the moment as Snapchat. The smartphone-only social network, whose auto-disappearing messages first made it popular as a sexting tool for teens after its launch in 2011, is now used by more than 100 million people every day — and more than a third of Americans ages 18 to 34 on a monthly basis, with a higher engagement rate than Instagram, according to Comscore.
Despite its rampant popularity with such a key consumer demographic, brands — especially high-end fashion and luxury brands — have been slow to embrace the platform relative to older social networks like Facebook, Instagram and Pinterest. The reasons are manifold, ranging from a scarcity of resources — few of the brands we spoke to for this story had more than two people managing their social media communications across Facebook, Twitter, Instagram, Pinterest, etc. — to a lack of even rudimentary analytics, making it difficult for marketing teams to ascertain what, if any, return they're seeing on an investment in the platform. (Speaking of which, advertising on Snapchat ain't cheap, either.) The app has other major limitations as well: without a look-up tool, the only way to find a company is to type in its exact username; its aesthetic is naturally less polished, making it a tricky fit for image-conscious luxury brands; and unlike Facebook or Instagram, content creators can't save assets (and thus have them approved by superiors) to upload weeks or even days later.
These drawbacks haven't deterred fashion and beauty companies completely. Brands like Asos, Everlane, Glossier, H&M, Maybelline, Sephora and Warby Parker often post several times per week. Even luxury fashion brands, including Burberry, Dior, Fendi, Gucci, Louis Vuitton, Marc Jacobs, Mulberry and Valentino, have accounts, though with the exception of Valentino, they only tend to create Stories around a few key events a year, like a fragrance launch or runway show.
All of which is to say that it's still early days for brands on Snapchat — and if you remember what Facebook and Instagram were like before everything started to look exactly the same, that's a very exciting thing. We polled a number of marketers, digital strategists and social media managers about the fashion and retail brands doing Snapchat best, each of which, refreshingly, have taken a unique approach to engaging with followers.
ASOS
Asos (username: Asos) on Snapchat. Photos: Asos
For British high street retailer Asos, Snapchat is "increasingly important" to its business — even without proper analytics, the company knows its customers are on the platform and means to reach them there. Asos joined the app in mid-2013, snapping outfit ideas, office tours, discount codes, and behind-the-scenes clips from events ranging from photo shoots to fashion shows; the content that was included in Snapchat's roundup of Fashion Week Stories was viewed more than 20 million times in Europe, the company says. The retailer also creates a steady stream of Snapchat-related content on its blog — smart for engaging people already active on the app.
BURBERRY
Burberry staged a break-in at its Regent Street store ahead of its London Fashion Week show in February. Photo: Burberry via Rachel Arthur/Fashion & Mash
Burberry (username: burberry) is considered something of a pioneer in the digital marketing space: The brand was among the first to make its shows viewable (and shoppable) via livestream, and to engineer experiences like the"Tweetwalk" in 2011, whereby the label previewed its collection on Twitter moments ahead of its runway debut. The company joined Snapchat a year ago to build buzz around its one-off fashion show in Los Angeles, and has since used the platform exclusively to promote major events, including campaign releases and the launch of its most recent men's fragrance.
No matter what the channel, Burberry's image is always extremely polished, and the same can be said of the content it creates — or, rather, choreographs — for Snapchat. For London Fashion Week in September, it gave followers an early peek at the collection, as well as a cameo from Vogue Editor-in-Chief Anna Wintour; the following February, it one-upped itself by staging a break-in of its flagship Regent Street store, featuring models in the brands' wares. Both were positively received, though not everyone is a fan. "I think [the account is] entertaining, but it's so 'perfect' that it's no different than watching a Burberry ad — it just feels the same, it's the same experience," one marketer we spoke to observed.
EVERLANE
Everlane (username: everlane) gave followers progress reports on the construction of its Manhattan shoe pop-up last weekend. Photo: Everlane
Every single person we interviewed for this story pointed to Everlane(username: everlane) as a Snapchat account to watch — and for good reason. The five-year-old clothing brand's commitment to transparency has manifested itself wonderfully on the platform, with social media leads Red Gaskell and Isadora Sales offering frequent updates of what's going on at Everlane headquarters (this past weekend, Gaskell updated followers several times per day on the construction of the company's shoe pop-up in Manhattan) and hosting a recurring feature called Transparency Tuesdays, where the pair answer users' questions about the company. They've taken followers inside Everlane's partner factories, invited them to sales meetings and given them previews of upcoming products. Behind the scenes, Gaskell and Sales respond to private messages ranging from order questions to styling advice. "Everlane is really best practice at this point," says Sara Zucker, digital marketing manager at Origins. "I love to know as much as I can about what I'm wearing on my body, and they really tell you everything."
SEPHORA
Sephora has created geofilters for all of its stores. Photo: Devon West/Sephora
Sephora (username: sephora) was a relatively early adopter of Snapchat, going live on the app in 2014, a few months after Snapchat launched its Stories feature. To build its audience, the LVMH-owned beauty retailer has hosted sweepstakes and worked with influencers like Hannah Bronfman (who did a "day in the life" Story centered around beauty for Sephora). These days, the company posts about three times per week on average, focusing on products that align with Snapchat's core demographic of younger Millennials and Gen Zers, says Devon West, director of social media for Sephora. The retailer has also set up geofilters at all of its stores, allowing users to tag snaps they take on location with phrases like "Let's Beauty Together." "They do really well for us," says West.
VALENTINO
A recent post from Valentino (username: maisonvalentino) on Snapchat. Photo: Valentino
Valentino (username: maisonvalentino) is the rare luxury fashion brand that actually posts on a regular basis. "[The account is] quite personable," says Rachel Arthur, digital strategist and founder of fashion marketing blog Fashion & Mash. The company frequently takes followers into its showroom and its stores to see product, often throwing down inventive fonts and emojis — which may not sound terribly exciting, but there's an informality to it that's delightfully unexpected. Plus, the company's willingness to post so frequently — and in the vein of the Snapchat aesthetic — keeps them at top of mind. "Because [it's reaching a] younger consumer, brands can be a bit more playful on Snapchat," says Arthur. "Fashion should be that way."
THE EARLY ADOPTER ADVANTAGE
Where consumers are, brands will follow, and Snapchat's user adoption rate shows no sign of slowing down. Many marketers see the advantage of being on Snapchat early: There's less competition with other brands, and therefore less noise; there's still a lot of room to build an organic (rather than paid) following; and the novelty of businesses using the platform means that mega brands like Burberry and Dior get the added bonus of media coverage. Partnering with an influencer, like Gigi Hadid recently did with Tommy Hilfiger, or Sephora with Hannah Bronfman, has proven an effective way of amassing an audience quickly.
Still, it may not hurt to wait for the platform to develop a little further. "[Snapchat] isn't something I would be opposed to recommending [to my clients]," says Jessica Kia, co-founder of digital marketing consultancy RJK Project and the former head of global digital and social media at Kate Spade New York. "But we have no data yet. We spent hundreds of thousands of dollars on Facebook fan acquisition campaigns back in the day, but we should have burned that money instead, because now that we can measure the crossover between all the money we spent acquiring followers, and the number of those followers that actually shop, we know it's not impressive. On Snapchat, there's no tie to shopping, no referral traffic to your site... I'd rather see a brand wait and do it well."
Designer Bags, Wallet, Purse, Belt & Accessories Official Site, Best Price & Quality, Free Worldwide Shipping, Free Returns. Every Bag Is A Work Of Art - Handmade - Cowhide Art - Can Custom-Made

Categories

New Posts

Hot Posts

Tag Cloud