Categories:
Fashion
Joan Smalls may love H&M, but does everyone else?
Is fast fashion starting to peak? After slowing sales numbers lead to closures of Uniqlo stores earlier this year, H&M released its first half-year report of 2016 on Wednesday, and the numbers are not what they once were.
Blaming cold spring weather and a strong U.S. dollar for a slow second quarter, H&M CEO Karl-Johan Persson says, "The sales increase in March and April was significantly below our plan." Sales were up just 5 percent for the second quarter — the weakest in three years — with profit reaching about 7 billion kronor ($850 million). That's quite a bit less than the company's projected 7.23 billion kronor. This follows a steep decline in profitfor the first quarter of the year.
Of course, it's not all bad news for the fast fashion sector: H&M rival Zara is experiencing huge global sales increases, perhaps due to its ability to turn inventory around more quickly as climate demands it. Uniqlo, though it may not be growing as rapidly as it hoped, recently brought on Christophe Lemaireto serve as artistic director. H&M still plans to complete its roll out of 425 new stores this year, in addition to expanding e-commerce into new markets: Canada and South Korea will be next.
comnum(0) tbcount(0) tbcount(247)
Categories:
Fashion
He Cong stars in Dior Magazine
The latest issue of Dior Magazine serves some major beauty inspiration with this makeup editorial starring He Cong. Photographed by Richard Burbridge, the Chinese model wears pop art inspired looks from Dior's 'Milky Dots' collection with bold color combinations ranging from blue eyeshadow to lavender colored lips and more. DiorMakeup's image and creative director Peter Philips is responsible for the dynamic palette while hairstylist Yannick D'Is creates sleek fringe.
He Cong wears razor sharp bangs for the beauty editorial
The Chinese model wears bold, pop art inspired makeup looks in the editorial
He Cong wears a pink polka dot manicure and graphic eyeliner
Wearing Dior sunglasses, He Cong models a purple matte lip color
The model wears a glossy orange-red lip color
He Cong wears a bold blue eye makeup look with a teal-colored manicure
comnum(0) tbcount(0) tbcount(350)
Categories:
Fashion
Jac Jagaciak stars in Harper's Bazaar Australia's June-July issue
Top model Jac Jagaciak graces the pages of Harper's Bazaar Australia's June-July 2016 issue, appearing in a fashion editorial called 'Cabin Fever'. Photographed byDavid Mandelberg and styled by Thelma McQuillan, the Polish stunner wears a mix of heavy coats, cable knit sweaters and fur accents for the wintry spread shot on location in Colorado. From Stella McCartney to Max Mara to Bottega Veneta and more, Jac serves pure elegance in each shot.
The model poses in winter fashion outfits for the editorial
Jac Jagaciak wears Rochas fur coat
Photographed in black and white, Jac poses in a Chanel knit dress with UGG boots
Jac Jagaciak poses in knit sweater from Stella McCartney with printed skirt
Posing fireside, Jac wears a Max Mara coat, blazer, top and pants
Jac covers up in Stella McCartney coat
A lady in red, Jac wears a Dion Lee coat
Layering up from the cold, Jac Jagaciak wears a Bottega Veneta coat
Jac Jagaciak looks ready for cold weather in a sweater, fur stole and pants
comnum(0) tbcount(0) tbcount(295)
Categories:
Fashion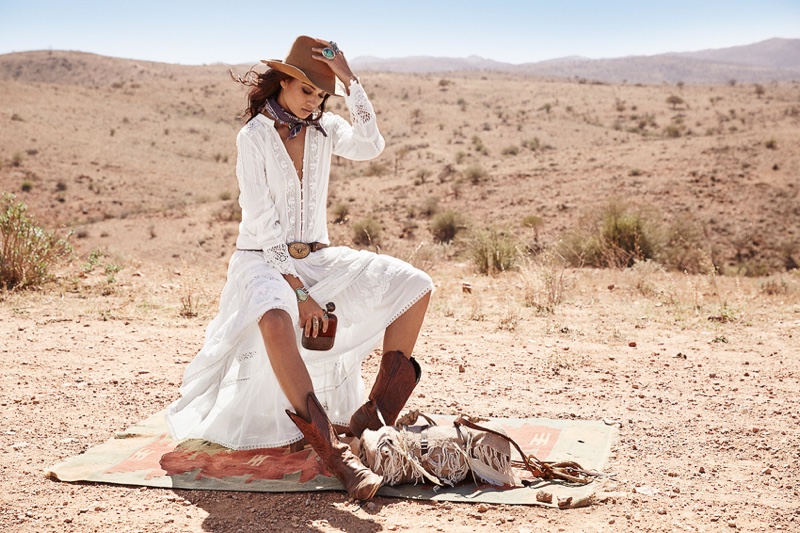 Shanina Shaik stars in Spell & the Gypsy Collective's fall 2016 lookbook
Australian label Spell & the Gypsy Collective heads west for its fall 2016 collection called, Revolver. Starring model Shanina Shaik, the lookbook images were photographed on location in the Australian outback by Ming Nomchong. The new season includes a boho cool mix of styles ranging from printed maxi dresses to lace styles to kimonos as well as printed shrugs. For beauty, Shanina wears her hair in loose pigtails or dreamy waves with a smokey eyeshadow look.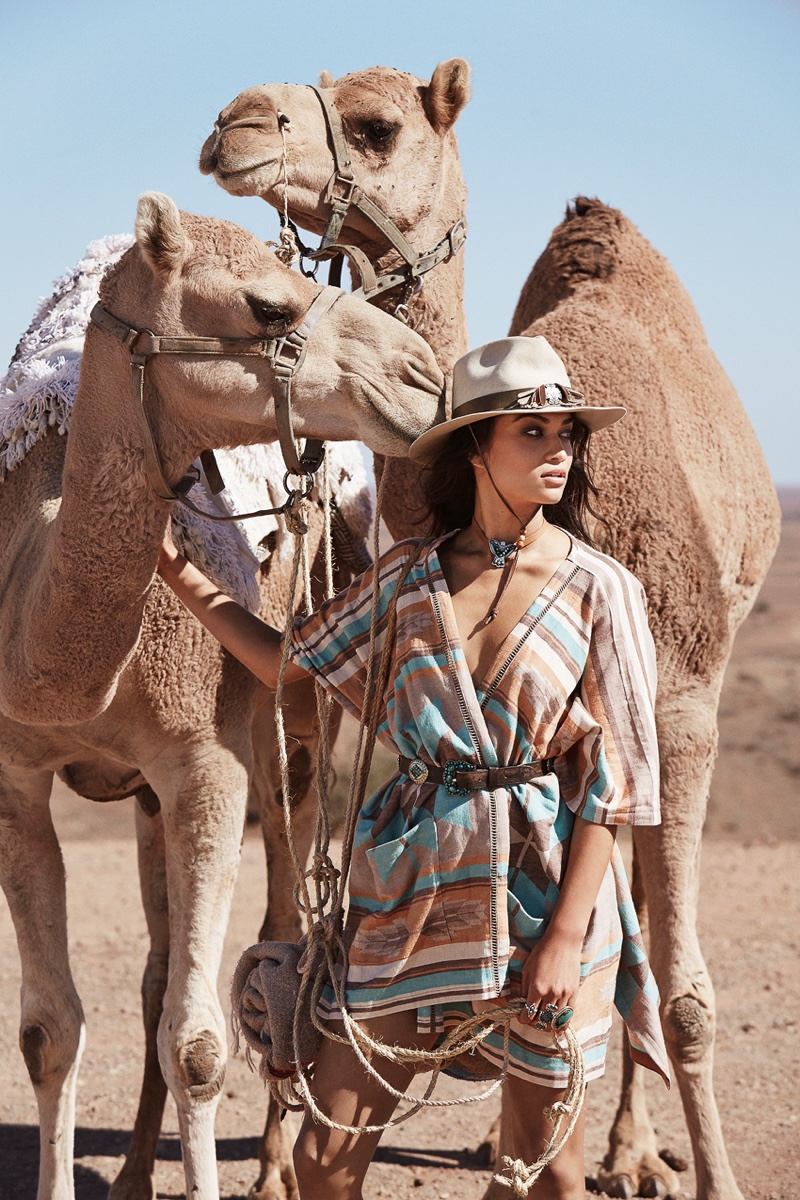 Shanina Shaik models the Spell Peyote Shrug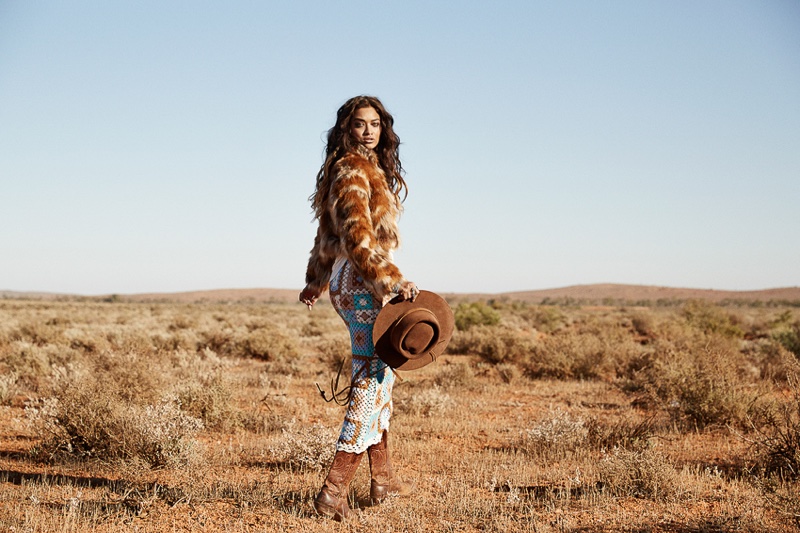 Shanina Shaik wears western inspired looks from Spell's Revolver collection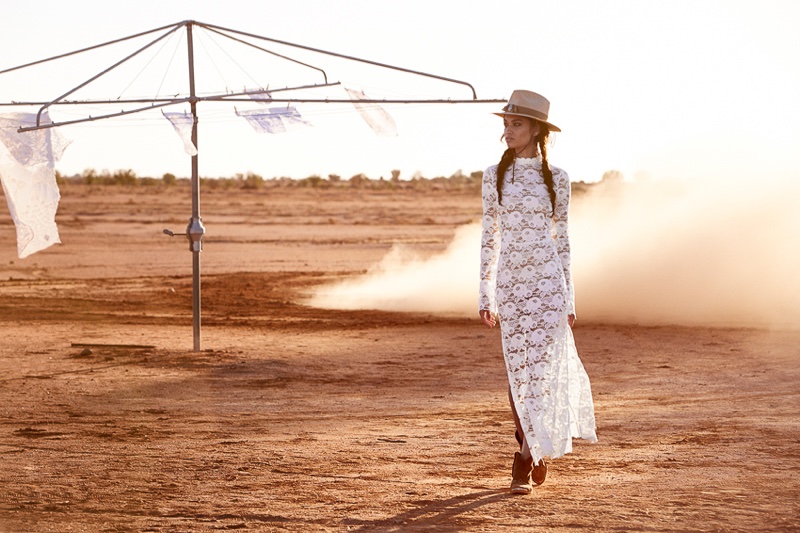 Shanina Shaik wears Spell's Rosamund lace maxi dress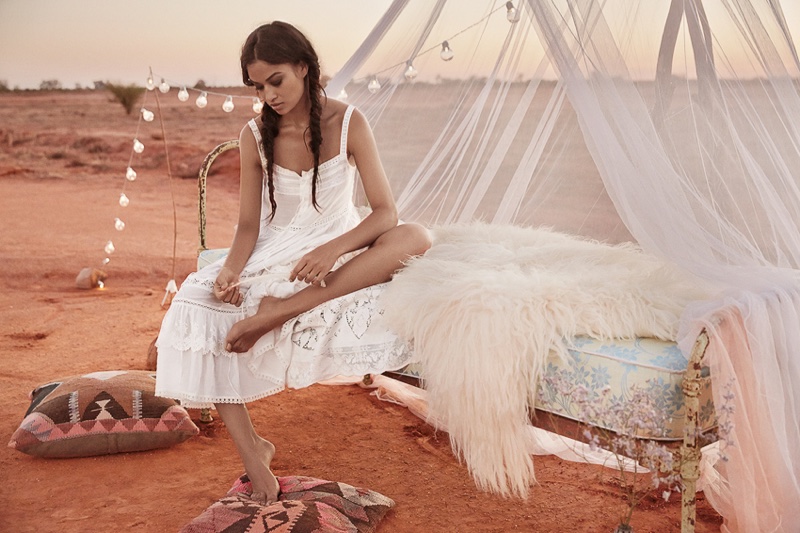 The Australian model wears Spell's Prairie lace sun dress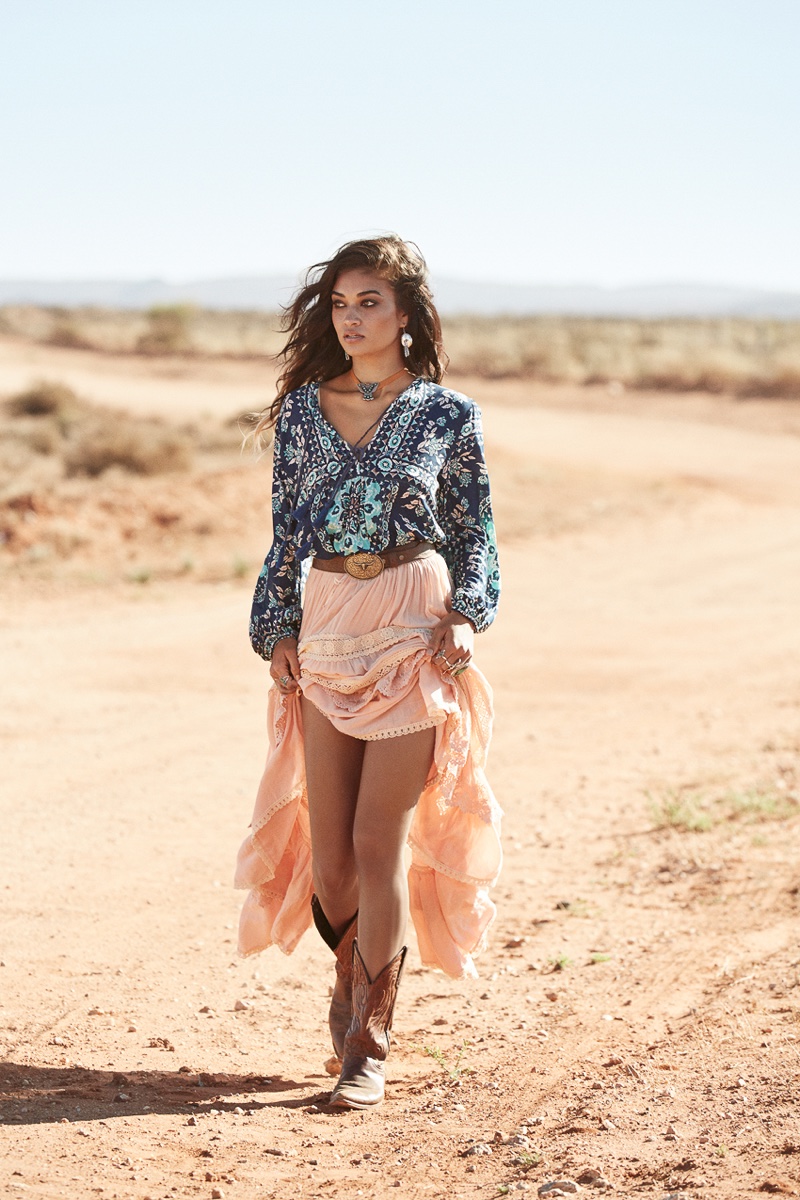 Shanina Shaik for Spell's fall 2016 collection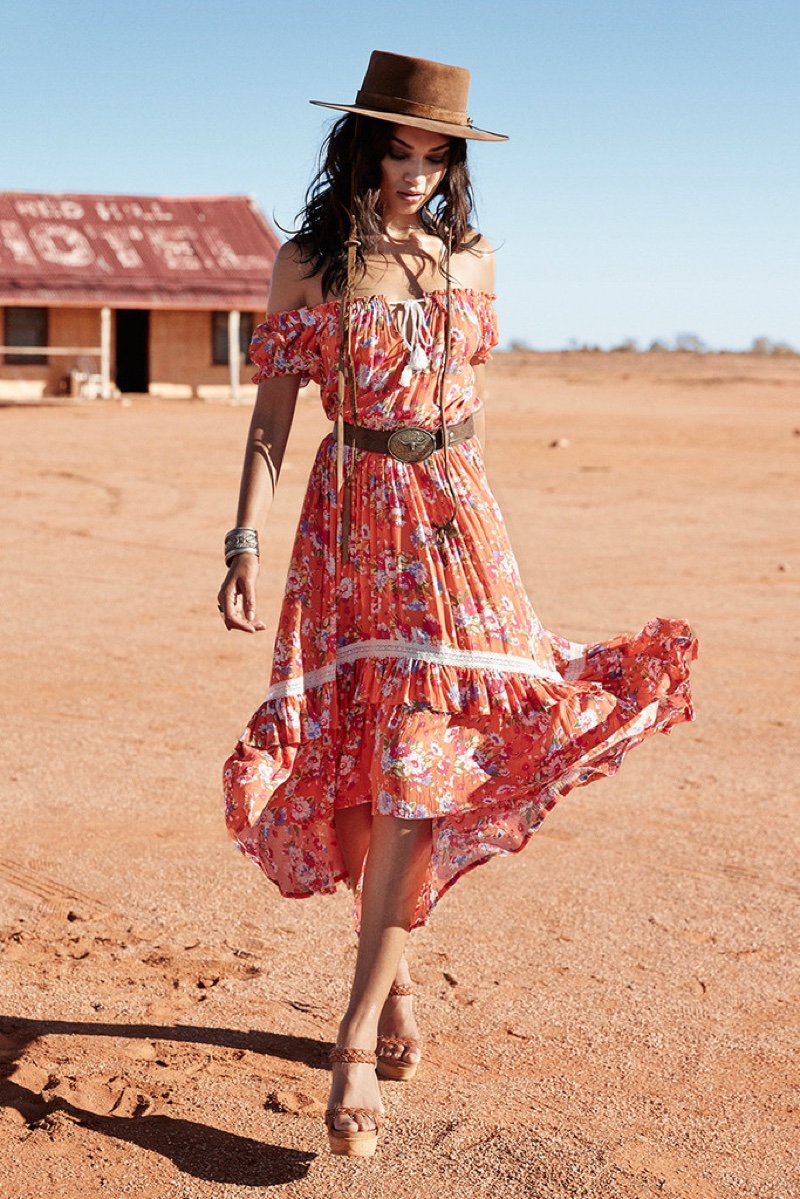 Shanina Shaik poses in the desert modeling Spell's Revolver off the shoulder dress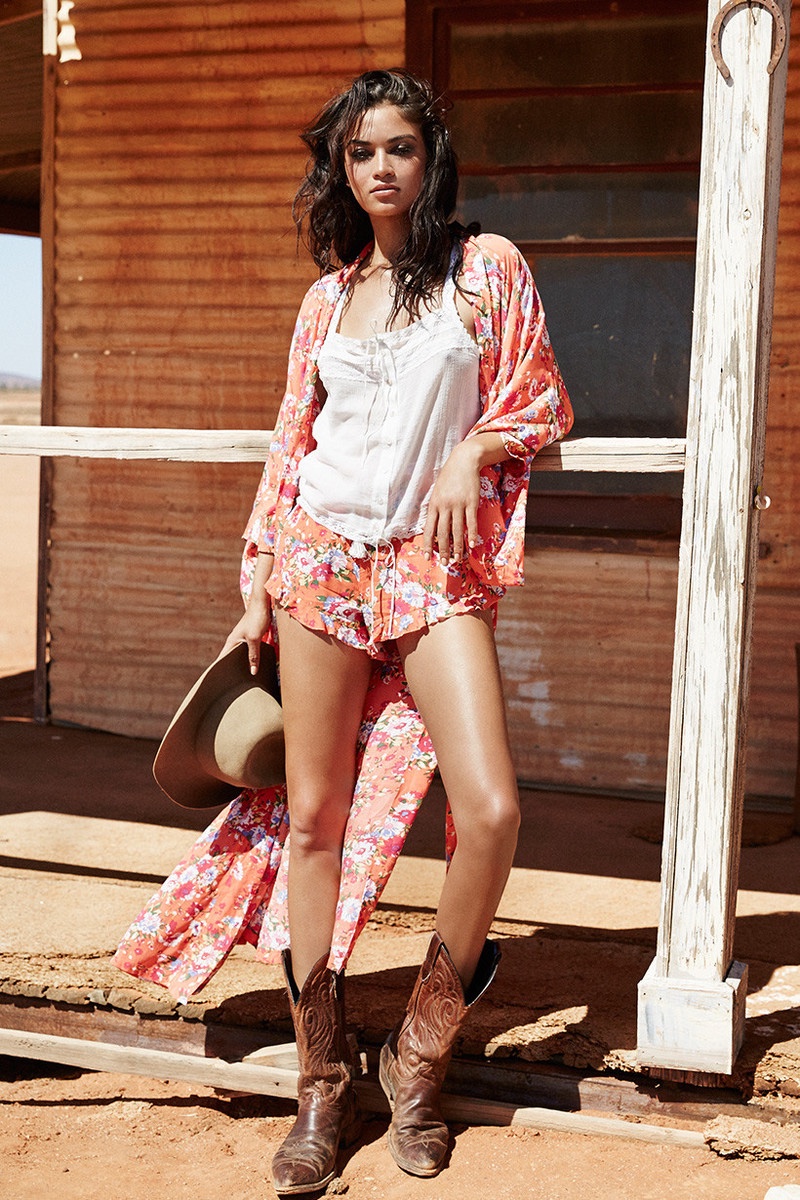 Shanina Shaik wears Spell kimono, lace cami and shorts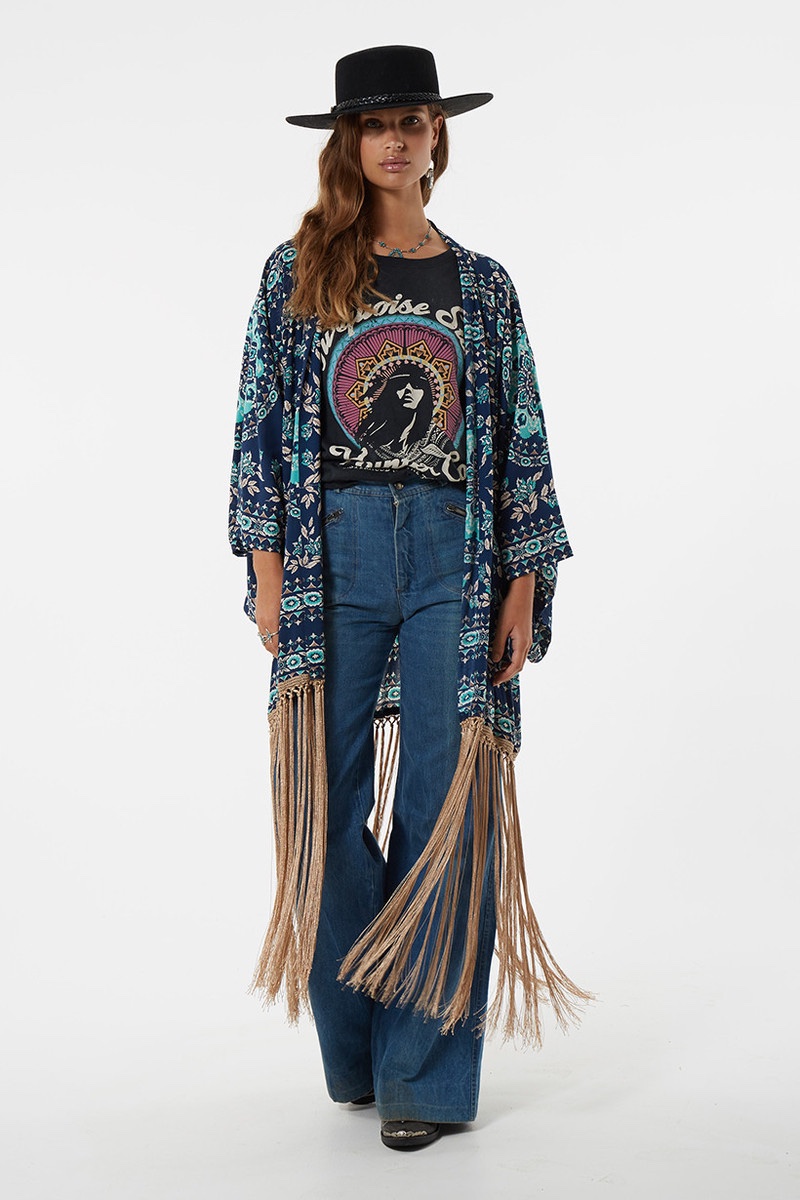 Spell Pandora Kimono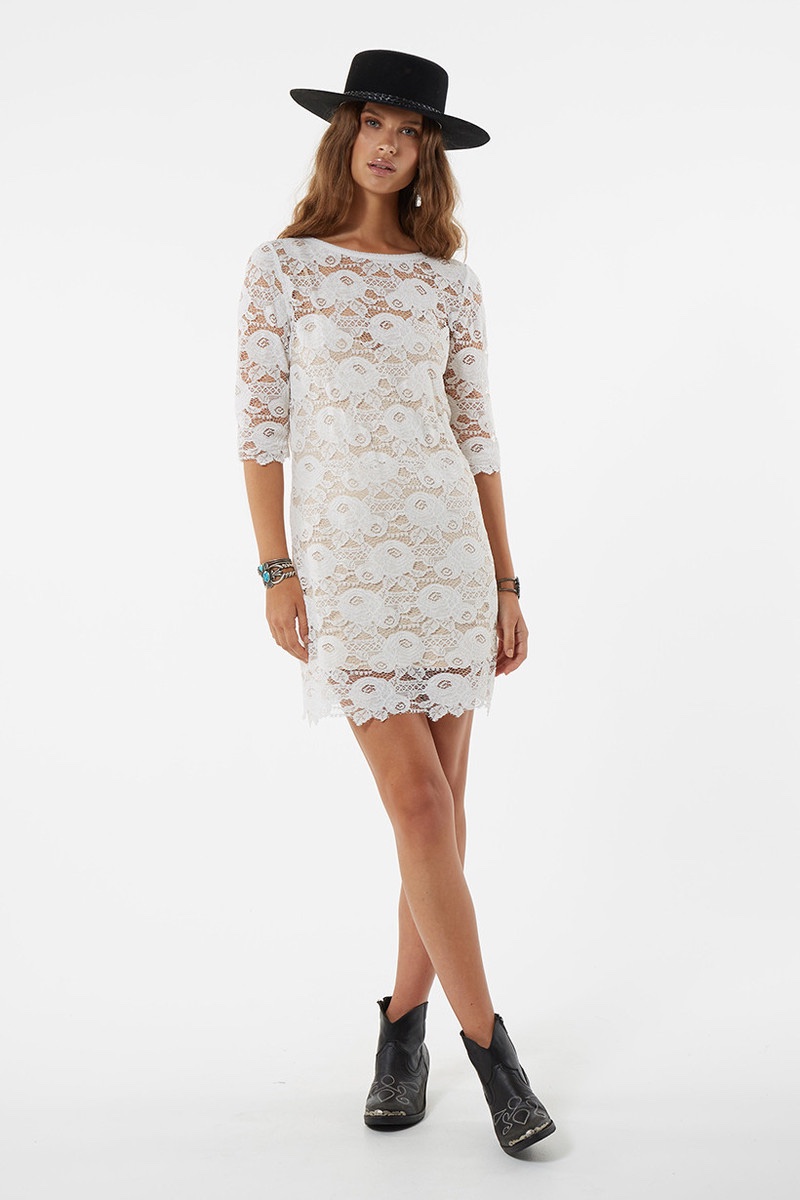 Spell Rosamund Lace Mini Dress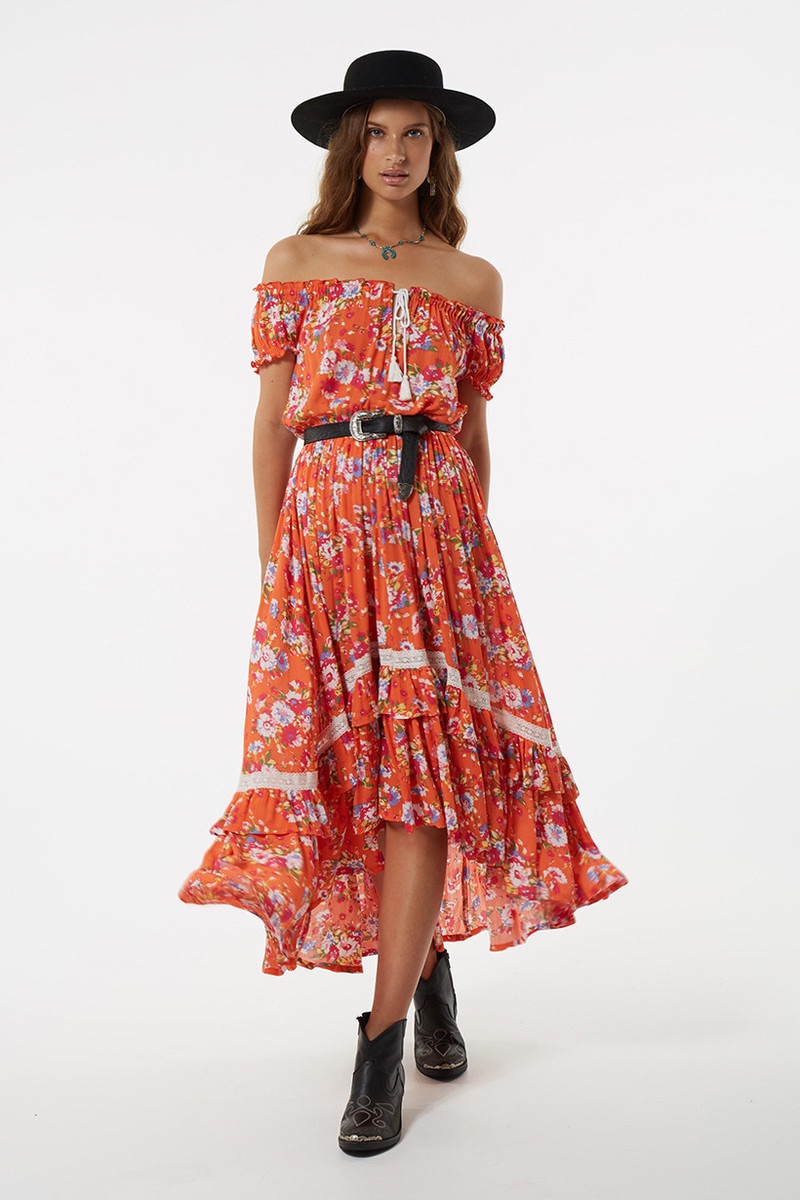 Spell Revolver Off-the-Shoulder Kerchief Dress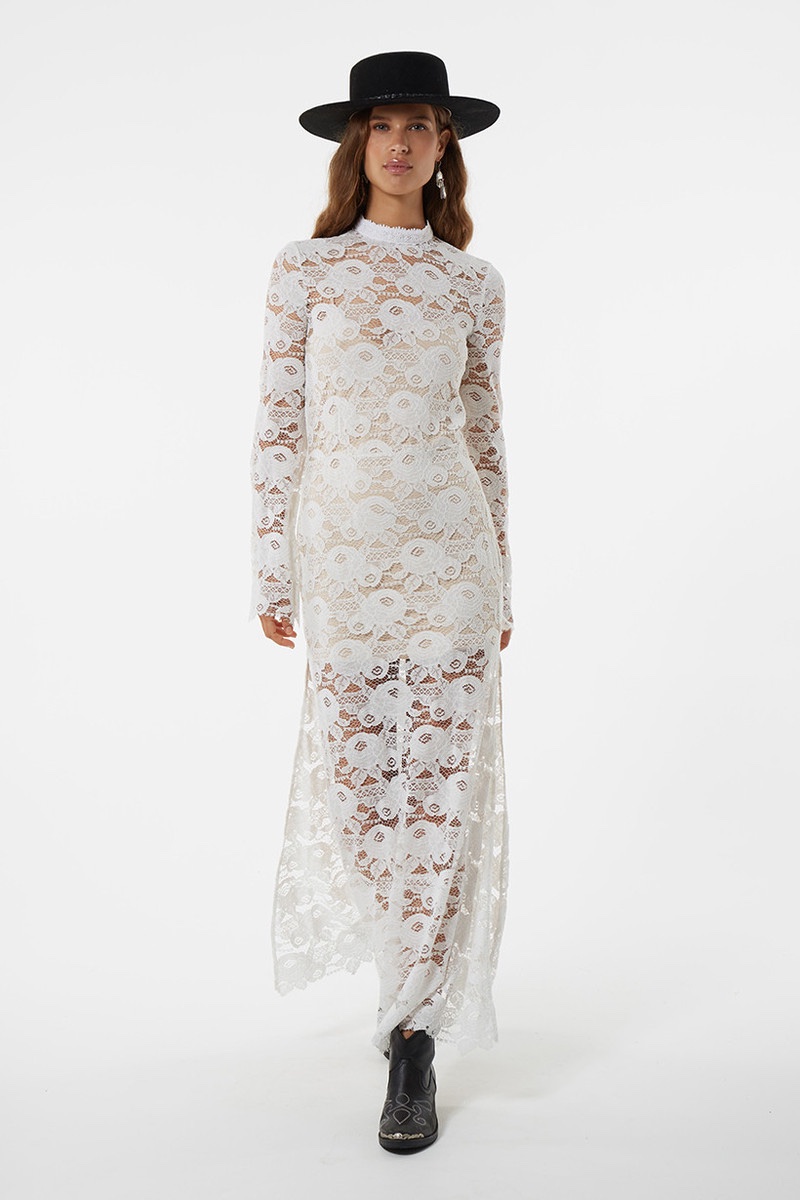 Spell Rosamond Lace Maxi Dress
comnum(0) tbcount(0) tbcount(302)
Categories:
Fashion
Ariana Grande on Billboard Magazine May 28, 2016 Cover
'Dangerous Woman' singer Ariana Grande graces the May 28, 2016, cover ofBillboard Magazine wearing white-framed Chanel sunglasses, an H. Stern necklace, Tacori rings and Harry Kotlar earrings. Inside the magazine, Ariana poses for Joe Pugliese in towel clad looks while rocking her signature high ponytail.
In the interview, Ariana Grande talks about feminism, pointing out how a UK radio station praised Justin Bieber and Zayn Malik for going shirtless but criticized MileyCyrus and Kim Kardashian for doing the same. "If you're going to rave about how sexy a male artist looks with his shirt off," Grande says, "and a woman decides to get in her panties or show her boobies for a photo shoot, she needs to be treated with the same awe and admiration. I will say it until I'm an old-ass lady with my t°°s out at Whole Foods."
Posing in a towel, Ariana Grande turns up the glam for the photo session
Singer Ariana Grande poses in Chanel sunglasses
Singer Ariana Grande wears a black Ralph Lauren dress
Ariana Grande wears a bold red lip color
Ariana Grande wears her signature high ponytail
comnum(0) tbcount(0) tbcount(417)
Categories:
Fashion
Just landed: Dolce & Gabbana's Sunshine collection exclusively arrives at Net-a-Porter
Dolce & Gabbana and Net-a-Porter team up for yet another exclusive range called the 'Sunshine Collection'. The colorful line embraces bold floral prints with red tulips perfect for the warm weather months. From halter neck dresses to wedge sandals to dreamy gowns, there are plenty of feminine styles to wear this summer. Take a look at some of our favorite pieces below and shop more.
Dolce & Gabbana Floral Print Cotton Poplin Dress
Dolce & Gabbana Floral Print Silk Blend Matelasse & Chiffon Gown
Dolce & Gabbana Dauphine Floral Print Textured Leather Tote
Dolce & Gabbana Floral Brocade Espadrilles
Dolce & Gabbana Guipure Lace Dress
Dolce & Gabbana Floral Print Brocade Wedge Sandals
Dolce & Gabbana Sicily Medium Floral Print Textured Leather Tote
Designer Bags, Wallet, Purse, Belt & Accessories Official Site, Best Price & Quality, Free Worldwide Shipping, Free Returns. Every Bag Is A Work Of Art - Handmade - Cowhide Art - Can Custom-Made

Categories

New Posts

Hot Posts

Tag Cloud