Categories:
Fashion
Kate Moss for Equipment collaboration announced
Kate Moss is taking her iconic style for her new collaboration with French clothing brand Equipment. The supermodel has teamed up with Equipment for a new line of button-down shirts, silk blouses, blazers, dresses, sweaters, jackets, pants and more. Launching exclusively in Equipment stores and online on Equipment's website as well as Net-a-Porter beginning on June 2nd, the collection will later be available at other retailers on June 15th.
In addition to the recent collaboration, Kate Moss will also appear in the brand's fall 2016 campaign, shot on location in her country estate in Cotswolds, England. Moss previously appeared in Equipment's spring advertisements, captured by model Daria Werbowy.
Equipment's CEO, Jack Schwefel, says,"We loved having Kate so hands on during all parts of the process, every step of the way. The synergy is effortless as she's been building a relationship with our brand for years and we look forward to expanding the relationship for many more."
KATE MOSS FOR EQUIPMENT ANNOUNCEMENT
Kate Moss for Equipment
Kate Moss for Equipment illustration
Kate Moss for Equipment illustration
comnum(0) tbcount(0) tbcount(213)
Categories:
Fashion
Reformation Winslow dress in "Evergreen," $268
They say nothing in this world is certain except death and taxes (which, objectively, is true), but I'd like to propose that a third element be added to that little list of permanency: wedding season fatigue. Look, I genuinely loveattending weddings — I cry so much! — but during the summer months, it's easy to understand why we spend so much time griping about them. And I feel bad about it! They can be quite expensive and time-consuming, and become even more so when you're a member of the bridal or groom's party. But I've found that the best way to fight the seasonal exhaust is to invest in a really kickass outfit that keeps you excited about all of the ceremonies to come.
I've been eyeing this Reformation dress for almost a year now, and with several weddings on the docket for July, August and September, now might be the time for me to finally pull the trigger. It's breezy, respectful and versatile, with a leg slit that allows for all your dance floor needs. I love that the deep green is as wearable as it would be in black, which means I can wear it throughout the calendar year to a range of other events. I'm confident I'll get my money's worth.
comnum(0) tbcount(0) tbcount(161)
Categories:
Fashion
Abbey Lee in Julien Macdonald at the New York premiere of "The Neon Demon" on Wednesday.
Australian model-who-acts-now Abbey Lee — who has recently dropped her surname, "Kershaw" — is in a controversial new movie called "The Neon Demon" about the cutthroat, slick world of modeling. We at Fashionista have been drumming up excitement surrounding the film for weeks now, and on Wednesday, it finally premiered in New York City. Being a fashion-centric flick, its stars Lee, Elle Fanning and Bella Heathcote have been pulling out all the sartorial stops throughout their recent publicity tour, but last night, it was Lee's torso-exposing Julien Macdonald gown that won the lot.
Objectively, it's a beautiful dress. It's silvery and slinky with just a hint of old Hollywood glamour — the latter of which Lee smartly exaggerated with metallic shoes and a head of deeply-parted waves. But take a deeper, more pointed look. Stare upon Lee's sternum. Do you see that definition, that highlighting that extenuates both her chest and her ample abdominals, not to mention her collarbone and breastplate? She looks ripped as hell, and in a manner that's clearly more Pilates than CrossFit. I would like to look like this one day, but because I'm a mere journalist and not a tall, otherworldly model-who-acts-now, this is but a pipe dream.
Feast your eyes at this handiwork.
See you back here for the rest of "The Neon Demon"'s press junket in the days ahead.
comnum(0) tbcount(0) tbcount(268)
Categories:
Fashion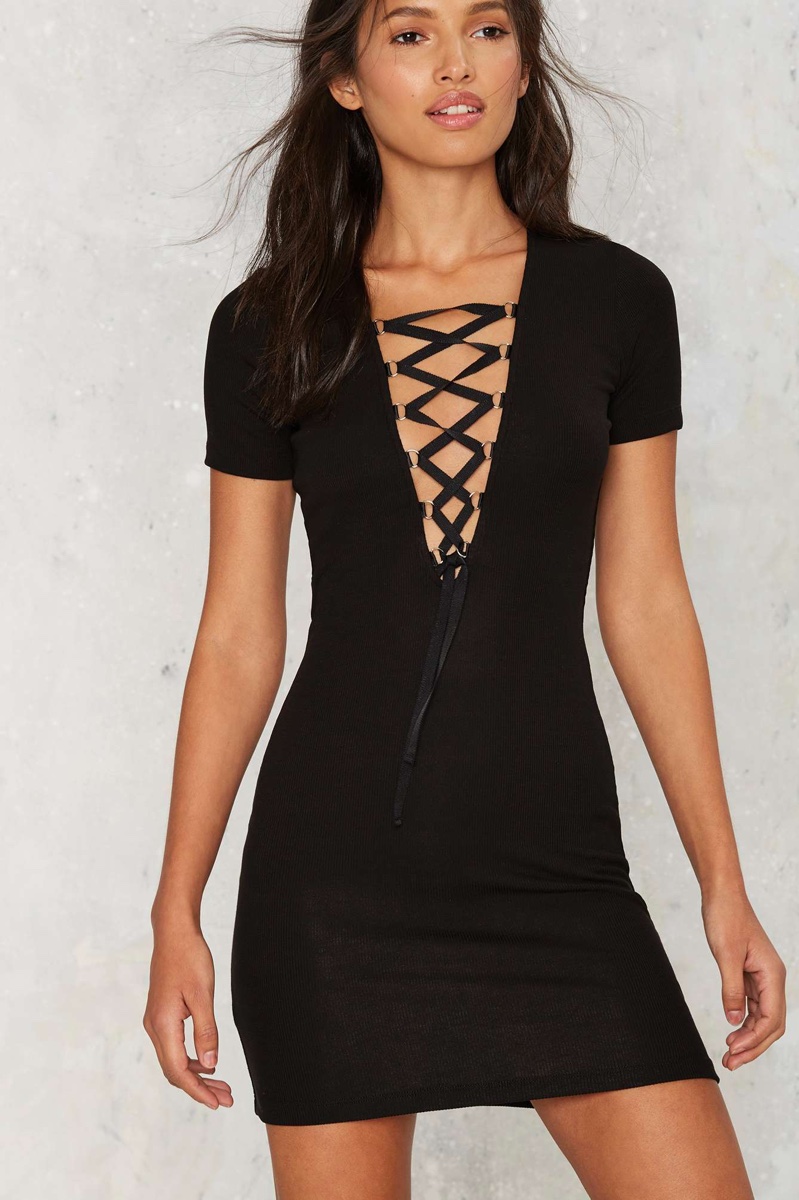 After Party Vintage Harlow Ribbed Lace-up Dress
Flaunt some skin in one of the season's hottest trends–lace-up detailing. Whether you are looking for bodycon silhouettes or loose and flowy, the lace-up style on a dress is perfect for a night out clubbing or sunny day on the beach. Check out our selection of lace-up dresses in denim, suede, stretch knit and more below.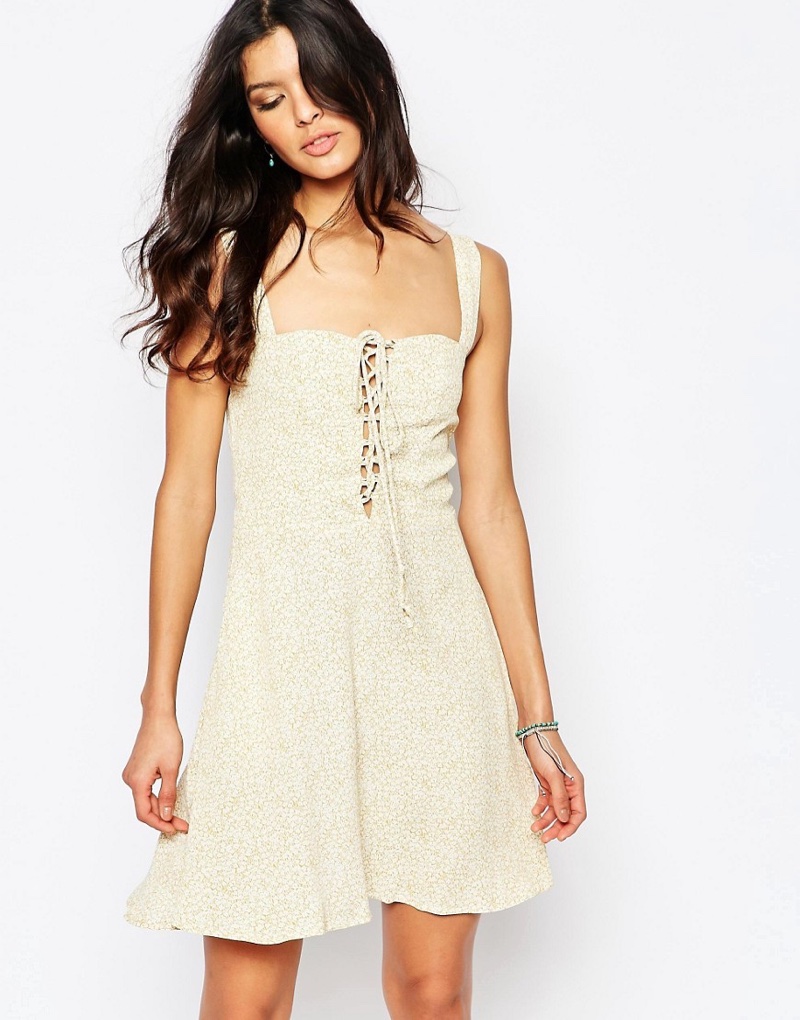 Flynn Skye Leila Lace-up Mini Dress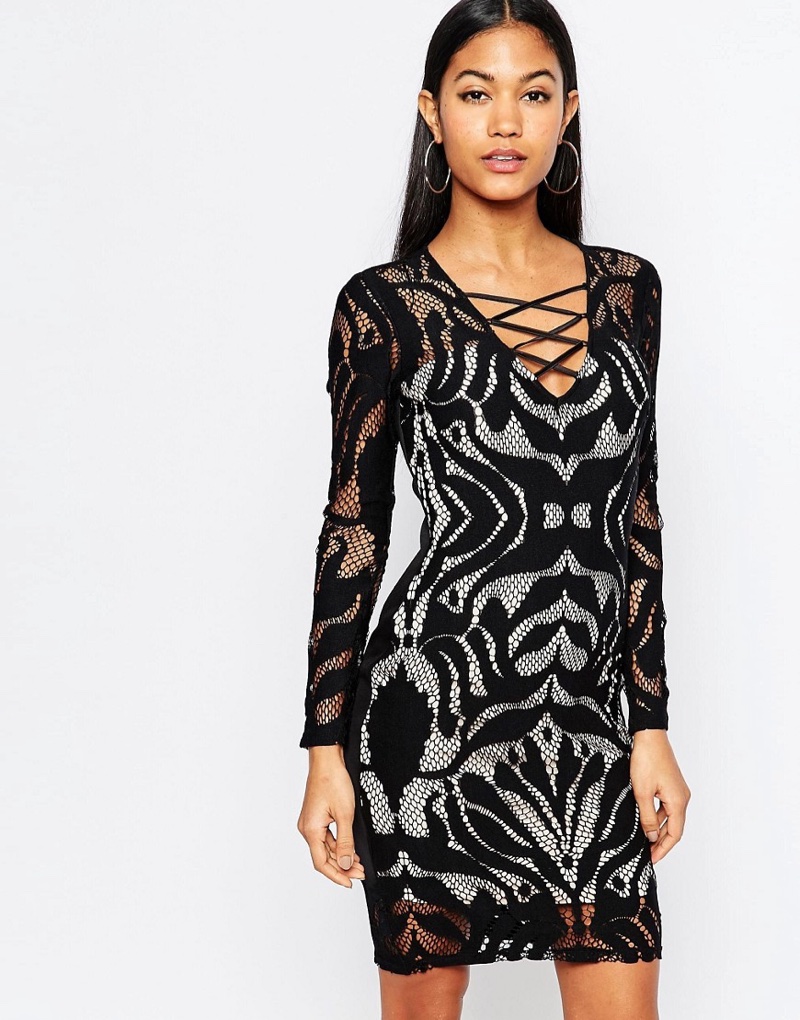 Lipsy Lace-up Lace Dress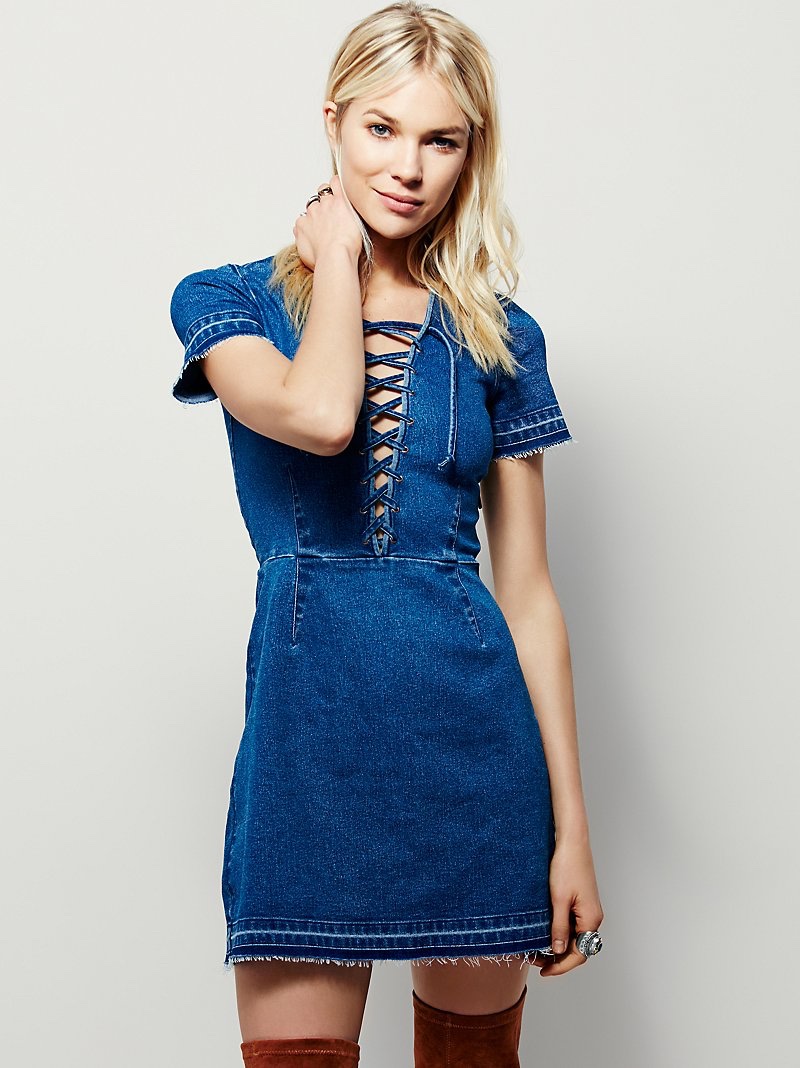 Free People Dana Denim Lace-up Dress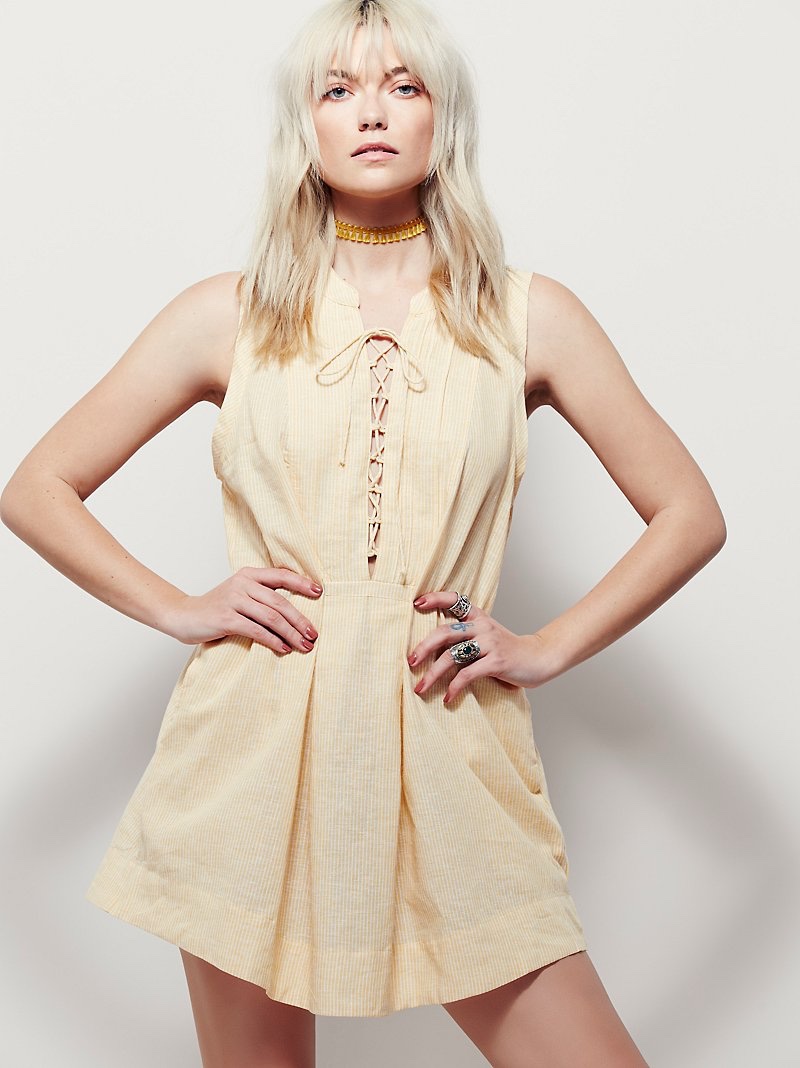 Free People Poppin' Off Poplin Dress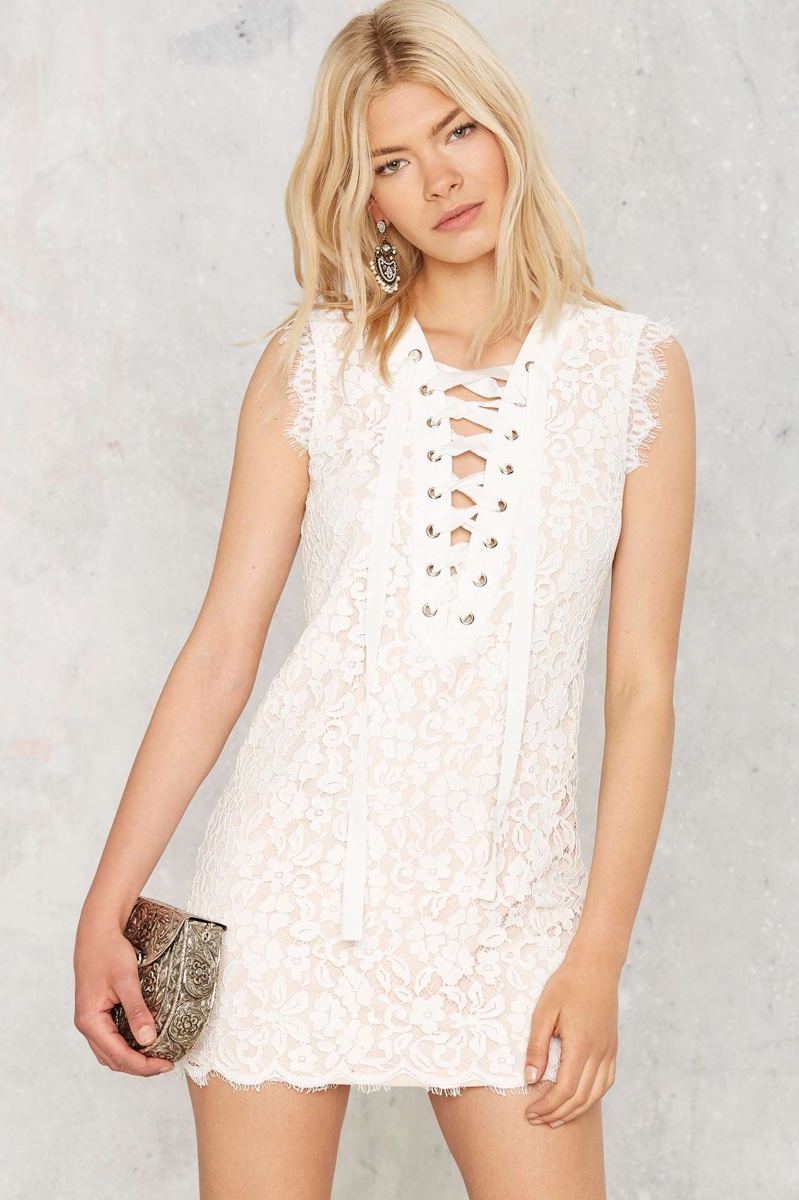 Nasty Gal Lace Instinct Mini Dress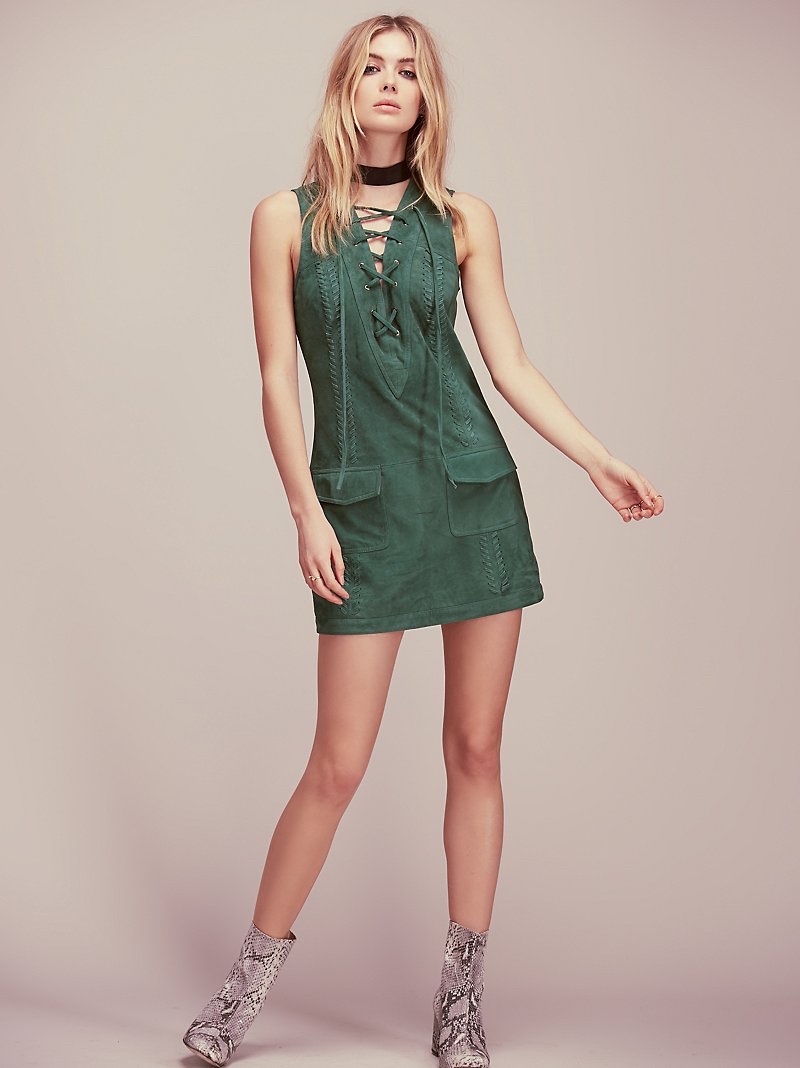 Free People Take Me Home Suede Dress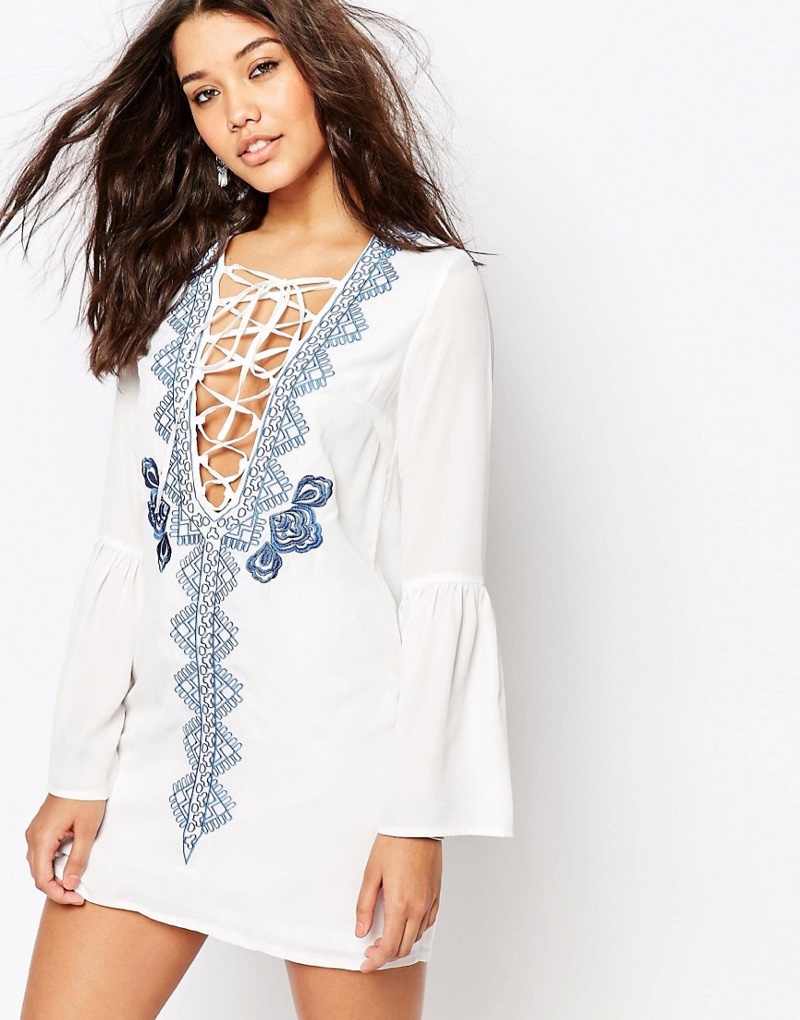 Missguided Long Sleeve Lace-up Embroidered Dress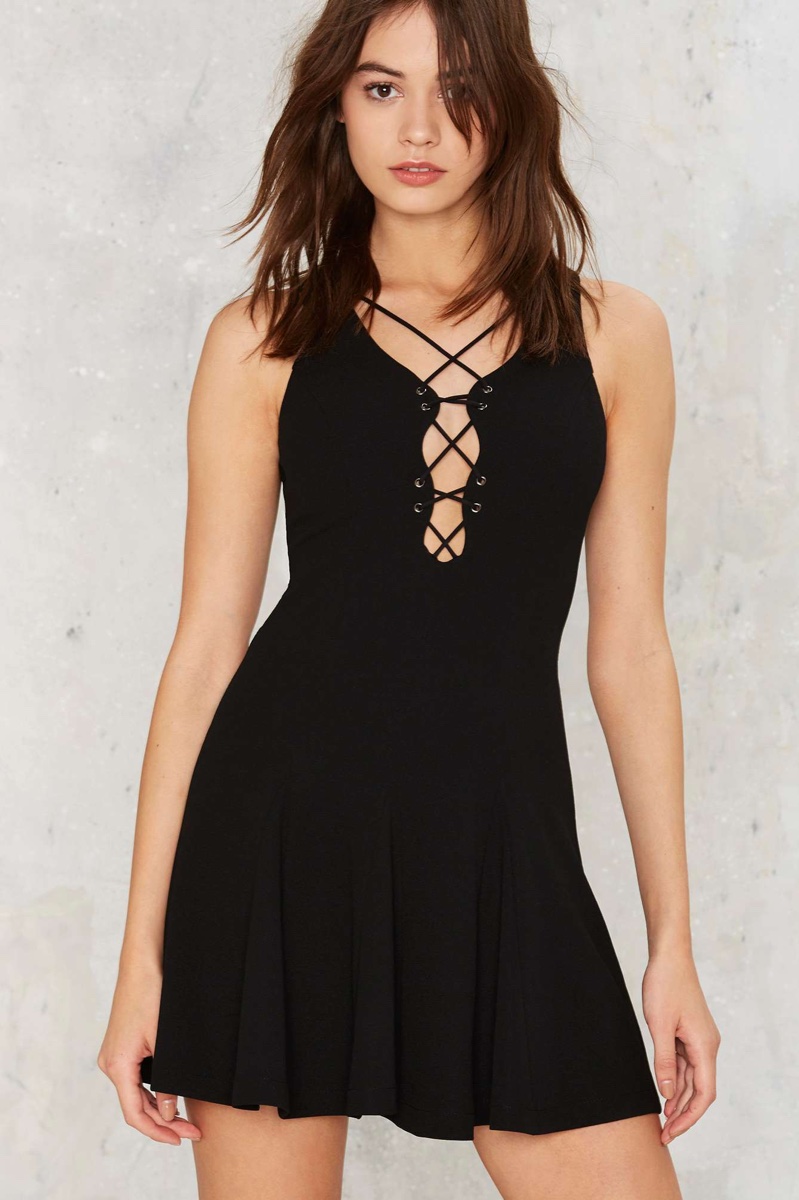 Nasty Gal Shadow Me Lace-up Dress
comnum(0) tbcount(0) tbcount(266)
Categories:
Fashion
Kate Moss leaving a Rimmel event in London. Photo: Getty Images
I'm usually against coordinating eyeshadow or lip color to my outfits, and growing up with a twin sister means that I've already had enough of that "matchy-matchy" aesthetic to last a lifetime. Oddly, though, I'm all about Kate Moss's latest ultra-femme getup involving micro red hearts, matching lipstick and a whimsical clutch which she wore to a Rimmel London event across the pond on Wednesday.

But if we dig a bit deeper, you can glean that this whole getup has "Kate Moss" written all over it. As the face of Rimmel, it's not at all surprising to see the '90s supe sport a bold lip — likely one from her longtime collaboration with the brand. Meanwhile, her blouse and blazer are both designs from her latest collection for contemporary label Equipment, and both of which are still available for $298 and $600, respectively.

Personally, the cherry-red clutch is my favorite part of the look; plucked straight from the just-revealed Disney x Coach 1941 collaboration, it adds just the perfect touch of youthful irreverence. This is, lest we forget, Kate Moss.
comnum(0) tbcount(0) tbcount(234)
Categories:
Fashion
Josephine Skriver on The Edit May 26, 2016 Cover
Victoria's Secret Angel Josephine Skriver lands the May 26, 2016 cover of The Edit, wearing a straw hat, Equipment shirt and briefs by Eres. Inside the magazine, Josephine models looks perfect for a summer escape in beach-snapped images captured by Emma Tempest. Stylist Morgan Pilcher selects a mix of bikini tops, shorts and sandals for the Danish stunner to wear. The designs of Lisa Marie Fernandez, Chloe, Bottega Veneta and more stand out in the vacation-ready editorial.
Josephine Skriver poses in beach fashions for the editorial
Josephine Skriver smolders in a Frame Denim lace-up top and brown shorts
The blonde model wears a Lisa Marie Fernandez off-the-shoulder bikini top
Josephine Skriver lounges on the sand wearing a Chloe Cape, LoveShackFancy skirt and Bottega Veneta sandals
Josephine Skriver wears all white in a Lisa Marie Fernandez crop top and maxi skirt
The model flaunts her legs in a MiH Jeans shirt and bikini by Eres
The model is captured wearing a white blouse and shorts
Categories

New Posts

Hot Posts

Tag Cloud