Categories:
Fashion
We just want to let you know that the Chanel Chevron Quilted Flap Bag is a gorgeous bag and there is still time to claim one.
Perhaps you already forgot, if so then allow us to freshen your mind. This is the Chanel Chevron Quilted Flap Bag from the Cruise 2016 Collection. It's one of the few bags that received many compliments. So it's really trending and we fully understand why.
Besides the smooth leather, the print is very important. The Chevron print creates a classic appeal while the interwoven chain link in golden hardware screams luxury. The extra CHANEL PARIS charm adds a little uniqueness to it.
Comparable to the Classic Flap Bag and well-priced for a Chanel bag, why are you still waiting?
Mrs Jahn just bought her own this month in stunning pink color and golden hardware. Here's what she said: 'Just got my Chanel Chevron Quilted in Rose Pink from Milano and I must say majority of my girlfriends just lurveeee the colour. I personally love the chain. Their gold is so rich that it matches my 916 bracelet'.
Congrats Mrs Jahn.
For those that are interested, here are the details:
Measuring 4.9′ x 9.1′ x 2.8′ inches, and with a style code of A92087, priced at $2700 USD, €2200 EUR, £1630 GBP, or $3670 SGD
Tags: bag Chanel Flap Quilted Chevron Pink
comnum(0) tbcount(0) tbcount(371)
Categories:
Fashion
Cara Delevingne stars in I'm Not a Trophy campaign
Cara Delevingne is stripping down for a good cause. The British model and actress poses naked in a new animal rights campaign for the organization I'm Not a Trophywhich aims to raise awareness about endangered animals around the globe. Founded by French artist Arno Elias (who also photographed Cara for the campaign), Cara poses with imagery of animals projected on her naked skin. Cara is well-known for her lion tattoo on her index finger, and can be seen with imagery of a lion as well as an elephant, zebra, gorilla and leopard in the artistic shots.
Sharing an image from the campaign on her Instagram which has over 30 million followers, Cara wrote, "I am so proud to be an ambassador of @imnotatrophy organization to create greater awareness in the malicious acts of trophy hunting and poaching of endangered species!"
Cara Delevingne helps raise awareness for endangered species in I'm Not a Trophy campaign
Cara Delevingne for I'm Not a Trophy campaign
Cara Delevingne poses with a leopard projection for I'm Not a Trophy campaign
Cara Delevingne strips down with lion imagery in I'm Not a Trophy campaign
Cara Delevingne poses naked for I'm Not a Trophy campaign
comnum(0) tbcount(0) tbcount(267)
Categories:
Fashion
Forever 21 unveils its summer 'Chasing the Sun' edit
Get ready for summer with Forever 21's new 'Chasing the Sun' edit featuring styles perfect for the beach and beyond. From bikinis to cutoff denim shorts to crop tops and colorful bodysuits, these looks are great to wear with statement sunglasses, bomber jackets and tote bags. Check out more summer styles from Forever 21below.
Forever 21 Abstract Bikini Top and Bottoms
Forever 21 Disco Nights Crop Top
Forever 21 Distressed Denim Shorts
Forever 21 Made for the Sea Crop Top
Forever 21 Mesh Trim Bikini and Bottoms
Forever 21 Motel Vibes Halter Top
Forever 21 Palm Leaf Halter Top
Forever 21 Sundaze Graphic One-Piece
comnum(0) tbcount(0) tbcount(374)
Categories:
Fashion
A model walks the runway at Gucci's resort 2017 show wearing a maxi dress with long sleeves and floral prints
On Thursday, Gucci unveiled its resort 2017 collection in London's Westminster Abbey, for an eclectic collection that fused Alessandro Michele's whimsical style with British inspired touches. From fur coats to ruffle-adorned dresses to lace embellishments and brooches, the Gucci woman is all about riotous color and adornments. From punk-inspired plaid to high-necked Victorian dresses to sweaters with the Union Jack, the looks are paired with oversized glasses and vintage inspired jewelry. Bags are equally colorful with embroideries, snakes and dogs.
A model walks the runway at Gucci's resort 2017 show wearing a leopard print fur coat and bleached denim pant
A model walks the runway at Gucci's resort 2017 show wearing a lace-embellished dress with a bow at the neckline
A model walks the runway at Gucci's resort 2017 show wearing a tartan gown with a brooch necklace
comnum(0) tbcount(0) tbcount(371)
Categories:
Fashion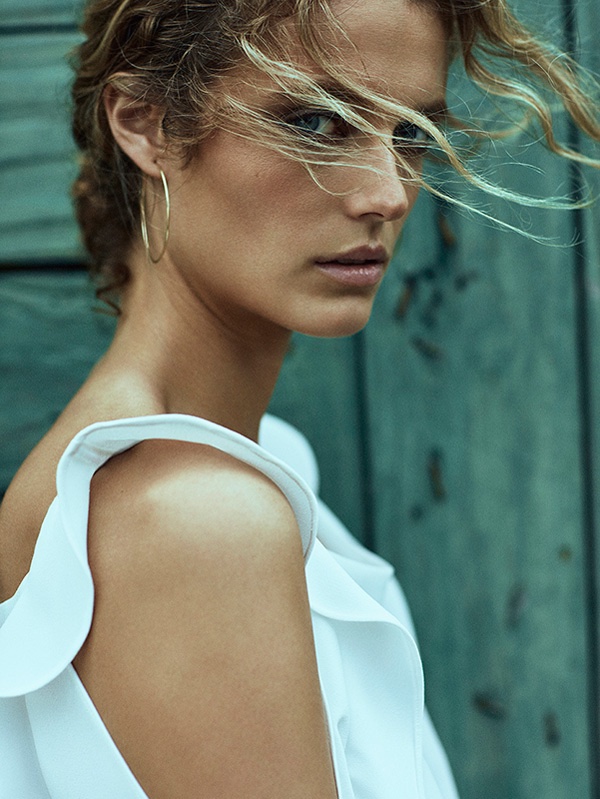 Kate Bock stars in Telva Magazine's June issue
Canadian model Kate Bock heats up the June 2016 issue of TELVA Magazine, appearing in a fashion editorial called, 'Volantes' or 'Ruffles'. The blonde stunner wears one of the spring-summer season's biggest trends with fashions featuring ruffles and pleating. Photographed by Tomás de la Fuente and styled by Julia Martinez, Kate wears the designs of Balmain, Oscar de la Renta, Chanel, Miu Miu and more for the glossy spread.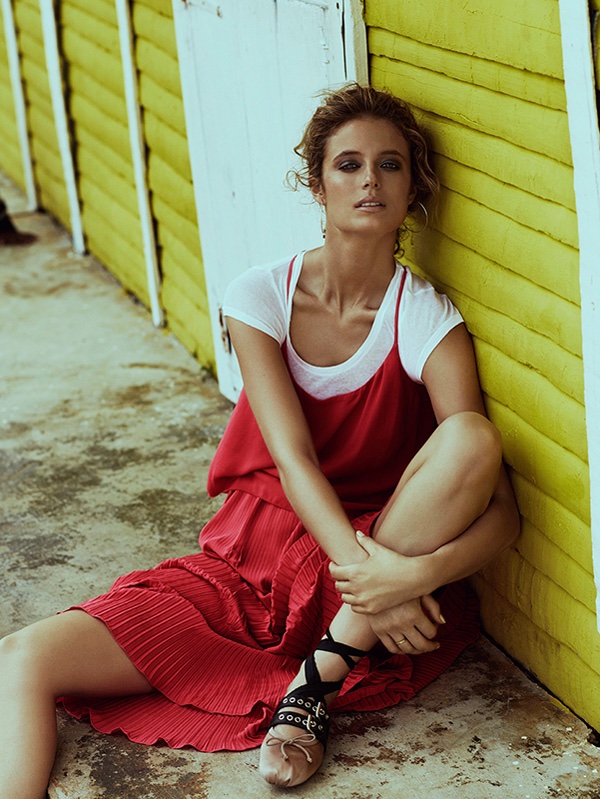 Photographed by Tomás de la Fuente, Kate Bock wears fashions with ruffles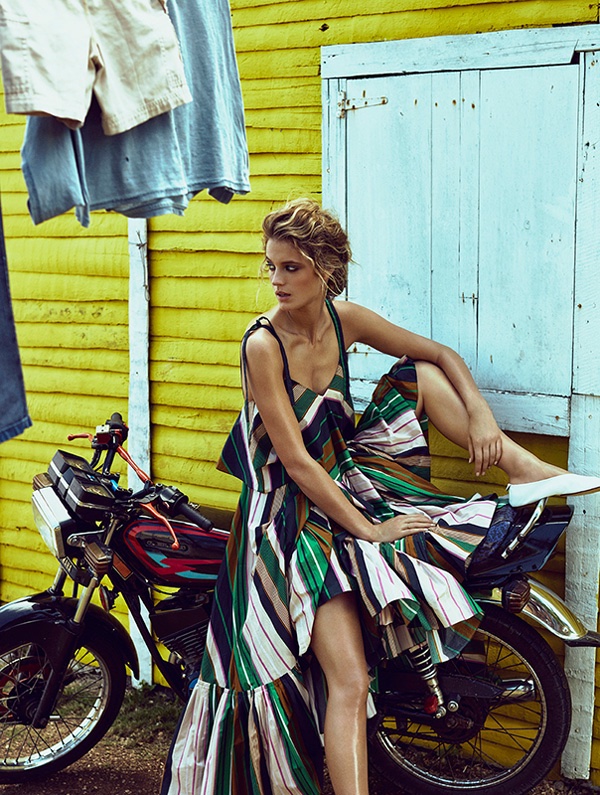 Kate Bock models striped Salvatore Ferragamo dress with ruffles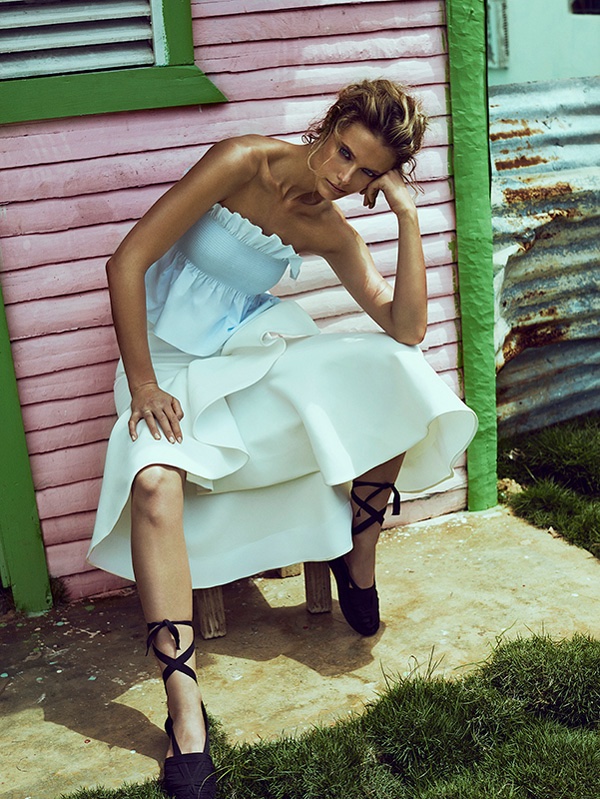 The blonde model wears a strapless top from Maison Margiela with a white skirt by Silvia Tcherassi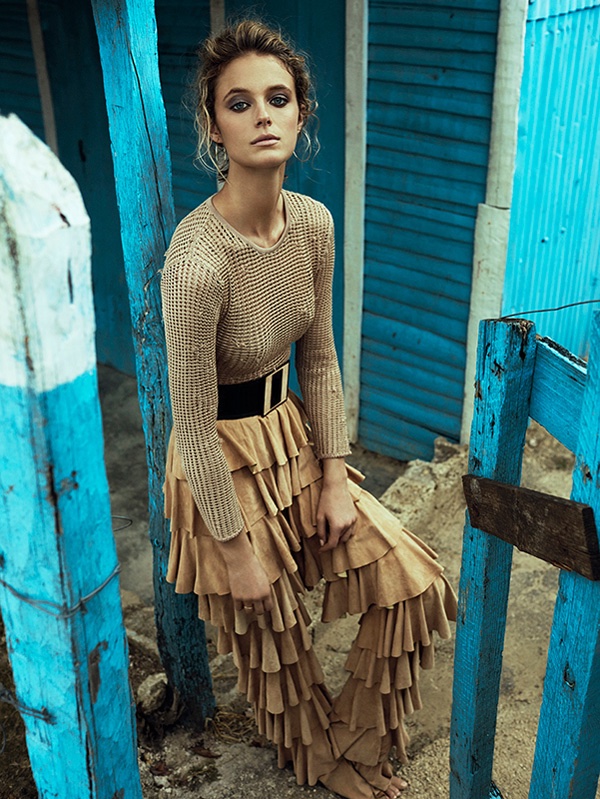 Kate Bock models knit top with ruffle embellished pants by Balmain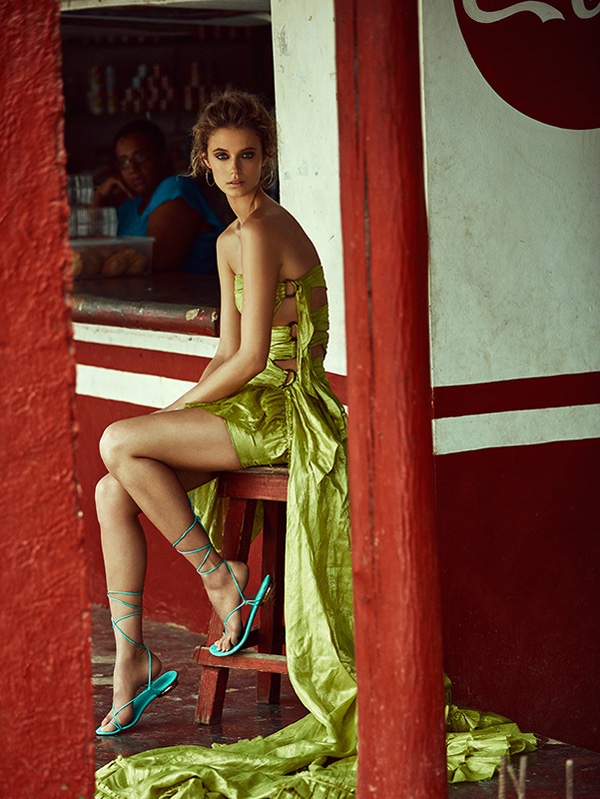 Posing on a stool, Kate Bock models Roberto Cavalli high-low dress with side cutouts and Stuart Weitzman sandals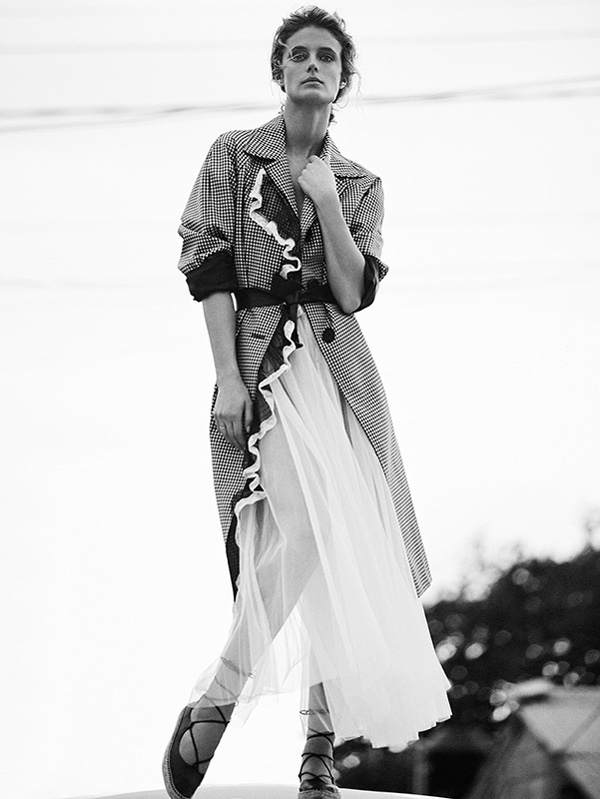 Kate Bock models Miu Miu coat and skirt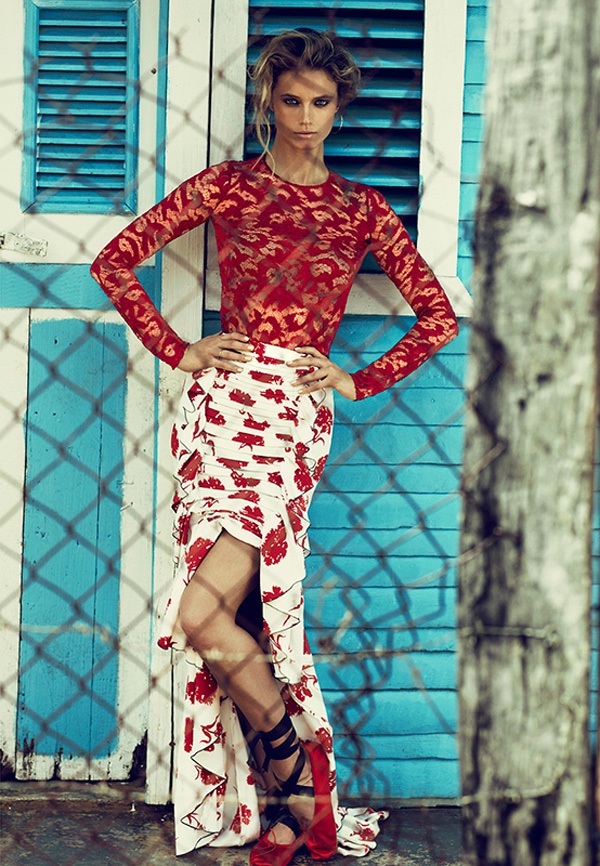 Kate Bock looks red-hot in Oscar de la Renta lace top and floral print skirt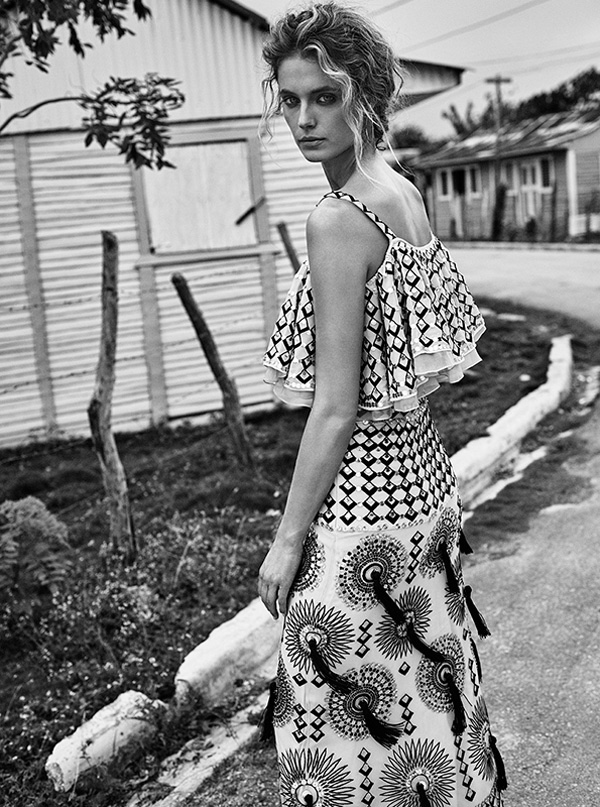 Photographed in black and white, Kate Bock wears ruffle top and tassel embellished skirt from Temperley London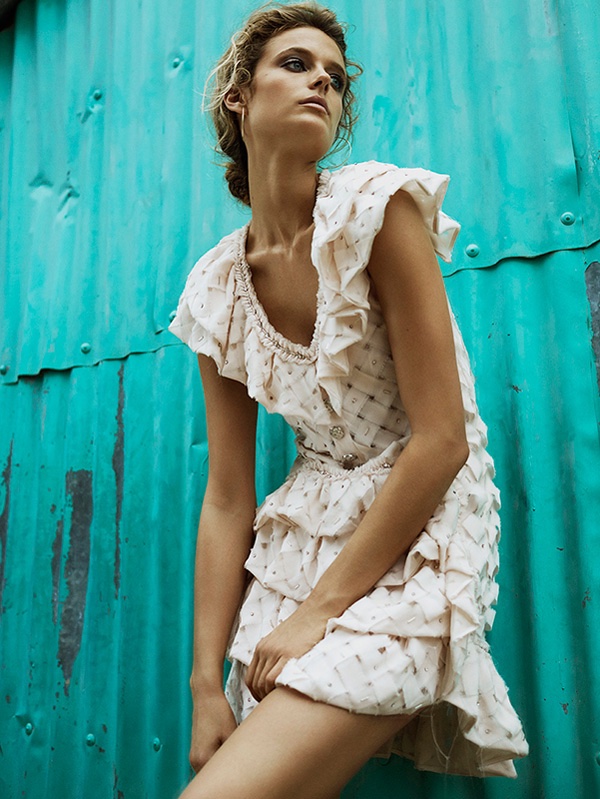 Kate Bock models ruffle embellished mini dress by Chanel
comnum(0) tbcount(0) tbcount(303)
Categories:
Fashion
As we talked about last week, summer brings with it its own set of challenges for almost every aspect of your beauty routine. I spend a lot of time outdoors when it's warm and tend to be very demanding of my skincare, haircare and makeup, which means that over the years, I've found some tried-and-true summer beauty winners.
Below, check out the products I find myself using the most when the temperatures rise; maybe one of them can solve an aesthetic problem for you!
1 / 10
Becca Shimmering Skin Perfector in Champagne Pop

A beauty editor friend and I joke a lot about steering into the skid when it comes to being, uh, dewyin the summer. If you're prone to a little sweatiness, this cult favorite (and my personal favorite) highlighter will go a long way toward convincing people that you totally meant to do that.
2 / 10
Deborah Lippmann Gel Lab Pro Nail Polish in Splish Splash

I hate pastels but love a pastel pedicure. A powdery shade is less obvious than a neon and makes your feet look super tan by comparison.
3 / 10
Drybar Triple Sec 3-in-1 Spray

I wear my hair curly in the summer, so it doesn't require a lot of product, but this is my favorite year-round fix to extend my hair wash past the first day. It's both a dry shampoo and dry texturizer, plus it also offers the hold of a hairspray. On top of that, it smells heavenly.
4 / 10
Boscia Charcoal Pore Pudding

In the winter, my only mask goal is to get as much moisture as possible. In the summer, I still need moisture, but I also need something to suck all the gunk out of my pores without sucking all the moisture out of my skin along with it. It's a hard balance to strike, but this mask does it perfectly.
5 / 10
First Aid Beauty Face Cleanser

I have sensitive skin, so I use a lot of FAB products in general, and this cleanser does a great job of making my skin feel clean on a sweaty day without making my face dry or tight.
6 / 10
Hampton Sun Continous Mist Sunscreen SPF70

I know it says "for kids," but this sunscreen is also for very pale adults, trust me. The finish on your skin is almost like that of a tanning oil, so you also get to look all shimmery and sexy while you're actually covered in high-powered sunscreen.
7 / 10
Hourglass Ambient Lighting Bronzer

Just because I know tanning is bad doesn't mean I'm immune from the allure of a sun-kissed glow, and this bronzer provides just that without any damaging exposure. It also takes a very light application to see the results, which means the generous amount of bronzer in the packaging should last forever. (I've had mine almost a year and use it every day, and I still have well over half the product left.)
8 / 10
Mario Badescu Glycolic Acid Toner

On a day-to-day level, nothing makes me feel like I'm doing a better job getting all the summer gunk off the surface of my skin than this toner.
9 / 10
Mustela Mineral Sunscreen Stick SPF50+

Summer tends to bring with it spontaneous plans, and those spontaneous plans are often outdoors. Tossing a small sunscreen in your bag along with the rest of your essentials ensures that you're prepared if the sun should shift onto you while you're on a patio drinking rosé, and the non-liquid nature of this inexpensive option means you don't have to worry about spills in your bag the rest of the week.
10 / 10
Peter Thomas Roth FirmX Peeling Gel

This may be the one skincare product I use all year, no matter the weather or temperature. It sloughs off dead cells like a total champ without drying or irritating my sensitive skin, and I always feel so soft and clean afterward.
Designer Bags, Wallet, Purse, Belt & Accessories Official Site, Best Price & Quality, Free Worldwide Shipping, Free Returns. Every Bag Is A Work Of Art - Handmade - Cowhide Art - Can Custom-Made

Categories

New Posts

Hot Posts

Tag Cloud