Categories:
Fashion
Shiseido just launched a new digital experience.
Not long after a man who married his smartphone in Las Vegas made headlines (don't worry, it's not legally recognized and it was all his way of creating some sort of social commentary), cosmetics company Shiseido is asking people to make out with their mobile devices. Insert obligatory "Her" reference here.
Shiseido's new interactive mobile site, "Rouge Rouge Kiss Me" — which launched on Tuesday as a lead-up to the launch of a 16-shade lipstick collection on Friday — seeks to create a shared experience between two people. And yep, you have to kiss your phone in order to make it work.
Here's how it works, as explained by WWD:
"The campaign encourages two people — who might be anywhere from different rooms to on different continents — to kiss their smartphone screens simultaneously to create a virtual kiss. Created in partnership with Tokyo-based creative firm TeamLab, the first person who wants to kiss someone visits rougerougekissme-shiseido.com and enters their name so a personalized link is generated for them to send to whomever they wish to kiss. From here, the receiver gets the link via text or e-mail, clicks it and once both people arrive at the site, they pick the shade of Rouge Rouge they want their kiss to appear in and a countdown will begin. Once both people 'kiss' each other, the two lipstick marks are captured on-screen together and creators can design and personalize a 'Kiss Monster' GIF to share over a text, e-mail or the social media platform of their choice."
Shiseido also rolled out a "smile-rating app" last week that visually assesses users' smiles by measuring facial movements and assigning them a numerical value. So there's a lot going on right now with Shiseido and intriguing tech ventures. We're having a hard time imagining anyone actually wanting to kiss their phones IRL (reminder: there is hella bacteria on there, typically more than you'd find on a public toilet seat!) but it's certainly an intriguing concept.
comnum(0) tbcount(0) tbcount(219)
Categories:
Fashion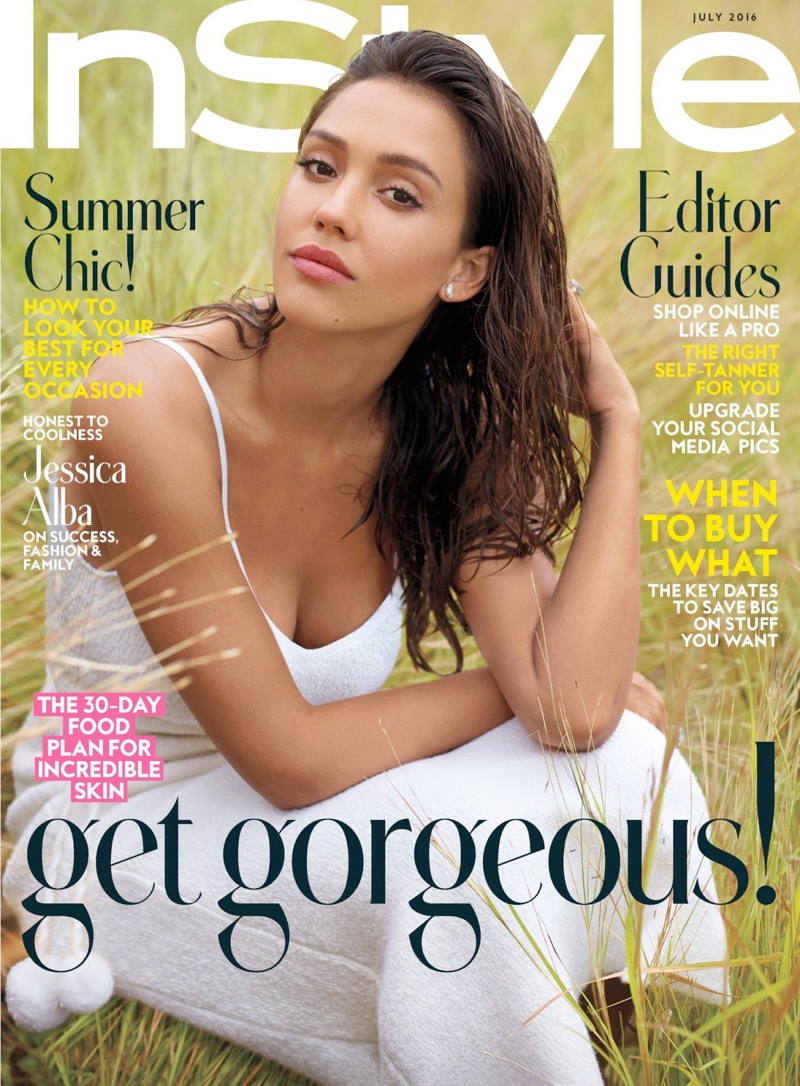 Jessica
Alba
on InStyle Magazine July 2016 Cover
Actress and The Honest Company co-founder Jessica Alba looks all natural on the July 2016 cover of InStyle Magazine. Posing outdoors, the 35-year-old star wears a white Victoria Beckham dress with a wet hairstyle photographed by Thomas Whiteside. Inside the magazine, Jessica hits the beach in a mix of one-piece swimsuits and maxi dresses selected by fashion editor Melissa Rubini. For beauty, the brunette wears a touch of color on her lips and tousled tresses thanks to makeup artist Lauren Andersen and hairstylist Dennis Gots.
In her interview, Jessica talks about posing for men's magazines at such a young age. "My sexuality made me very uncomfortable. I remember my first Maxim shoot, they were telling me to pose a certain way, and I was like, 'Agh! I'm 19. I'm a virgin. I don't even know how to do that.' It was so awkward." Later, she revealed, "I sort of went through a life crisis [at 25]. I was like, 'This isn't what I set out to be. I'm so much more than this, but I don't know how not to be a sex symbol.'"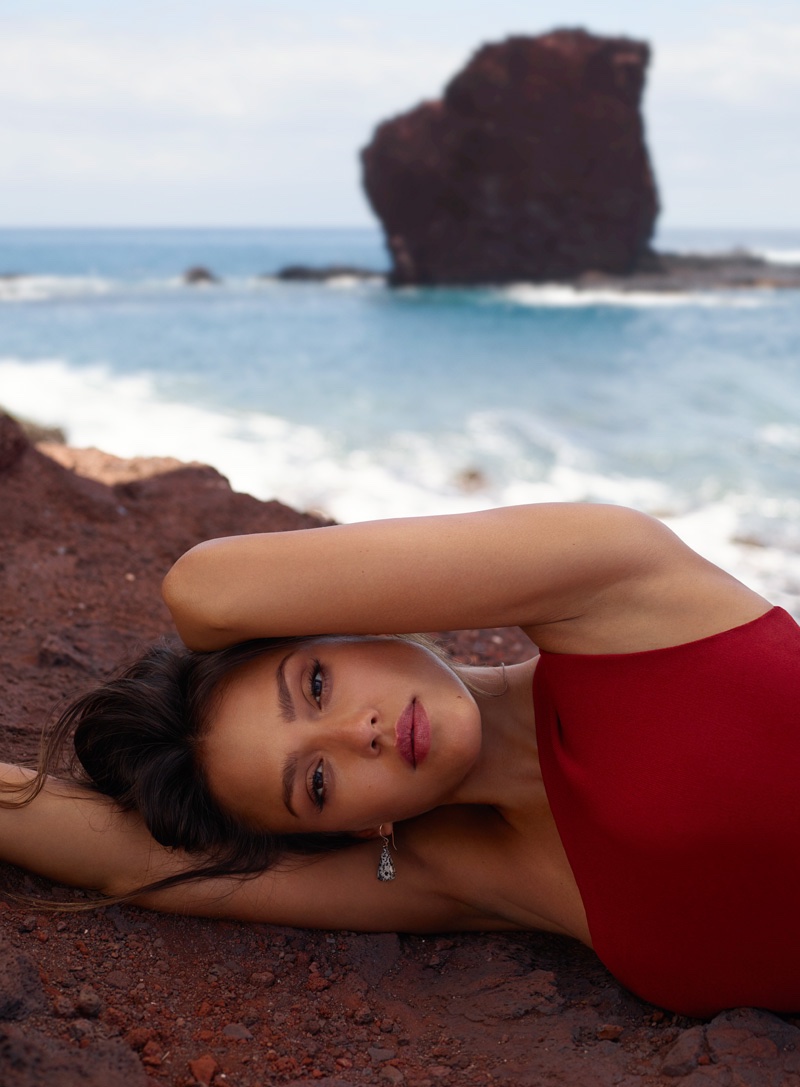 jessica
Alba
poses on the beach for the photo shoot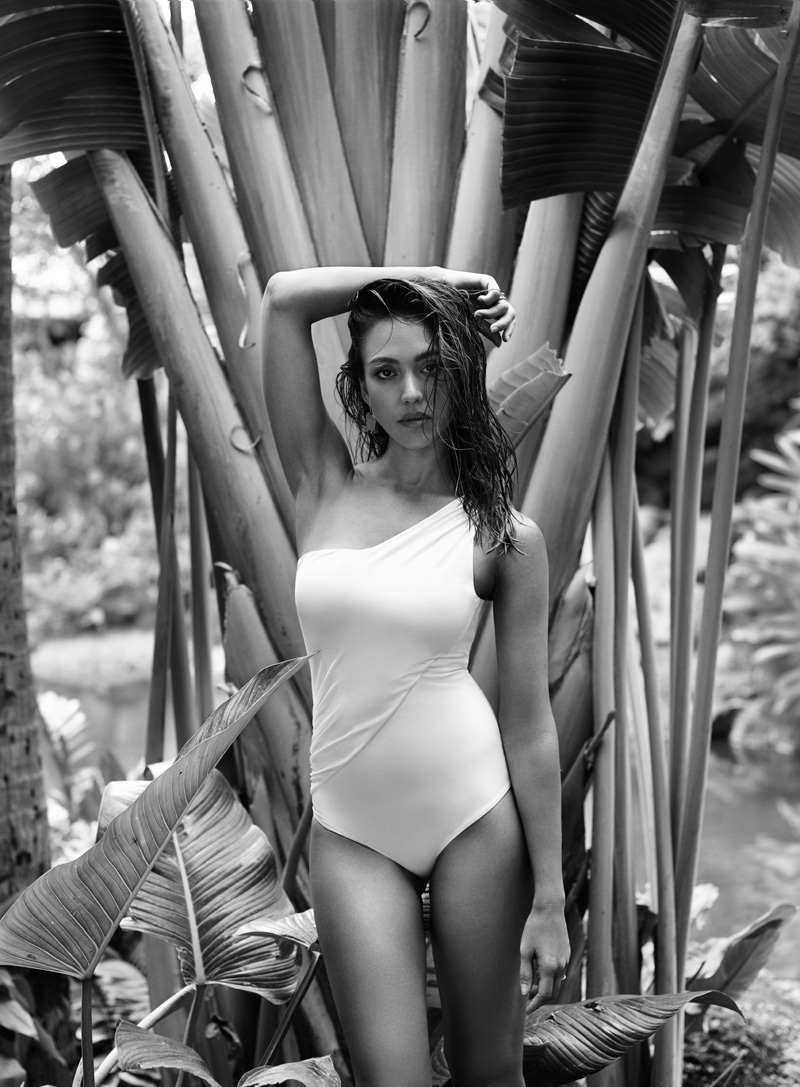 Photographed in black and white,
Jessica
Alba
wears one-shoulder swimsuit look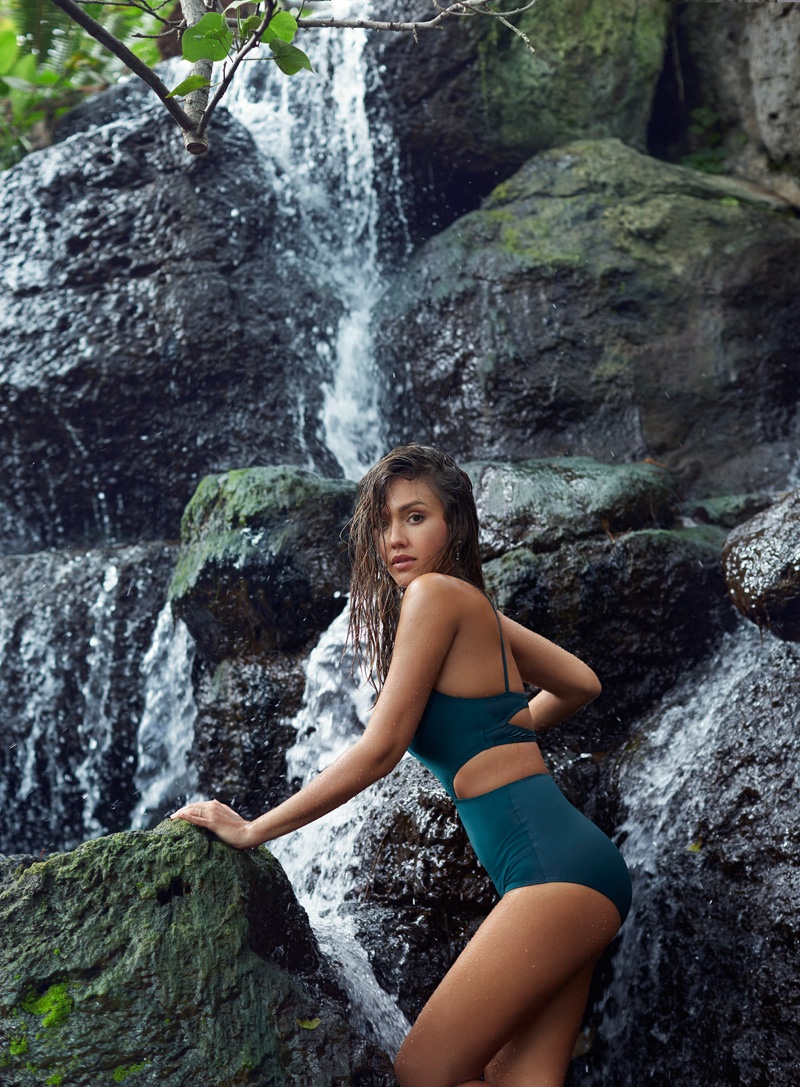 Jessica
Alba
poses in green swimsuit with cutout treatment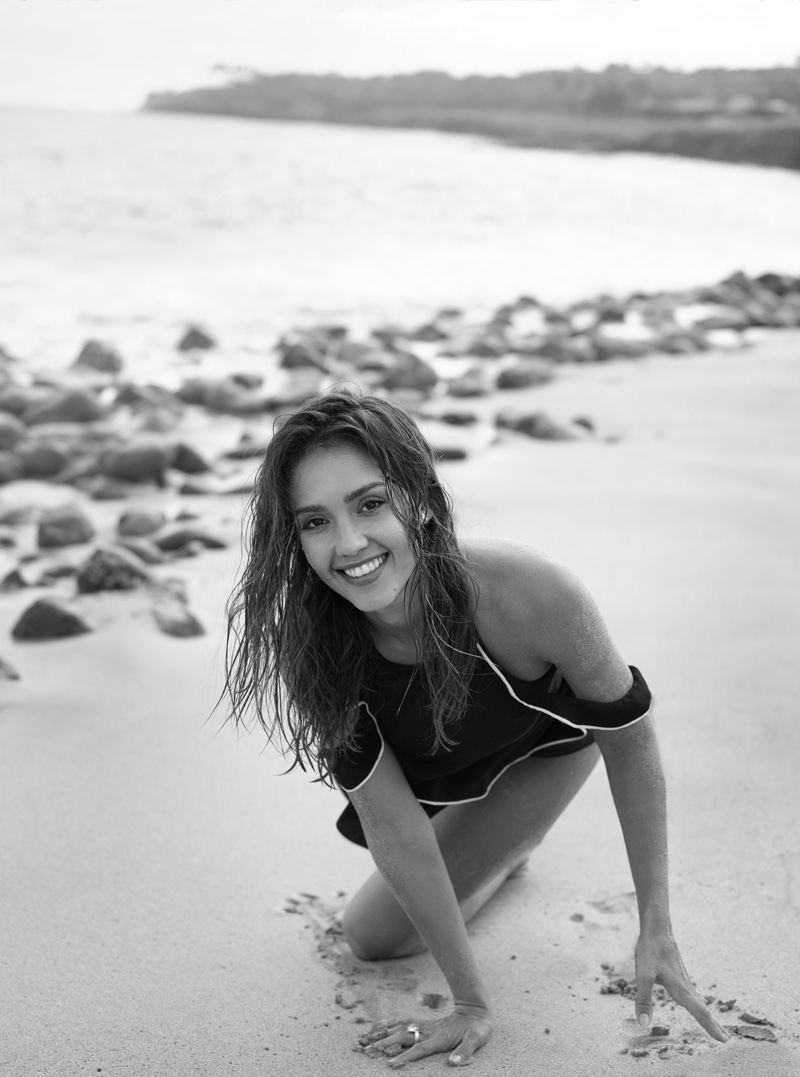 Jessica
Alba
is all smiles posing on the beach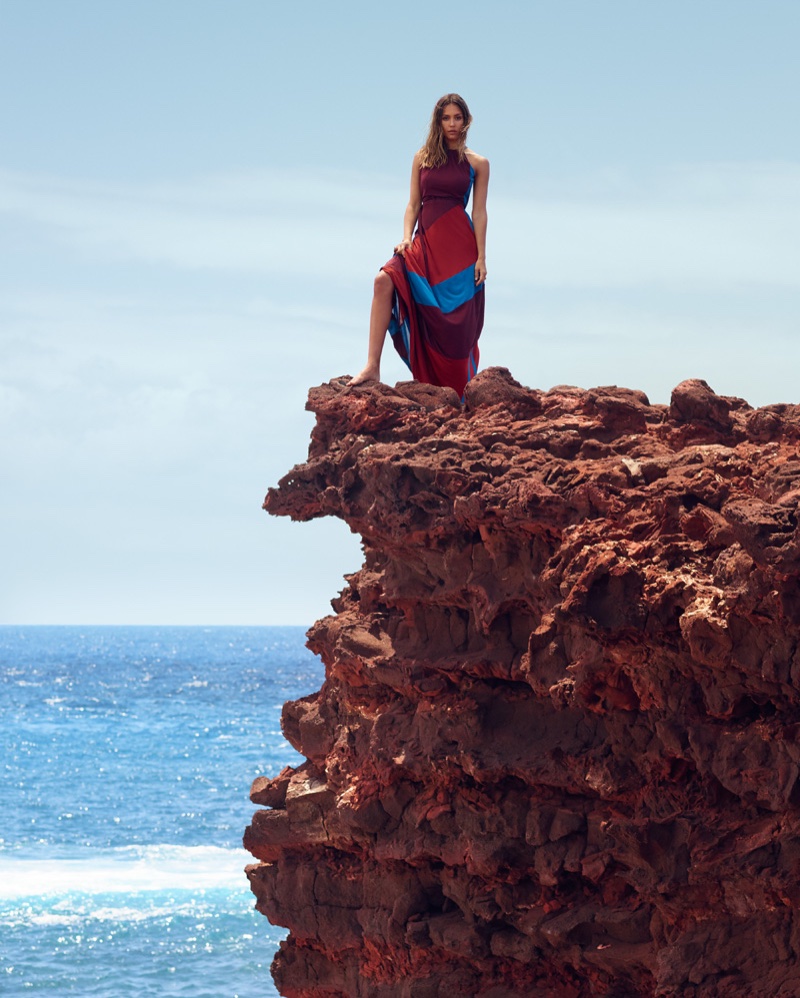 Jessica Alba models a multi-color
maxi
dress
comnum(0) tbcount(0) tbcount(271)
Categories:
Fashion
A look from the Balenciaga spring 2017 runway.
Last Friday morning, on the second day of the Paris men's shows, news came out of London that the dreaded Brexit vote was successful. While the Brexit vote was against the unity of diverse nations, the spring 2017 season affirmed that the reason Paris is the center for men's fashion — from Balenciaga's menswear debut to Thom Browne's joyous island escapade complete with models dressed as birds of paradise and wearing shark masks — is thanks to the many different voices and visions offered on the runways.
A duality exists in today's menswear that marries a more formal approach to dressing (with French tailoring and craftsmanship) with a casual elegance and sportswear dominance. Throughout the week, designers negotiated this tension like fashion architects on how to create clothes for today's generation with increasing knowledge of fashion and discernible taste. In the first-ever Balenciaga men's show, Demna Gvasalia used the masterful tailoring techniques of the house founder's archives and personal wardrobe to design and create clothes around the man's body. That meant a range of boxy jackets and coats with large shoulders (some dropped forward) worn with slim shorts and high-heeled boots, as well as extreme slim-fitted, double-breasted windowpane suits and coats with large lapels and slightly flared short pants. Essentially a tailoring proposal, the extreme proportions from XXL to XXS demonstrated the notions of how clothes actually fit. The short, large shouldered jackets in red wine or blue or the nylon green cropped MA-1 bomber are sure bets at retail next spring.
A look from the Rick Owens spring 2017 runway.
It is this same tailoring and draping methodology that Rick Owens is known for each season, with many looks resembling dresses rather than men's T-shirts and pants. Owens's irreverence for both trends and currency — in contrast with the industry's current fast pace and desire for instant gratification — make the designer the perennial creative leader in fashion. Creativity requires time and thinking. For example, Owens paired a sheer tank with intricate, multi-layered pants with front folded fabrics that swooped side to side as the model walked by in the concrete basement of the Palais de Tokyo.
A look from the Balmain spring 2017 runway.
In a similar manner is Olivier Rousteing's approach to his Balmain, where his uncompromised aesthetic permeates the house. His signature heavy embroideries and beading took a back seat this season in favor of light blue washed denim jackets, chambray shirts and short and denim leggings that opened the show and shifted greater focus to softer, and more wearable garments that retained the designer's sense of style — like a belted denim jacket with gold buttons. However, embroideries are were forgotten altogether: it would not be Balmain without a variety of studded jackets. A sparkling silver metallic knit ensemble of a long cardigan, tunic and matching leggings and an orange belted jacket worn with flared dark orange pants broke the more commercially slanted looks in the high paced show. And don't forget those black leather and gold-plated gladiators and metallic tassel necklaces — they added the minimum sparkle to each look.
At Dior Homme, all the "streetwear" credos were omnipresent and polished perfectly with the craftsmanship of the Dior atelier. Red, punkish hand-stitching permeated the collection, weaving together the seams of tailored jackets, short cigarette pants and jeans and created patchworks of embroidered roses and skulls on black wool jackets; there were rocker mesh tanks and shrunken white jeans; and the large flared pants in grey wool harkened back to the late 90s hip-hop era. The rapper A$AP Rocky, who is the star of the house's fall ad campaign, sat in the front row to represent the brand's recent efforts at reaching out to a new audience and developing a new customer base. But as the models swerved around the Etienne Russo-designed set like skateboarders negotiating a tough curve, the show felt less emotionally connect to the "street" than the actual garments are to their creeds.
A look from the Givenchy spring 2017 runway.
In a slight change of direction from the espoused tailoring of the past two seasons, Riccardo Tisci retuned Givenchy to lead a majestic show of luxury sportswear. Multi-pocket add-ons — either with shoulder straps or zip away elements — to jackets and coats wiped away the formality of the constructed garments. These zippered patch pockets rendered even a double-breasted grey chalk stripe suit more sporty and casual.
Perfect craftsmanship and summer fabrics in sulfur yellow linen and cotton blousons, cobalt blue shorts and sweaters, and mahogany lambskin cardigans lent a touch of lightness to the Hermès show — a prime example of luxury casual clothes. The tie-dye technique applied to the goatskin jacket was so subtle that it's hard to distinguish the lines around the faded circles. At Louis Vuitton, Kim Jones espoused the spirit of travel with nods to Africa (Kenya and Botswana in particular) into graphic patterned sweaters, as well as with exotic skins, like an alligator coat and ostrich biker.
A look from the Off-White spring 2017 runway.
Hood by Air, Sankuanz and Off-White added real streetwear ethos to the Paris shows. Shayne Oliver invited guests to a hammam sex club in Chatelet where they watched models walk by in white shirts with silver wrappings, black cropped short sleeved tops with waist belts, or long coats and tunics paired with cutout pants. Sankuanz designer Shangguan Zhe collaborated with artist Xu Zhen for a series of oversized military uniforms infused with hip-hop style in high-tech fabrics. Souvenir patches adorned a brown large suit, coats and an aviator jumpsuit as well. A detour from last season, when he attempted to do tailored coats and jackets, Virgil Abloh returned to his roots with transparent lettered tees worn with cotton jeans or shorts, decorated leather bombers and an oversized long red tunic sweater that will likely become the new Off-White staples.
But what is Paris without a lyrical show, one that meditates on what fashion really is? In a show that ended with a series of models (each with different hair sculptures in the form of a crown) circling around the square room wearing a variety of plastic coats, the last of which read "The King is Naked," Rei Kawakubo of Comme des Garcons seemed to be asking the question of what are clothes and what is the relationship of clothes to the audience. Along the way, between covering and exposing the body, there were great pieces like colorful printed jackets and a pair of striped cotton shorts — all fit for any appearance a person chose.
And at the end of the five day week, we arrived at a depot on the outskirt of Paris to find a lone model in white face makeup, sunglasses and a grey stretch outfit sitting lonely leaning against a fake coconut tree inside a rectangle of enclosed black sand. An army of models marched out with their gray jumpsuits — only to undress into colorful yellow or light green floral jacquard jackets or white lacy short sleeved tops with red leather jackets underneath. They then undressed again into striped swimwear and brought out models dressed as surfboards or in white feathered bird suits. A model in a leather shark mask wearing a black long jacket with a leather fin in the back swam around the perimeters of the "island." Thom Browne had a fit ending for Paris in celebrating the transformative power of fashion and the accompanying joy fashion can exude.
Together these voices chartered Paris men's spring season to new heights.
comnum(0) tbcount(0) tbcount(236)
Categories:
Fashion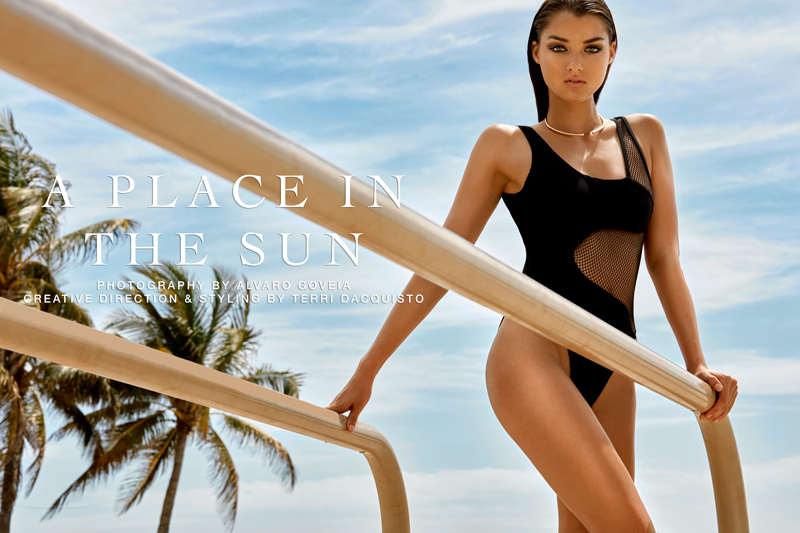 Swimsuit Urban Outfitters, Necklace Eddie Borgo
Gracing our pages for the first time, model Sarah Simmons hits the beach for a sexy swimsuit shoot photographed by Alvaro Goveia. Clad in cutout one-pieces and two-pieces selected by stylist Terri Dacquisto, the brunette flaunts her toned figure in looks from the likes of Urban Outfitters, Tavik and Seafolly. For beauty, hair and makeup artist Wendy Rorong creates her slicked back hairstyle and a shimmering eyeshadow look.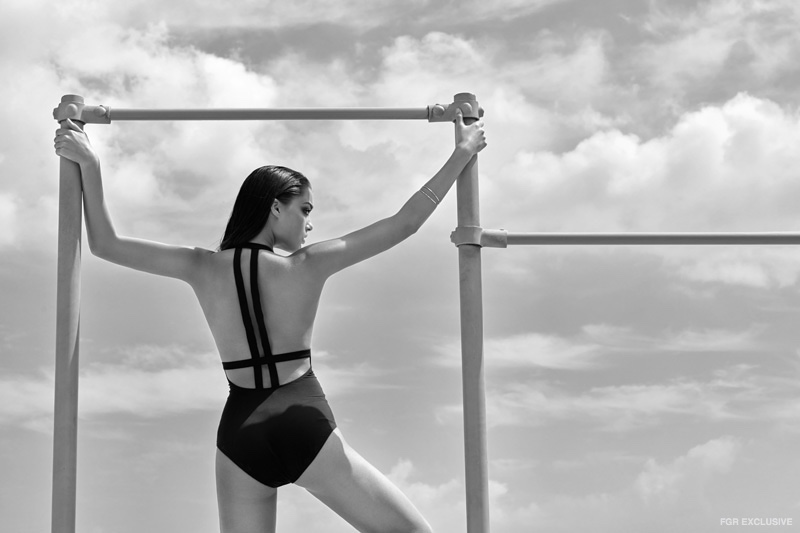 Swimsuit Urban Outfitters, Bracelet Aldo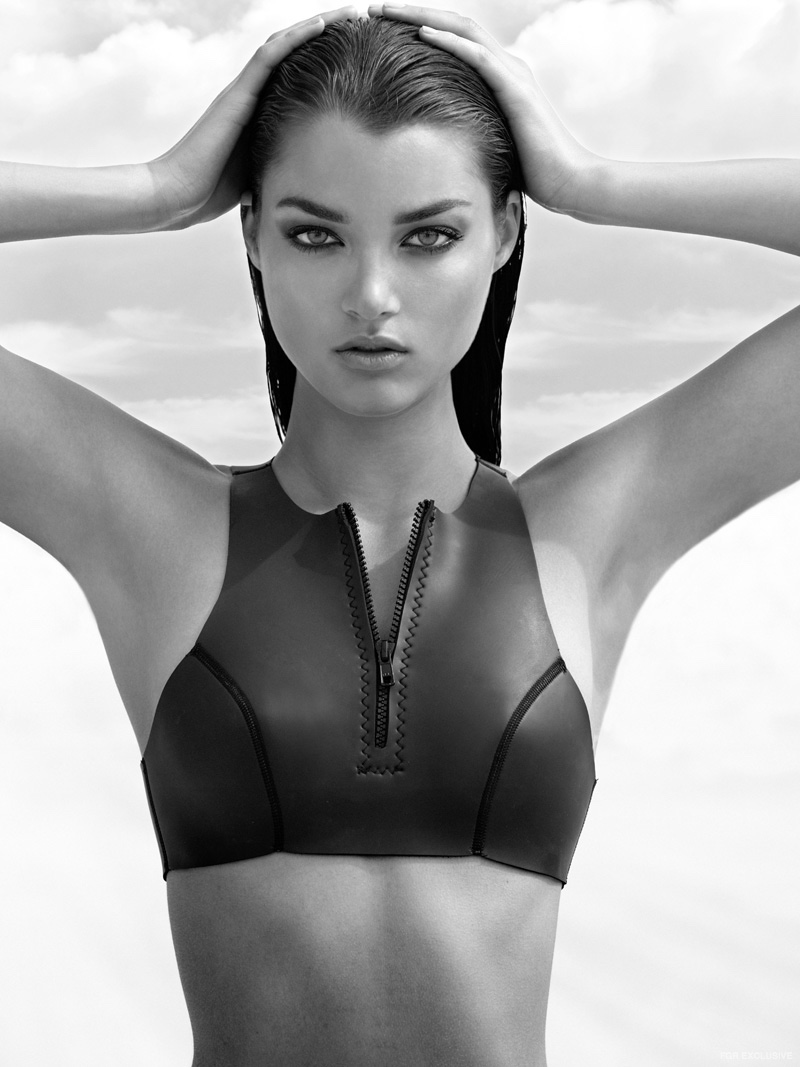 Swimsuit N.L.P.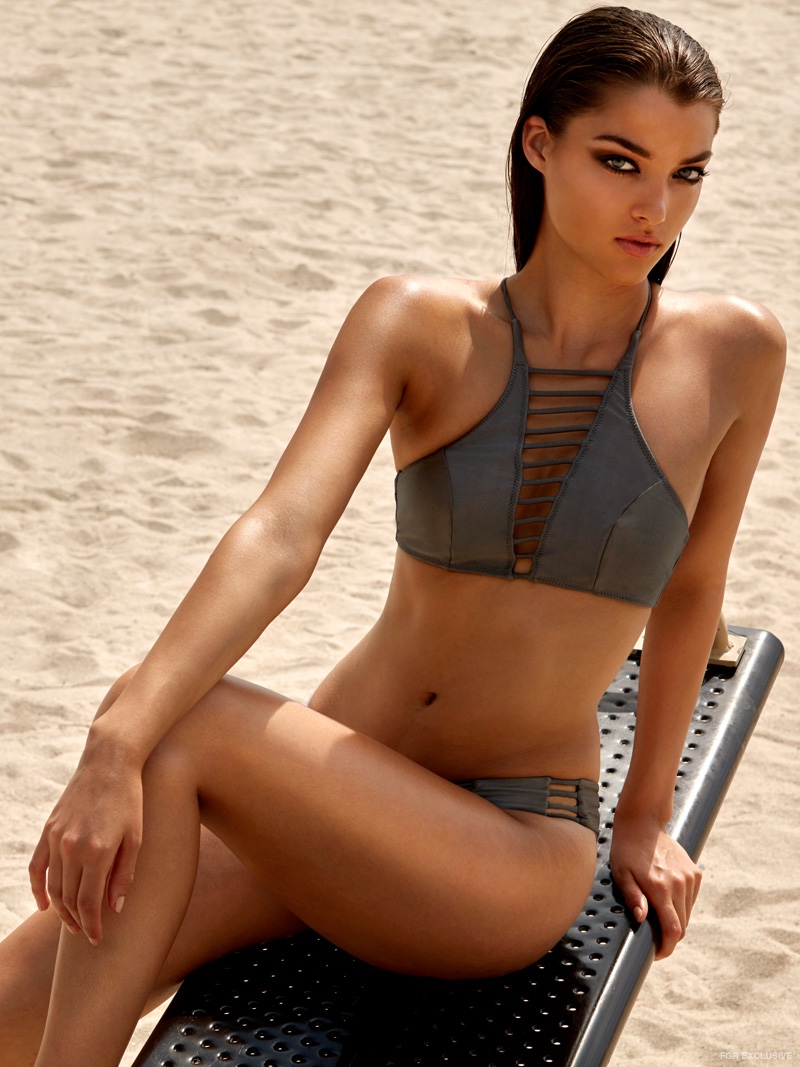 Swimsuit Ripcurl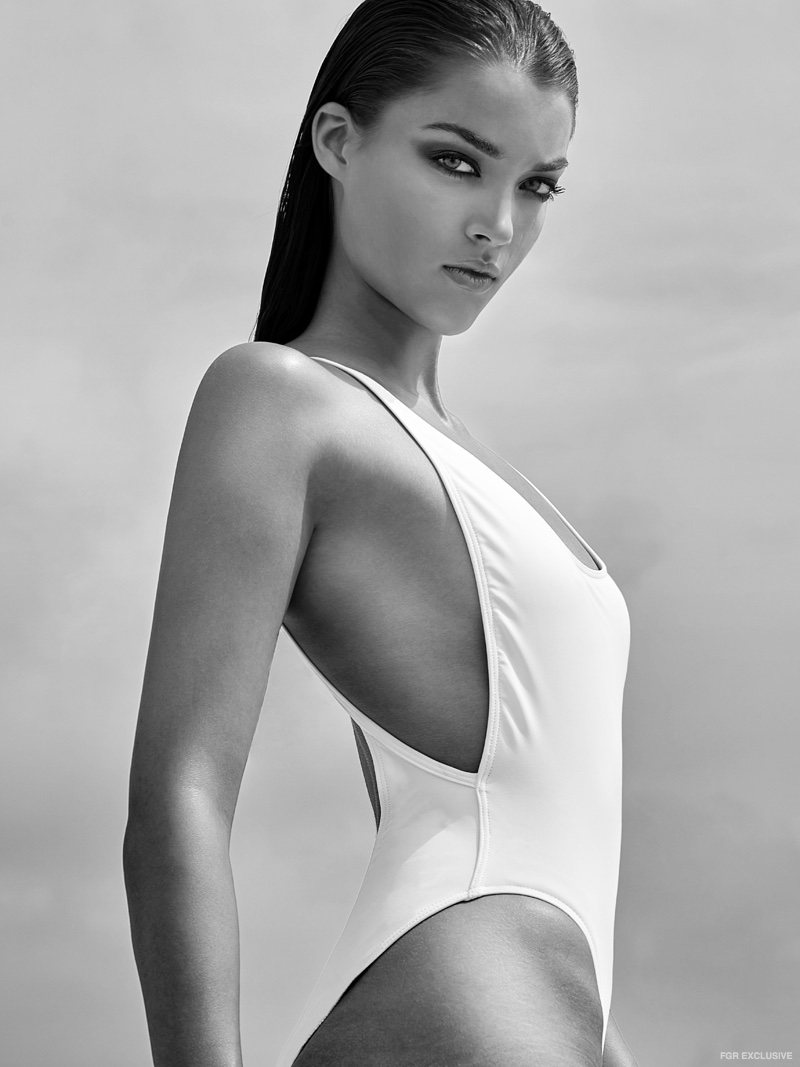 Swimsuit American Apparel, Bracelet Kate Spade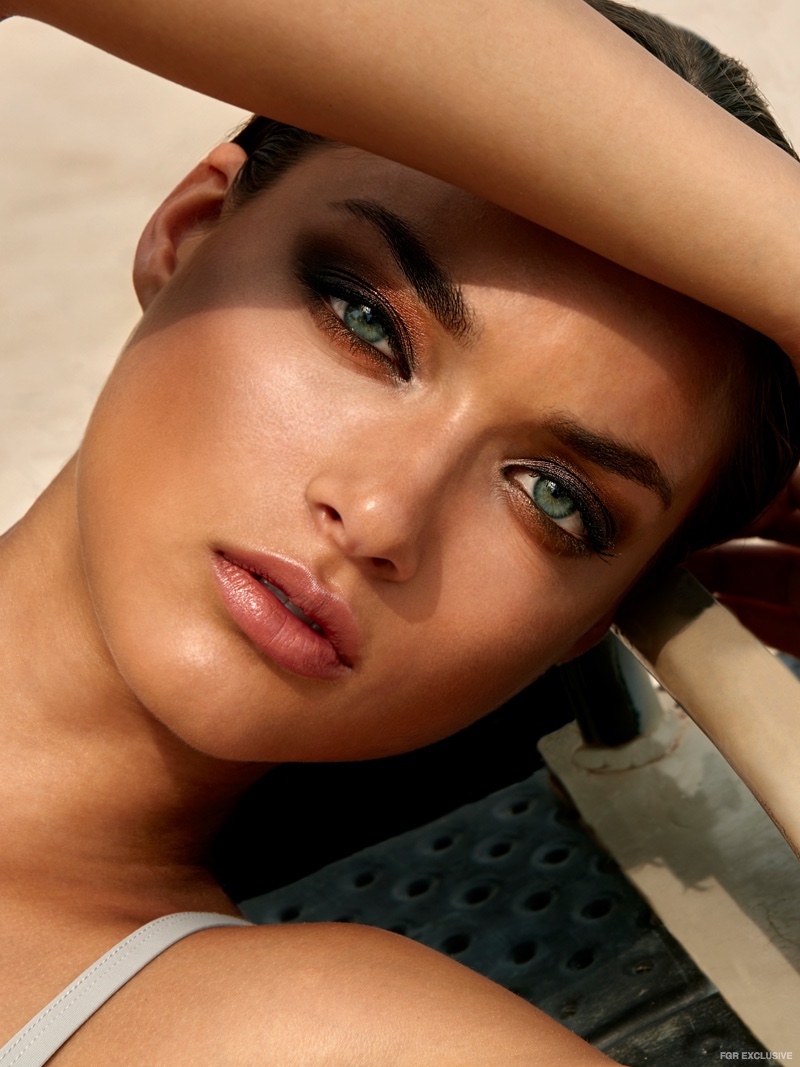 Swimsuit Tavik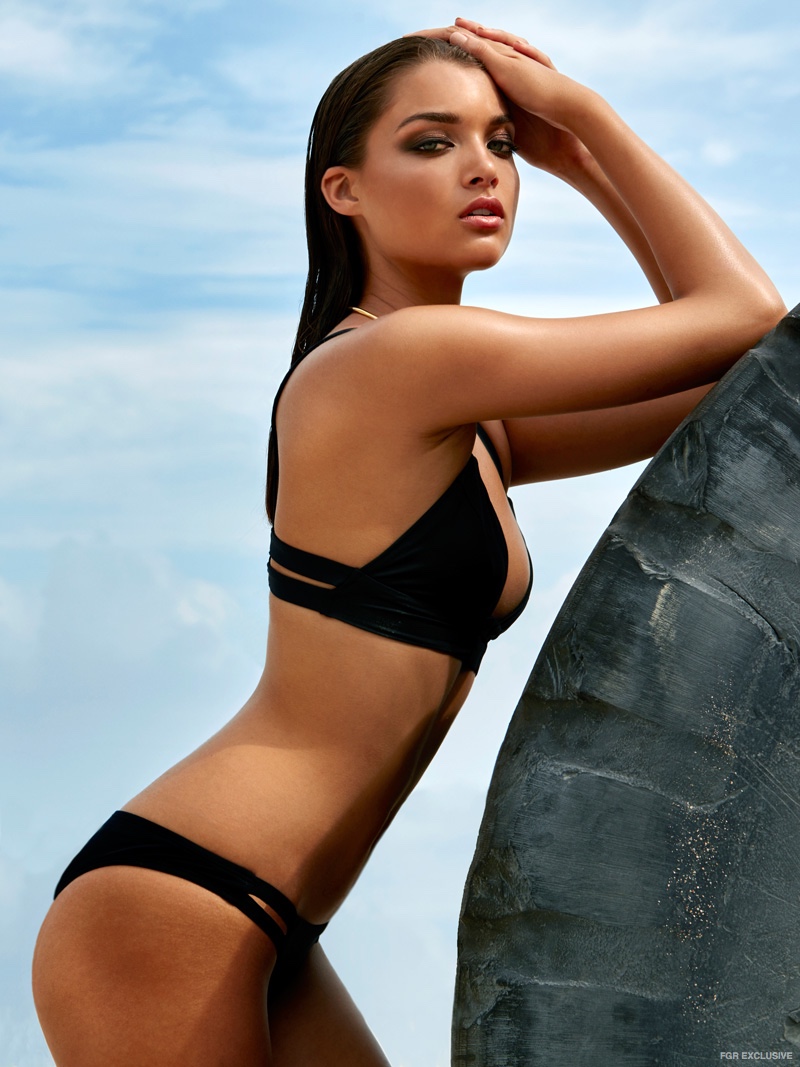 Swimsuit Urban Outfitters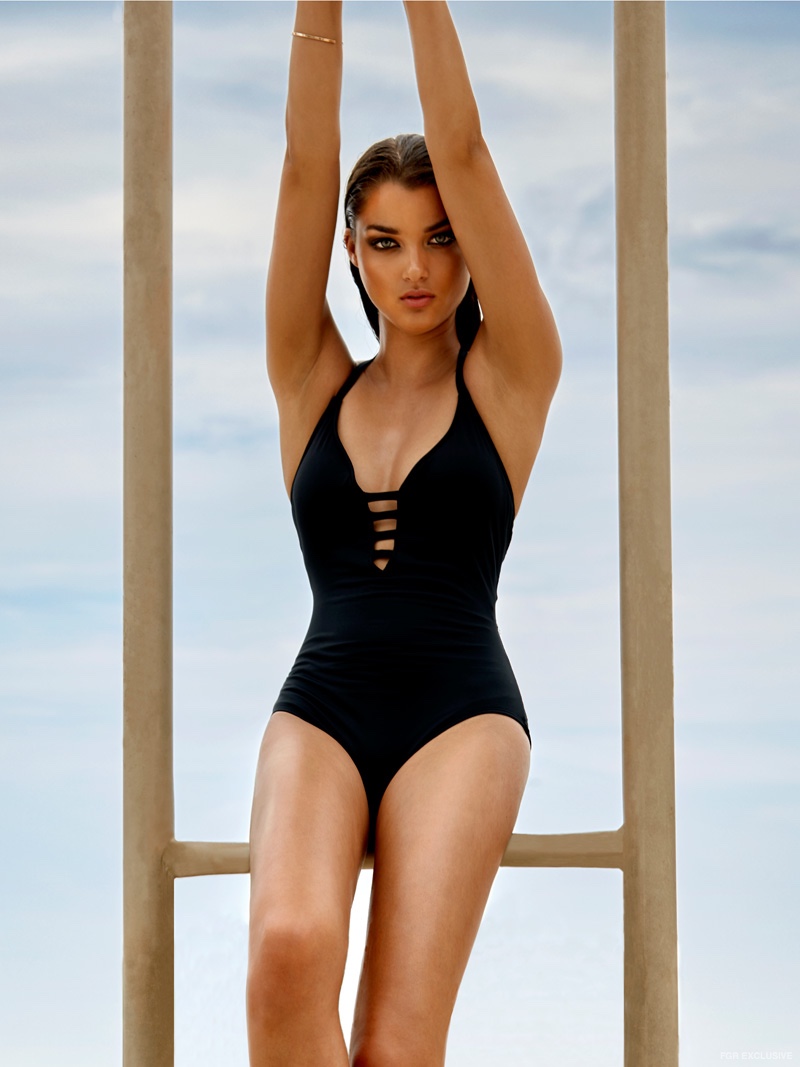 Swimsuit La Blanca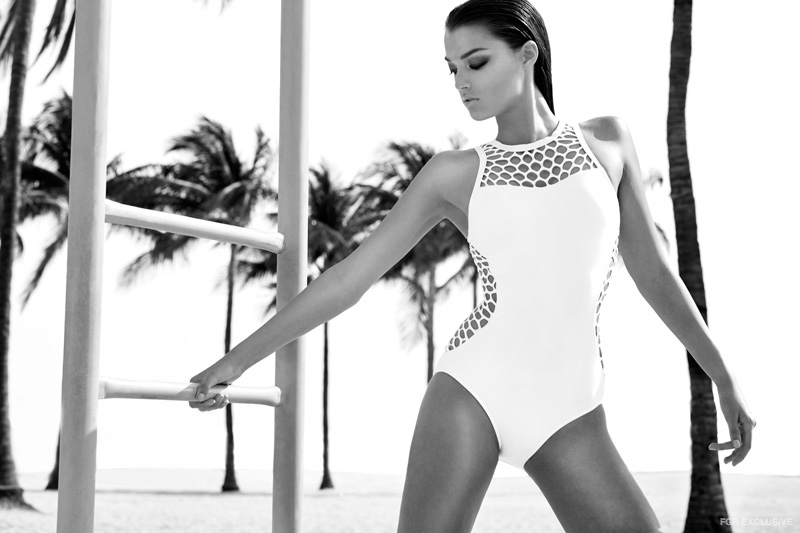 Swimsuit Seafolly
comnum(0) tbcount(0) tbcount(314)
Categories:
Fashion
Lily-Rose Depp poses with Harley Quinn Smith at her senior prom
17-year-old Lily-Rose Depp attended her prom this weekend, and certainly inherited her mother Vanessa Paradis' glamorous style. Posing with her friends including'Yoga Hosers' co-star Harley Quinn Smith, the Chanel face wore a slinky dress with iridescent fabric. Lily-Rose paired the look with strappy black heels and a blooming corsage. See more of the blonde's prom style below!
LILY ROSE DEPP – PROM DRESS
Lily-Rose Depp attends her senior prom wearing a slinky dress
Lily-Rose Depp attends her senior prom wearing a slinky dress
LILY ROSE DEPP – CHANEL NO. 5 EAU ANNOUNCEMENT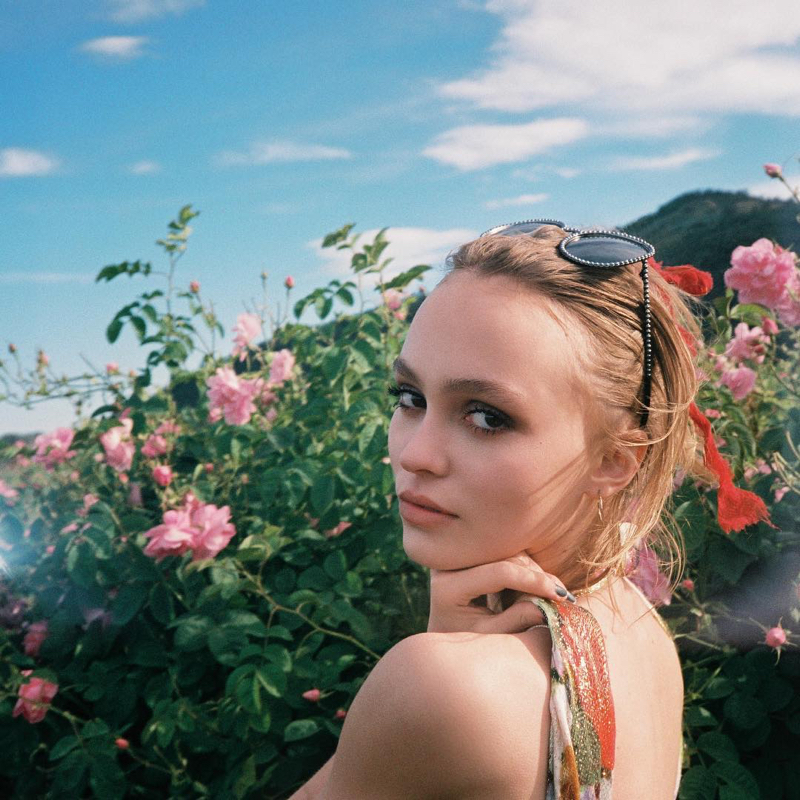 Chanel announces Lily Rose Depp as the face of its No. 5 L'eau fragrance
First starring as the face of Chanel's sunglass collection in 2015, Lily-Rose Depp is set to star in her second campaign for the French brand's new perfume. Called Chanel No. 5 L'eau, the news was announced on Chanel's Instagram page in May.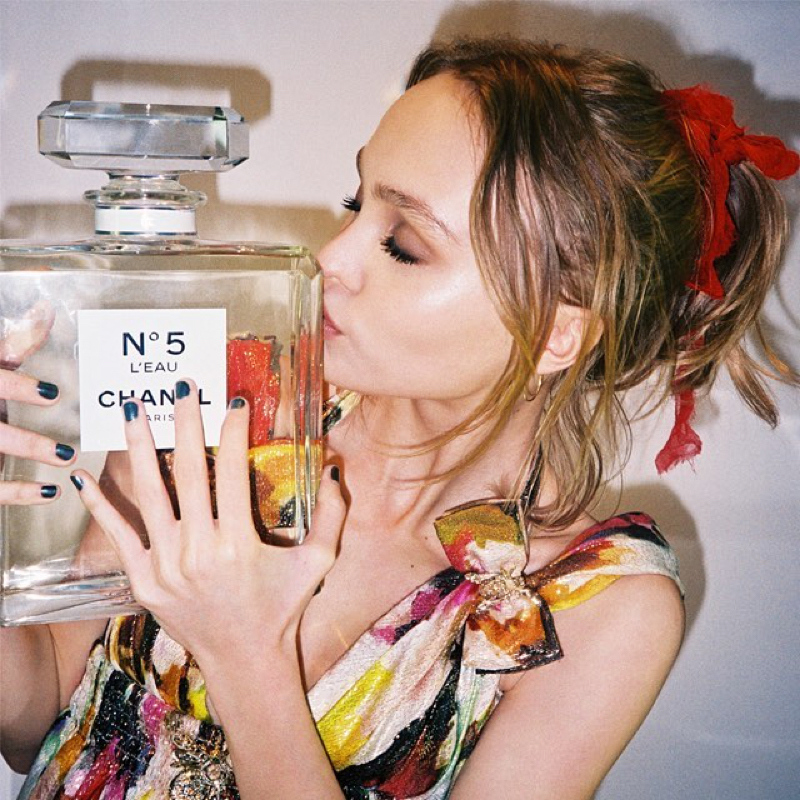 Chanel announces Lily Rose Depp as the face of its No. 5 L'eau perfume
comnum(0) tbcount(0) tbcount(233)
Categories:
Fashion
Kristen Wiig on ELLE Magazine July 2016 Cover
The cast of the all-female reboot of 'Ghostbusters' land four covers for the July 2016 issue of ELLE Magazine. Melissa McCarthy, Kristen Wiig, Leslie Jones and KateMcKinnon each go high fashion for the fashion glossy which will hit newsstands on June 21st. Photographed by Mark Seliger and styled by Samira Nasr, the comediennes can be seen wearing designer looks from the likes of Dolce & Gabbana,Calvin Klein, Miu Miu and more.
In the interview, Melissa talks about her method of acting, "I get so psychotically attached to all of my characters, and I fight for them in probably the most annoying way. I hear myself saying to Ben or Paul [Feig, Ghostbusters' director], "She wouldn't phrase it that way." I know it's such an actory thing, but I feel it to my core: I have to represent the woman I'm getting to be. Even if she's fictitious, she's always real to me: three-dimensional, flawed, loving, screwed-up, as real women are."
GHOSTBUSTERS CAST – ELLE MAGAZINE – JULY 2016
Kristen Wiig rocks Miu Miu shirt with Giuseppe Zanotti boots
Melissa McCarthy on ELLE Magazine July 2016 Cover
Melissa McCarthy is all smiles in Versace dress with Brian Atwood heels
Leslie Jones on ELLE Magazine July 2016 Cover
Leslie Jones poses in floral print dress from Dolce & Gabbana
Kate McKinnon on ELLE Magazine July 2016 Cover
Kate McKinnon wears Calvin Klein Collection coat with Chanel Fine Jewelry earrings
GHOSTBUSTERS 2016 MOVIE PHOTOS
The cast of Ghostbusters – Kate McKinnon, Leslie Jones, Melissa McCarthy and Kristen Wiig
Out in theaters on July 15th, the 'Ghostbusters' reboot's official synopsis reads: "Ghostbusters makes its long-awaited return, rebooted with a cast of hilarious new characters. Thirty years after the beloved original franchise took the world by storm, director Paul Feig brings his fresh take to the supernatural comedy, joined by some of the funniest actors working today – Melissa McCarthy, Kristen Wiig, Kate McKinnon, Leslie Jones, and Chris Hemsworth. This summer, they're here to save the world!"
Kate McKinnon as Jillian Holtzmann in Ghostbusters
Kristen Wiig as Erin Gilbert in Ghostbusters
Leslie Jones as Patty Tolan in Ghostbusters
Melissa McCarthy as Abby Yates in Ghostbusters
Categories

New Posts

Hot Posts

Tag Cloud