Categories:
Fashion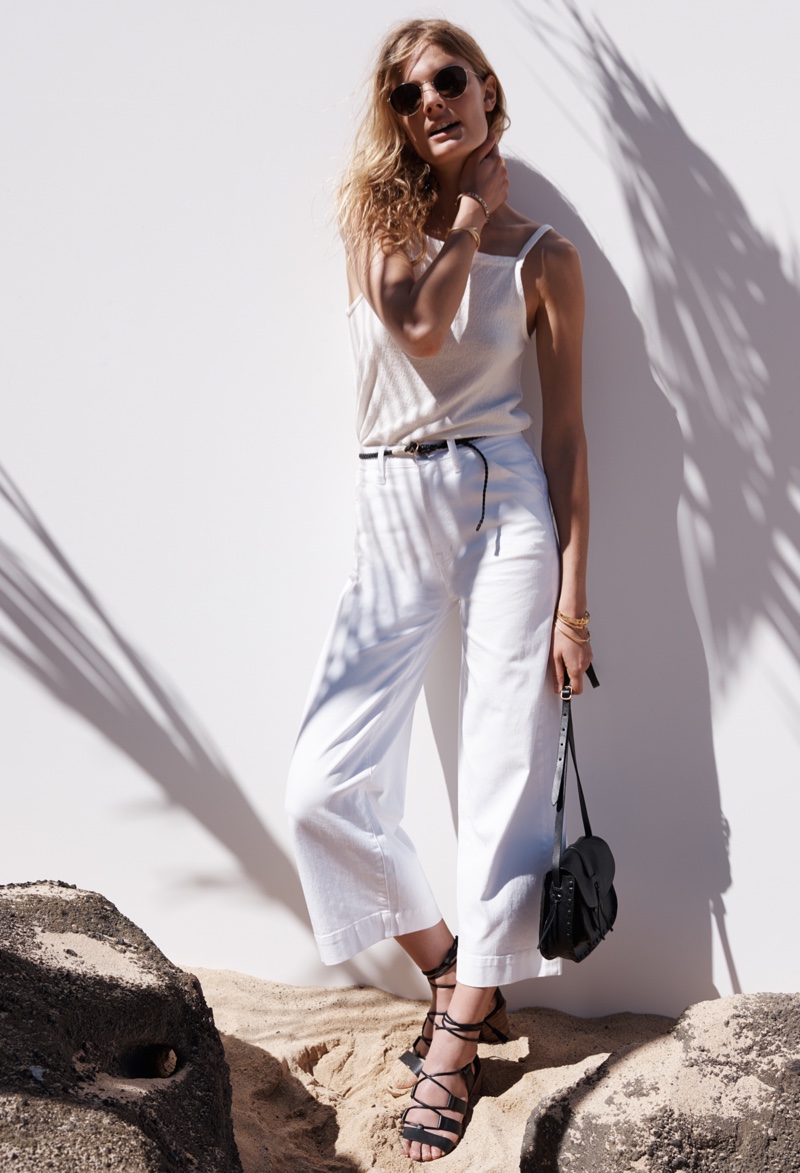 Madewell White Wide-Leg Crop Jeans, High-Neck Apron Tank and Daniela Lace-Up Sandal
Madewell gets ready for the 4th of July with a new style guide focusing on red, white and blue styles. Starring model Constance Jablonski, the images captured at the beach bring a laid-back appeal to summer style. From embroidered peasant blousesto maxi dresses and little white dresses, these fashions are perfect for those hot summer days. Paired with lace-up sandals and the classic East-West Transport tote, get ready for one stylish holiday.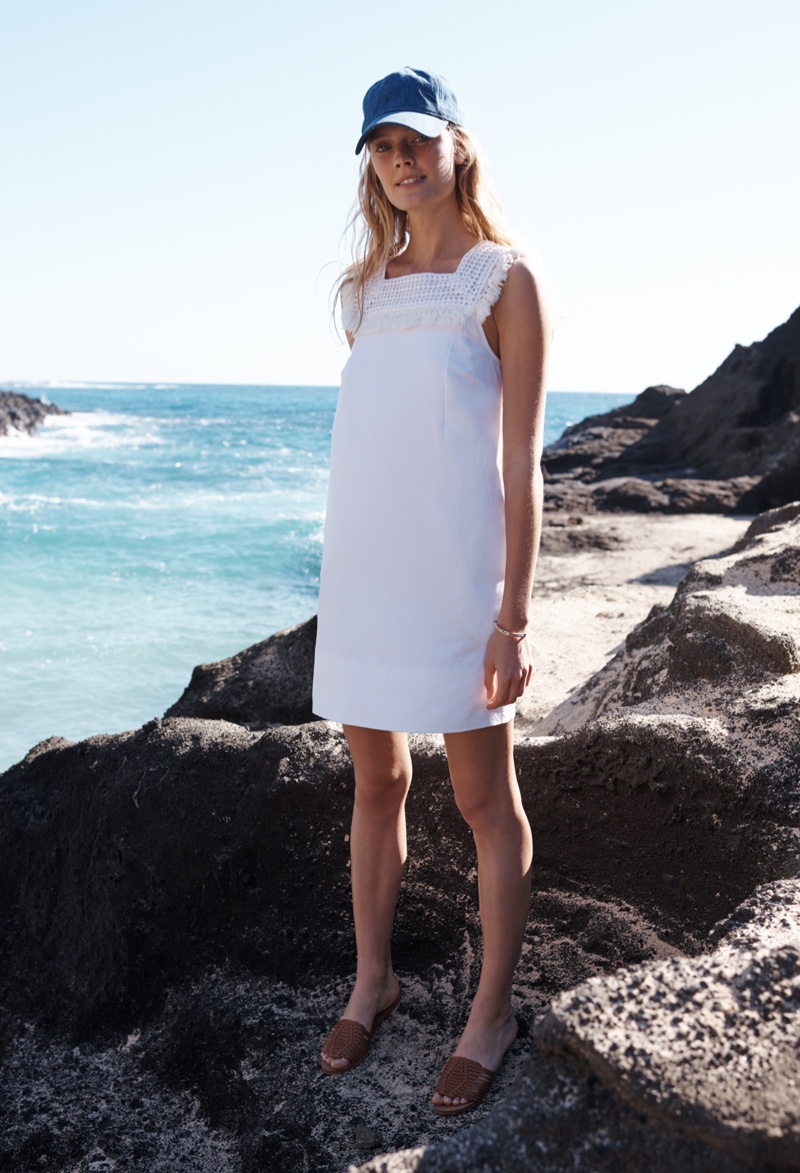 Madewell Sundream Embroidered Dress, Baseball Cap and Willa Leather Sandal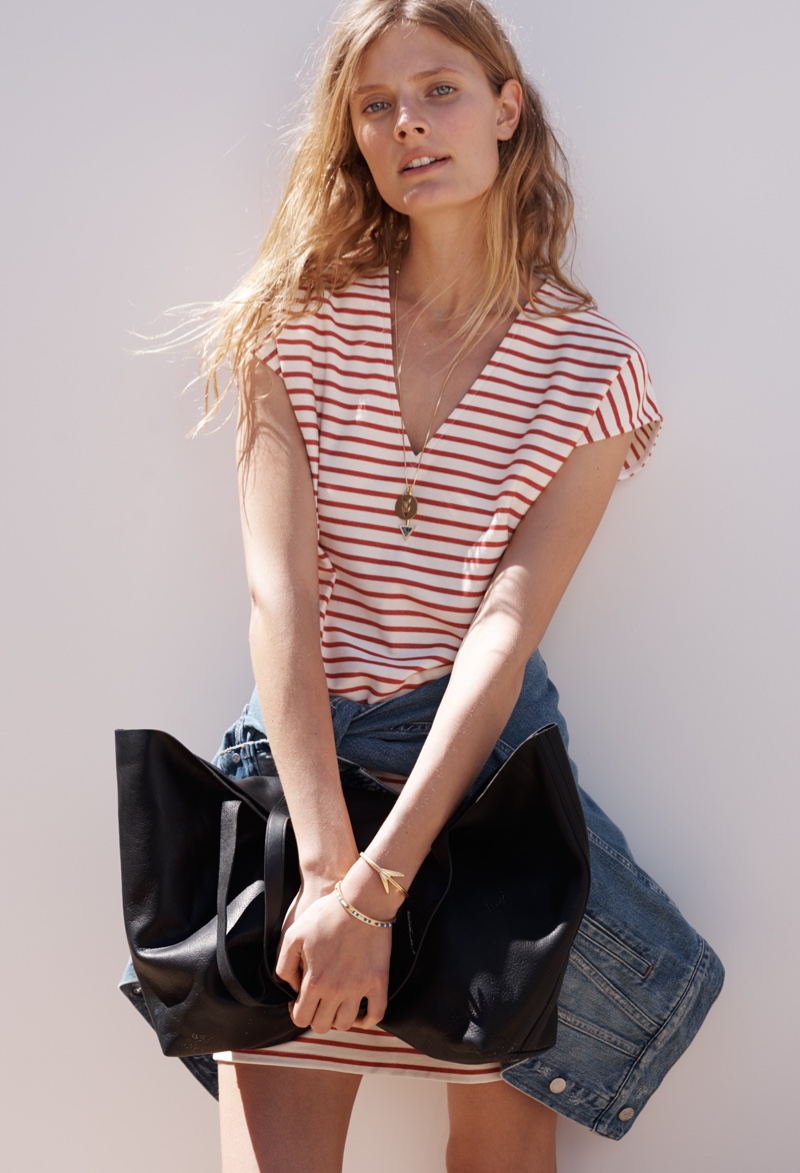 Madewell Vacances Dress, Oversized Jean Jacket and East-West Transport Tote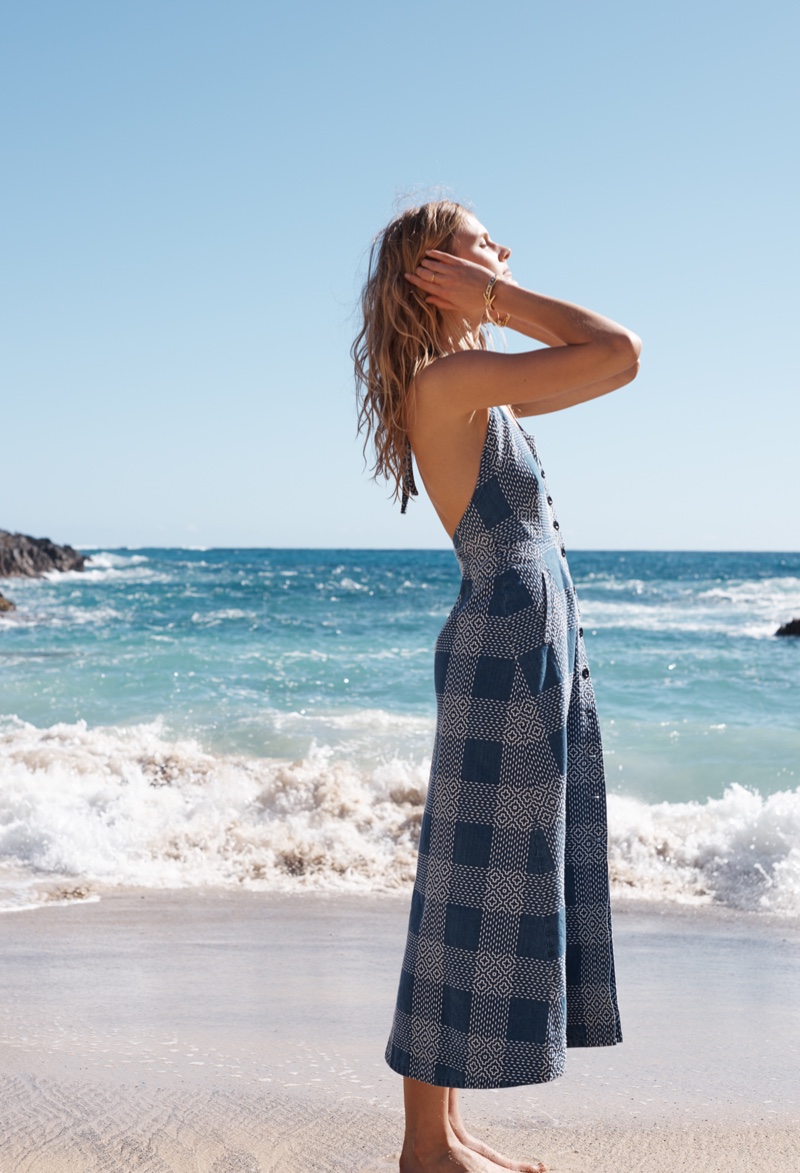 Madewell Rivet & Thread Japanese Denim Maxi Dress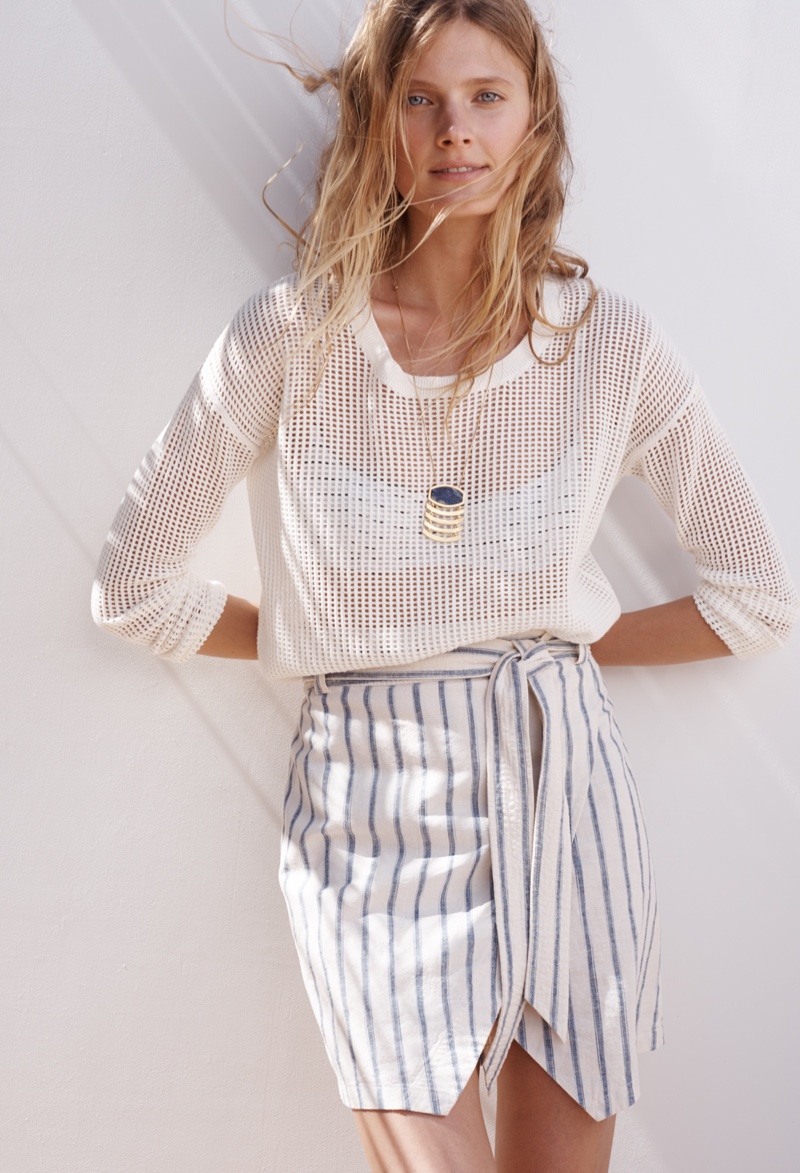 Madewell Portside Skirt, Threadgrid Pullover and Geometric Necklace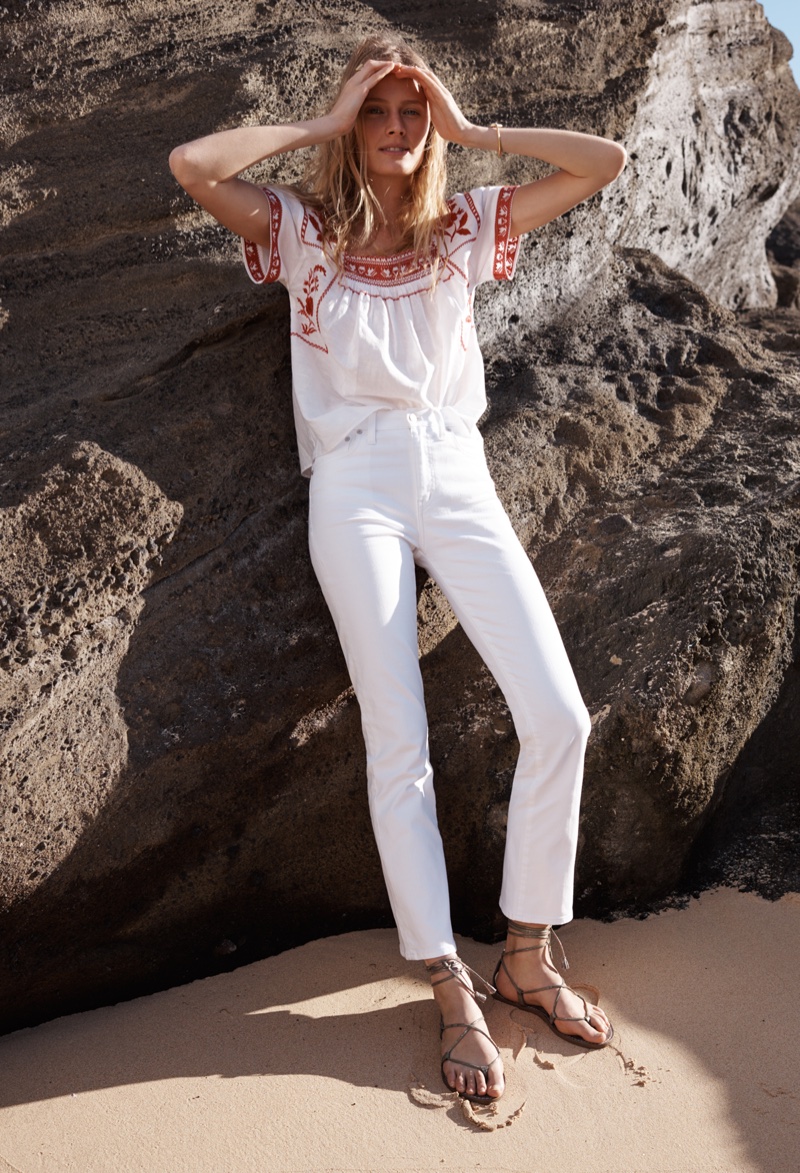 Madewell Wildfield Embroidered Top, White Cali Demi-Boot Jeans and Boardwalk Lace-Up Sandal
comnum(0) tbcount(0) tbcount(212)
Categories:
Fashion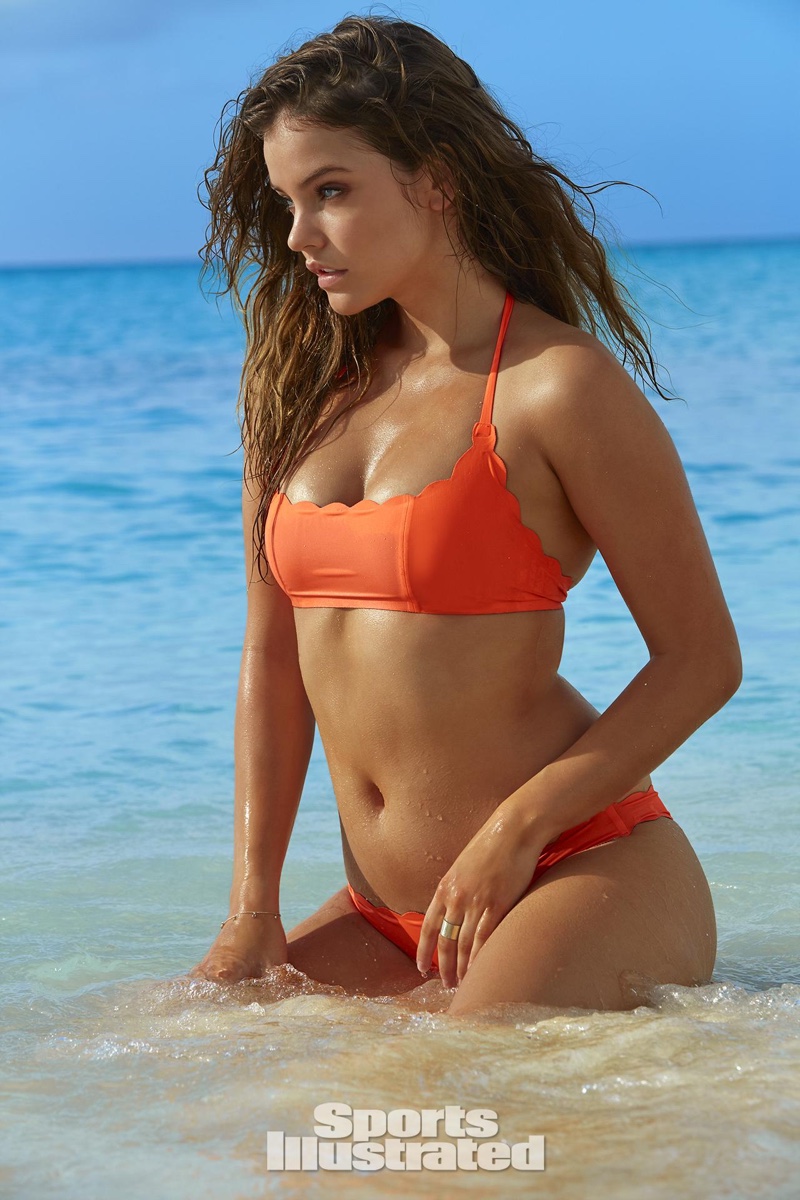 Barbara Palvin is announced as the 2016 Sports Illustrated Swimsuit Issue Rookie of the Year
Nearly four months after making her debut in Sports Illustrated Swimsuit Issue's2016 edition, Hungarian model Barbara Palvin has been officially voted as the 2016 SI Swimsuit Rookie of the Year. Fans voted for the brunette stunner in droves in an online poll featuring tough competition from Ashley Graham, Sofia Resing, Tanya Mityushina and Bo Krsmanovic.
The news was announced with a short video clip where Barbara received a video message from Karl-Anthony Towns, the NBA's Rookie of the Year. So who else holds the ROTY title? Names you might be familiar with like Kate Upton, Chrissy Teigen, Sara Sampaio and Kelly Rohrbach. Check out images of Barbara in SI Swimsuit below and watch the video.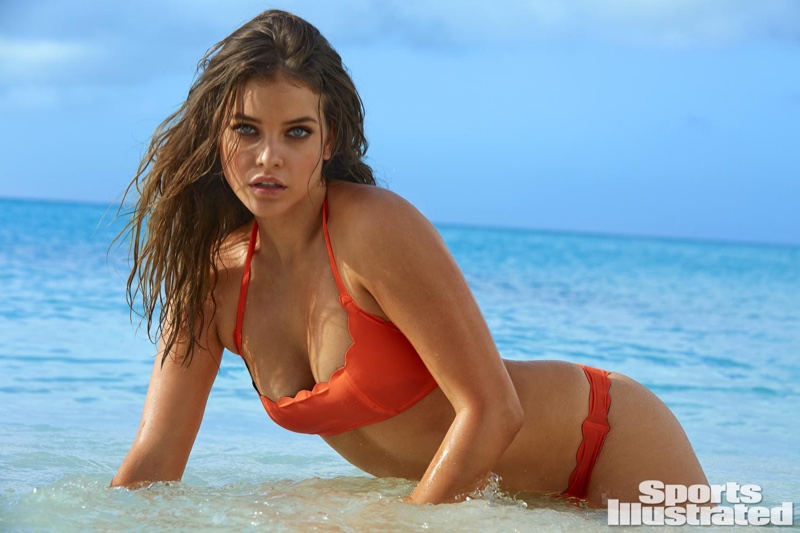 2016 SI Swimsuit Rookie of the Year Barbara Palvin models orange bikini look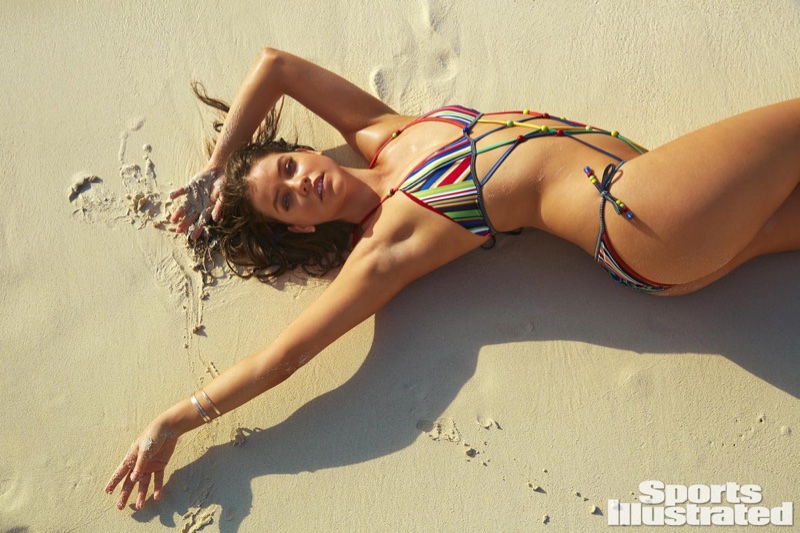 2016 SI Swimsuit Rookie of the Year Barbara Palvin flaunts her curves in a colorful monokini look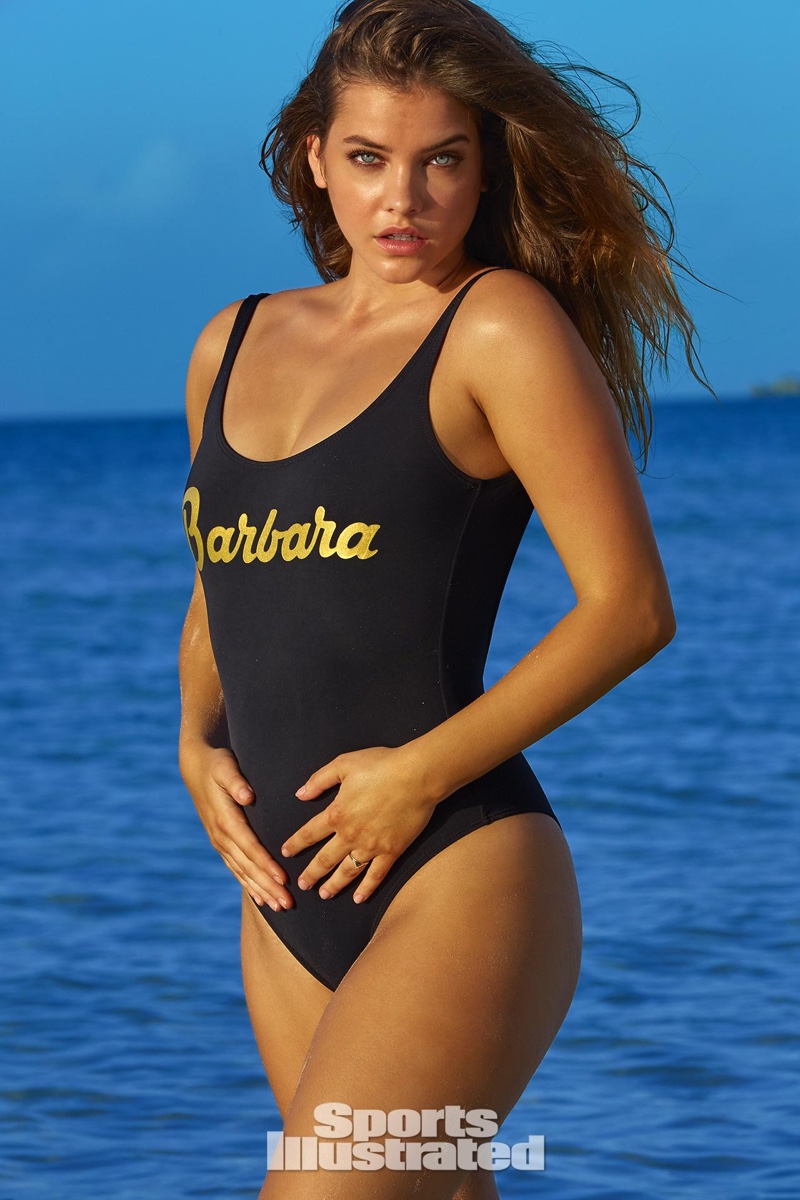 2016 SI Swimsuit Rookie of the Year Barbara Palvin models black one-piece swimsuit with her name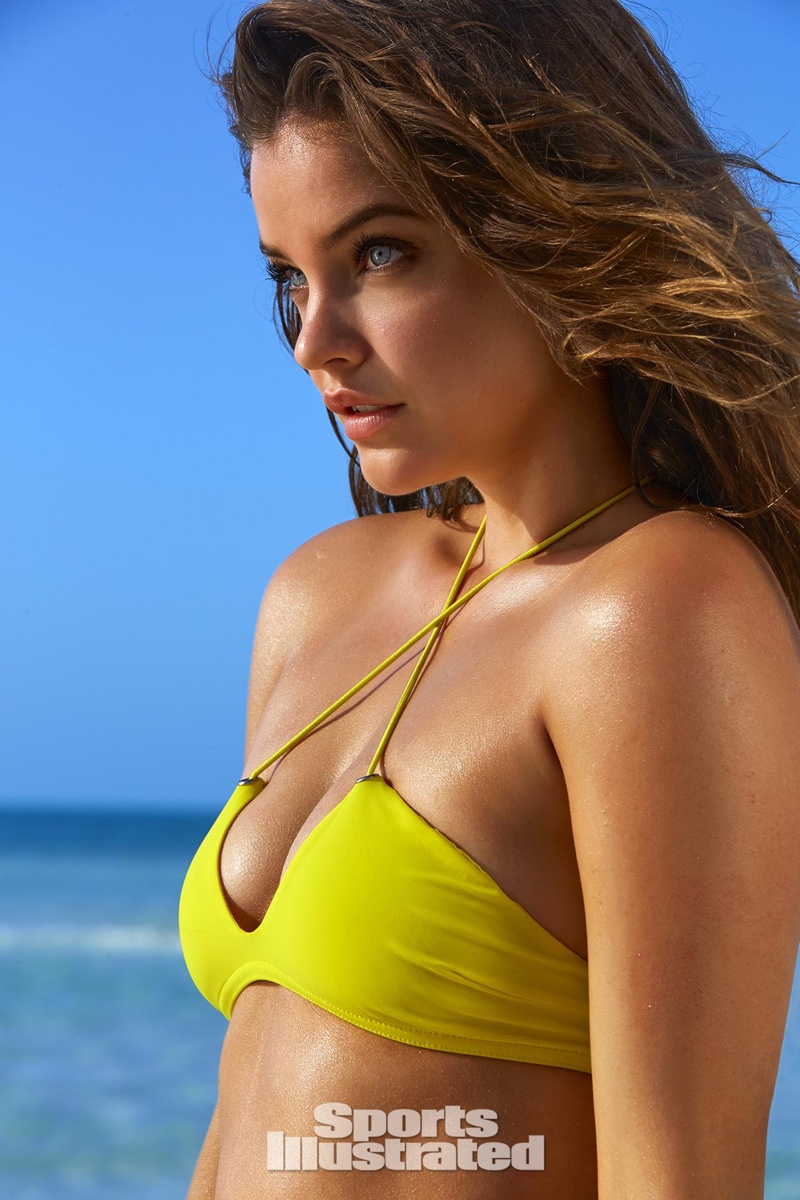 2016 SI Swimsuit Rookie of the Year Barbara Palvin wears yellow bikini top
comnum(0) tbcount(0) tbcount(230)
Categories:
Fashion
A Rigby & Peller store in New York.
If you're like me and many other American women, you probably have a drawer full of lingerie but only a couple of bras you wear regularly. I bought my two favorites back in 2012, which I now realize is quite shameful. In my defense, the bras fit me perfectly at the time and were expensive purchases, about $100 each. I picked them up at Intimacy, a lingerie boutique specializing in hands-on bra fittings, at my mall in Houston after a frustrating trip to Victoria's Secret.
Intimacy has since been reincarnated across the U.S. as Rigby & Peller, a British lingerie multi-brand shop founded in 1939 by two female corsetières.June Kenton bought the company in 1982 and, after an audition meeting withQueen Elizabeth, managed to hold onto the business's royal warrant to fit Her Majesty. That's right — you need a royal warrant to fit the Queen's breasts and Kenton has it. Her other clients include the late Princess Diana and the Duchess of Cambridge aka Kate Middleton, as well as celebrities like Kim Kardashian and Lady Gaga. Belgian lingerie manufacturer Van de Velde bought a majority stake in Rigby & Peller in 2011, a year after it brokered a similar deal with the Atlanta-based Intimacy. But after Intimacy saw comparable sales decrease by 10.3 percent in the first half of the 2015, according to WWD, the Belgian bosses decided to invest in the Rigby & Peller name. In the face of emerging online-only lingerie brands touting expert fit advice, Rigby & Peller is doubling down on the in-store fitting experience. In addition to locations in the U.K., China, Germany, Denmark and Hong Kong, the brand now has 12 shops in the U.S., all former Intimacy spaces.
On Tuesday, I stopped by the 5th Avenue store in New York for a bra fitting and to meet U.S. CEO Ginny Gerard. "We've taken on an international name, but everything that they love before is still here," she said when asked what changes former Intimacy customers might notice. The specialists are largely the same and fittings conducted without measuring tapes are available to all shoppers. "Our training in fact hasn't changed, it's actually increased — we're offering more," said Gerard. Rigby & Peller's U.S. stylists are trained for six to eight weeks in stores and at the headquarters in Atlanta to learn how to visually assess breast tissue shape and firmness and how to approach customers apprehensive about the process. Stylists have to also be experts on the different brands the shop carries, including On Gossamer, Stella McCartney and Van de Velde's Andres Sarda, Marie Jo and Primadonna. "I've worked in retail a long time and quite often as a sales associate, stuff shows up on the selling floor and maybe you went to a meeting and had a muffin and halfway listened and hoped that you would get something," said Gerard. "But what we see is you have to very passionate about lingerie to [work] here in the first place."
A Rigby & Peller store in New York.
The stylist who fit me, store manager Candece Etafo, was extremely knowledgable and calming as I stood topless and confused in front of her. She hooked me into different styles and sizes (disclaimer: I was sent home with a free bra) and explained that women need to check in with their bras every six months. Breasts change even if you aren't going through puberty, childbirth, nursing or menopause and it's a mistake to commit to a certain size for life. I identified with a woman in the changing room next to me who was upset her cup size had increased. Her stylist calmly explained it didn't mean her boobs were bigger. (Brands vary greatly and different combinations of bands and cups are equivalent.)
I chatted with Etafo about my personal hangups — skin on my back that bulges over the bra band right behind my armpits — and she reminded me that the bothersome skin actually allows me to raise my arms above my head. A wider band style fixed the problem and I wondered if the Queen herself has made a similar request. Etafo also recommended a steady rotation of five to seven bras, including a sports bra and a strapless one, and to wash each after three wears. Forget Woolite, she added, and use a lingerie specific detergent instead that preserves elasticity.
"You really need to feel it, you need to experience it," said Gerard. "There are so many aspects to the fit that the opportunity to physically try the product on — you can't take it out of the equation." Intimacy clients might also notice that the new Rigby & Peller stores have a bigger range of bras than before, both in size (especially with smaller band and bigger cups) and price (less expensive). The most popular sizes in the shop across the country are 32E, 32F, 34E, 34F and 36G, but cup sizes go up to a J, including GG and HH.
A Rigby & Peller store in New York.
Gerard says the company is turning its focus to the online business now, too, hoping to have the offerings reflect what is available in-store and help women who've been fitted keep shopping. You can make a fitting appointment on the site, as well. "There's a place for online shopping for everyone, we all have constraints on our time but there's really no replacement for taking the time for yourself," said Gerard. "The magic happens in our fitting rooms and it's really the one-on-one experience."
For those who are accustomed to mass market lingerie brands, the Rigby & Peller experience will probably convince you to spend more on fewer, better built styles. The Marie Jo bra I picked out on Tuesday retails for $131, and there were several more models I wanted to buy — including the best sports bra I've ever tried on — but was discouraged by the price. Clearly, the Queen has no such deterrents, but there is a strange comfort in knowing she's choosing from a similar selection. Rigby & Peller won't reveal Her Majesty's favorites, so I've decided she's wearing a well-fit, lacy balconet bra under all those colorful coat dresses.
comnum(0) tbcount(0) tbcount(229)
Categories:
Fashion
Trapped amid the non-so-speculative rumors stating that Maria Grazia Chiuri will soon be appointed as Dior's first-ever female creative director, the French Maison has just tapped Australian model Julia Nobis as the face of its fall 2016 ad campaign. To hit it big even more, Dior's creative headquarters asked iconic fashion photographer Steven Meisel to capture the campaign's pictures, as well as the model's true essence.
Designed by Dior's in-house studio directors Lucie Meier and Serge Ruffieux (who will also design Dior's fall couture show, which is scheduled to be showcased on July 4), the Dior fall 2016 collection came out right after Raf Simons' departure as the label's creative director, and was overall well acclaimed. It did not go too heavy on the patterns (apart from animal and floral prints, this collection could be regarded as low profile indeed), but celebrated elegance, ready-to-wear and modernity as the core of its aesthetics.
It went big, however, on the accessory line, with bags and shoes destined to enter the Fashion Hall of Fame with a blaze, as most of the staples are about to become the main It-items of the upcoming season.
Such modernity, along with the accessories, was at the core of the Dior fall 2016 campaign too, wherein frozen dynamicity figuratively represents the label's transitional period. Julia Nobis is seen theatrically trapped between dynamic and softer poses, representing all the things a woman usually does throughout the day.
Her athleticism showcases the richness of the collection, exposing side slits, airy flounces, minuscule and intricate embroideries, and elegant details, such as buckles on the handbags.
"Her personality is spontaneously expressed in an unfiltered mix of garments, motifs, and embroideries," explained Dior in a statement.
Eclectic and spontaneous, Nobis dons remarkable staples, such as a fitted black dress with loads of frills and an elegant high neck figure, an oversized trench coat with cheetah patterns, an asymmetrical short coat dipped into a soft, delicate creamy white color, and some of the collection's sultriest skirts, the prints of which match the line-up's incredible array of clutches, handbags and edgy backpacks.
Wearing high heels and au naturel makeup that is light on the eyes and heavy on the lips, Julia perfectly embodies the upcoming fall's major womanswear trends, confirming once again that Dior will always rise from the ashes like the most fashionable phoenix ever.
As for Nobis, her enigmatic and classy personality can be seen in numerous AW 2016-17 campaigns, such as for Givenchy and Marc Jacobs too.
Tags: Dior
comnum(0) tbcount(0) tbcount(221)
Categories:
Fashion
Reformation Jasmine Dress in Stripe
Warm weather season is here, and if you want to step up your summer dress game, than Reformation certainly has the styles for you. From lightweight georgette fabrics to airy chiffon and stretchy rib-knit fabric, these dresses are environmentally sustainable as well. Take a look at our roundup of eight Reformation pieces perfect for summer below. Whether you are looking for a breezy maxi or sleeveless mini style, these dresses are sure to make heads turn.
Reformation Cava Dress in Black
Reformation Maison Dress
Reformation Ghana Dress
Reformation Talla Dress
Reformation Teegan Dress
Reformation Teresa Dress
Reformation Winslow Dress
comnum(0) tbcount(0) tbcount(189)
Categories:
Fashion
Elizabeth Kennedy with her designs.
With nearly a decade of experience in the fashion industry, it was only a matter of time before Elizabeth Kennedy took on the eveningwear space with her own eponymous line.
After graduating from Parsons with a degree in fashion design, Kennedy started working for Isaac Mizrahi's couture line in 2007, eventually inheriting the head designer role a few months later. In 2011, she went on to J. Mendeland soon after to Donna Karan where she worked alongside Peter Speliopoulos, former vice president of design, and Aliza Licht, former senior vice president of global communications, to launch its atelier line for red-carpet events. "In five months we need these 35 to 40 gowns done,'" says Kennedy. "I had contacts from my other jobs, a lot of sample room ateliers where they produce high-end gowns for designers like Oscar de la Renta andVera Wang. I brought them on to develop this collection and any customs."
When Kennedy decided to launch her own eveningwear collection, Mizrahi's former president of couture, Jayne Harkness, became her business partner. (In 2011, Mizrahi had sold his business, phasing out his high-end collection.) By 2012, she started designing custom gowns exclusively for Bergdorf Goodman and in February of this year, Kennedy made her debut at New York Fashion Week.
A strong industry network has been the constant force behind Kennedy's career, proving just how essential it is to maintain professional relationships. "A lot of kids right out of school want to start their own line, but the contacts that you build at every company grows your network," says Kennedy. "All you have are your relationships and you rely on these people to get your fabric on time and get your collection sewn on time."
We visited Kennedy's studio in the Garment District to see her latest collection for resort 2017, and to talk about what she learned from working with such established eveningwear designers, why she decided to show at New York Fashion Week and her plans to expand her line.
What did you learn from working on eveningwear with such established designers that you apply towards your own work now?
With Isaac, he has an amazing sense of color. I learned the most about construction from him because we were making couture. The seamstresses and patternmakers we were working with were from a different planet. The quality and craftsmanship is stuff you don't really see anymore.
He's also a modernist, so anything that was excessive to the integrity of the design, he would question.
J. Mendel was very visual. I did a lot of illustrations for him while I was there. He wanted to see everything colored a hundreds times in 50 different variations. He also wanted to develop swatches and mock-ups for finishings in every fabric, which is actually a practice I still use now.
I didn't have a lot of face time with Donna but I was working with Peter... He had a similar approach like Isaac in terms of functionality of the garment. 'Does this make sense?' He was also very concerned about the body underneath the garment — it's Donna Karan, so it's all draped jersey and very bodycon.
Elizabeth Kennedy resort 2017.
What void did you want to fill in eveningwear?
I'm trying to fill a more modern, graphic aesthetic, but a classically beautiful, feminine dress that is flattering, easy to wear and comfortable. It's timeless in terms of a 30-year-old could wear it and a 70-year-old could wear it. I feel a lot of eveningwear is very — it's changing — but for a while it's been a little stale in my opinion. It's very classical, traditional and not everyone wants that, especially the younger generation. Even older women that I work with in their 60s, they want something very clean, modern and not fussy.
Why did you decide to show at New York Fashion Week after only selling to Bergdorf's?
To really build the business, we have to open it up to other retailers. I want to be able to make a larger collection and delve into other areas, like accessories or ready-to-wear. It was a necessary step but we actually couldn't afford to do that until we got our first investment in July, so February was our first show. We started with $40,000 and built it. Our business model is interesting because Bergdorf's bought off of my sketches. I also met with clients and made custom one-of-a-kind gowns for them. We were able to afford to keep the business alive because we essentially had no inventory. We finally got to the point where we wanted to make a full collection and show it to other retailers and get the volume going to build a business.
Do you know when exactly you'd expand into ready-to-wear?
A full-blown ready-to-wear collection that's shown with evening will probably be a year and a half to two years. We're actually thinking to introduce bridal before ready-to-wear. It's a huge market and we keep getting requests for it. So obviously there's a demand. We're going to do a little bridal capsule in October with Moda Operandi.
Laverne Cox, Maura Tierney, Uzo Aduba, Malin Akerman and Mindy Kaling in Elizabeth Kennedy on the red carpet.
What goals do you have for this year?
For eveningwear, red carpet is really important. It's the best advertising because everybody watches the Oscars and the Golden Globes.
We're really hoping to get a well story in a major publication — that's definitely a goal for this year. Expanding on retailers definitely. We had a great first season and we're trying to hopefully get a bigger American retailer to get the distribution to help grow our business.
Your collections are all made in New York City. Is that something you want to maintain as you expand?
I really want to support the Garment District. So many designers have to go offshore for manufacturing and it's really because of prices. The mark-up for retail also impacts that. How do we still make clothing priced to be accessible but give [customers] the quality? For as long as I can, I'm trying.
Click through the gallery below to see the Elizabeth Kennedy resort 2017 collection.
Designer Bags, Wallet, Purse, Belt & Accessories Official Site, Best Price & Quality, Free Worldwide Shipping, Free Returns. Every Bag Is A Work Of Art - Handmade - Cowhide Art - Can Custom-Made

Categories

New Posts

Hot Posts

Tag Cloud